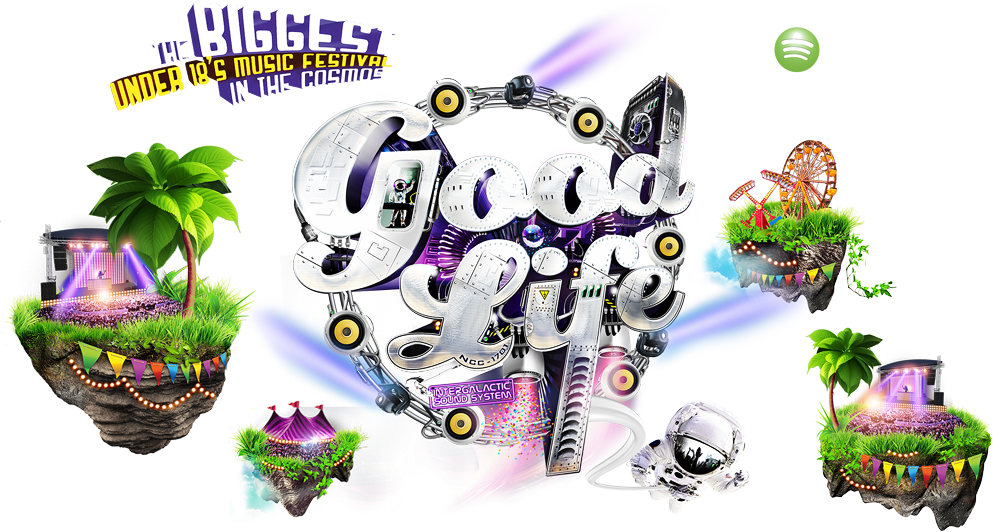 Are you under 18 and between the ages of 12 and 17? Me either? Unfortunately for us, the children of Australia get the chance to go to an amazing festival brought to you by Spotify and other companies. Tickets cost under $80 while the carnival rides and 160 foot water slide is completely free with their tickets. After you see the lineup, you'll wish you had a fake ID saying you were 17. I am severely jealous of these kids.
Check out the video:
Before you see the amazing lineups, check out some of these rules. Makes me glad I am 21.
Patrons ID checked at security discretion
All patrons have their bag checked
All patrons are patted down for prohibited items
All patrons are metal detected
All patrons are breathalysed at point of entry and during the event if required.
Some great tips for new time attendees which is great info for any concert besides this one.
Know the schedule in advance
Know the rules so you won't get kicked out; the big one for this concert is NO ALCOHOL
Be security conscious so you don't get screwed
Manage your money; you got X amount of money which means you can't get 5 t-shirts AND a hotdog
Be Sun Smart
No ticket, no entry
Don't bring expensive items
Be comfortable
ALWAYS REHYDRATE
Here are the schedules!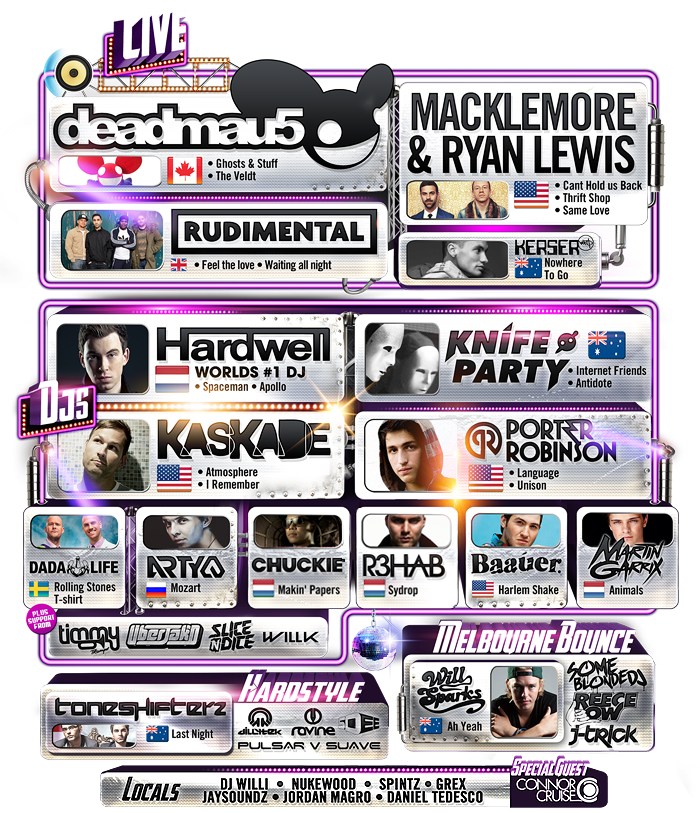 For Sydney:
Deadmau5
Macklemore and Ryan Lewis
Rudimental
Hardwell
Knife Party
Kaskade
Porter Robinson
Dada Life
Artyo
Chuckie
R3hab
Baauer
Martin Garrix
Timmy Trumpet
Uberjakd
Slice N Dice
Will K
Toneshifterz
Dillytek
Ravine
Soee
Pulsar v Suave
Will Sparks
Some Blond DJ
Reece Low
j-Trick
DJ Willi
Nukewood
Spintz
Grekz
Jaysoundz
Jordan Magro
Daniel Tedesco
Connor Cruise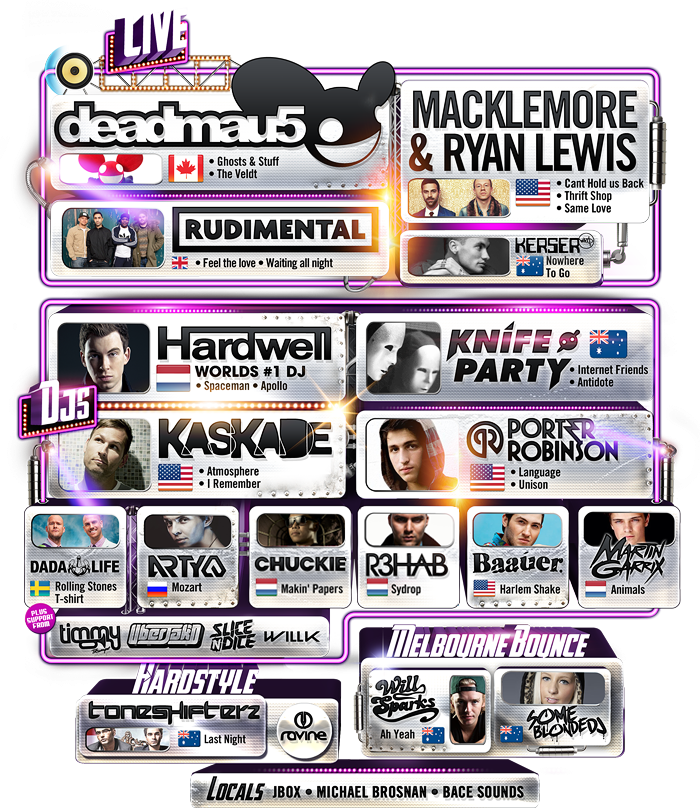 For Brisbane:
Deadmau5
Macklemore and Ryan Lewis
Rudimental
Hardwell
Knife Party
Kaskade
Porter Robinson
Dada Life
Artyo
Chuckie
R3hab
Baauer
Martin Garrix
Timmy Trumpet
Uberjakd
Slice N Dice
Will K
Toneshifterz
Will Sparks
Some Blond DJ
Ravine
Jbox
Michael Brosnan
Base Sounds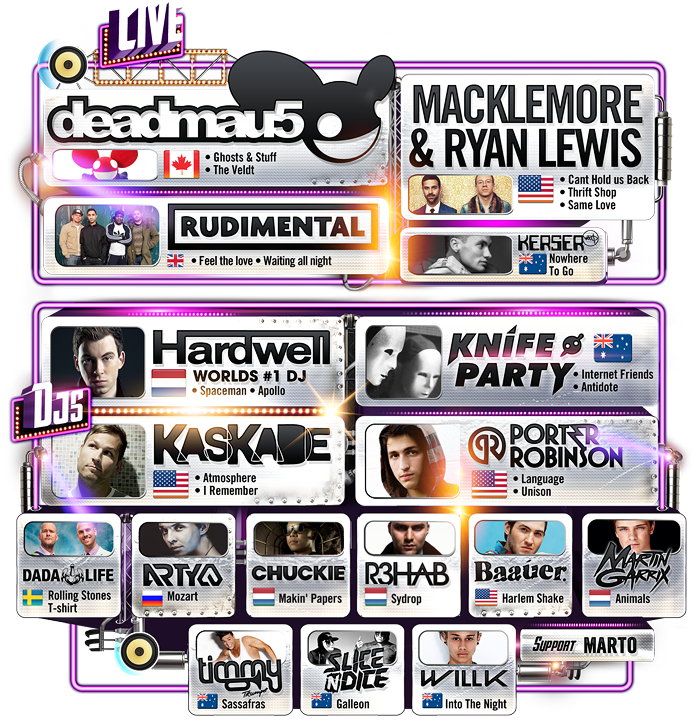 For Perth:
Deadmau5
Macklemore and Ryan Lewis
Rudimental
Hardwell
Knife Party
Kaskade
Porter Robinson
Dada Life
Artyo
Chuckie
R3hab
Baauer
Martin Garrix
Timmy Trumpet
Uberjakd
Slice N Dice
Will K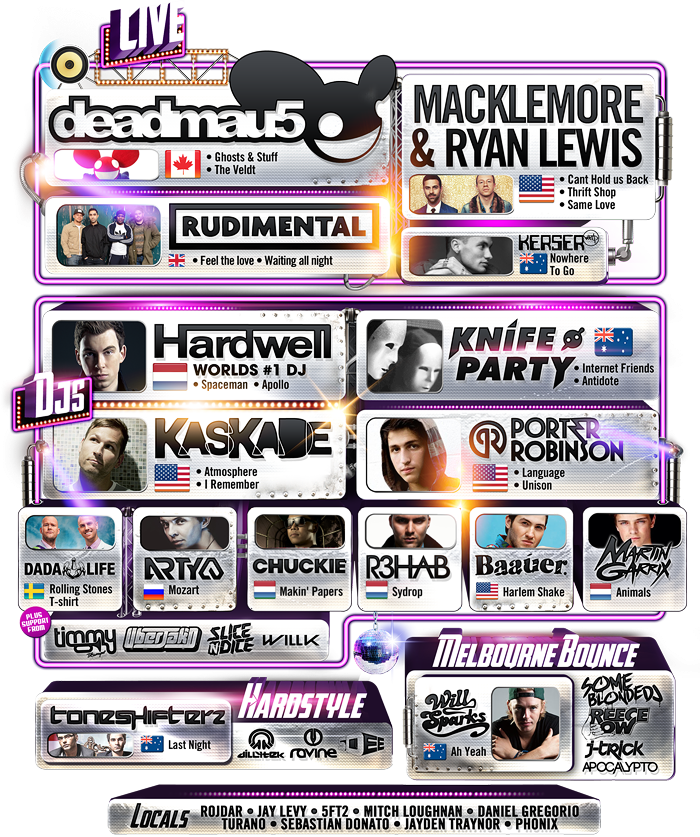 For Melbourne:
Deadmau5
Macklemore and Ryan Lewis
Rudimental
Hardwell
Knife Party
Kaskade
Porter Robinson
Dada Life
Artyo
Chuckie
R3hab
Baauer
Martin Garrix
Timmy Trumpet
Uberjakd
Slice N Dice
Will K
Toneshifterz
Dillytek
Ravine
Soee
Pulsar v Suave
Will Sparks
Some Blond DJ
Reece Low
j-Trick
Apocalypto
Rojdar
Jay Levy
5FT2
Mitch Loughnan
Daniel Gregorio
Turano
Sebastian Donato
Jayden Traynor
Phonix
Leave a Reply