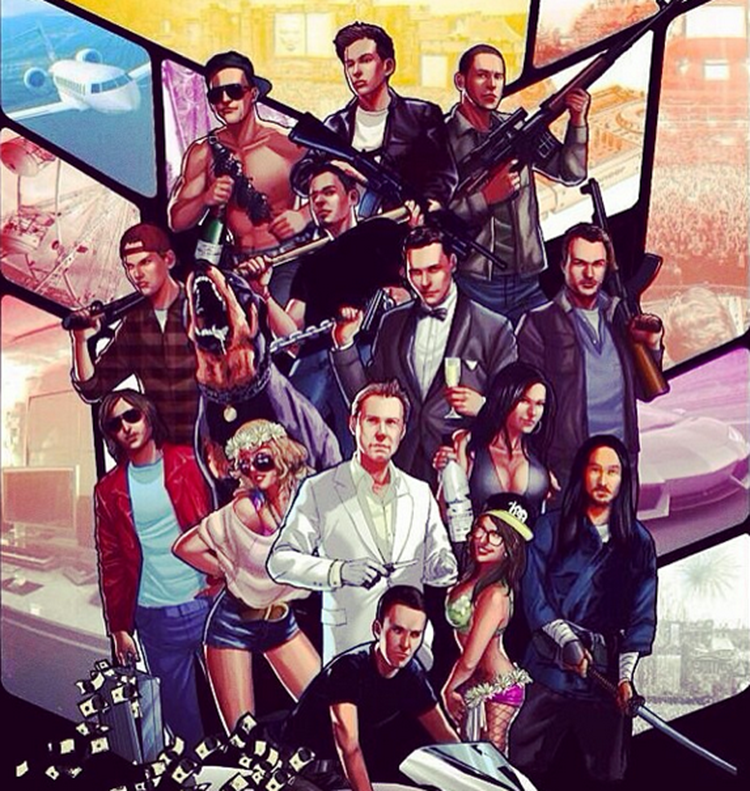 You know what is cool about blogs? I can schedule posts for ahead of time for when I know I am not going to be able to write. For example, it is currently 8am when this will appear. I am sleeping. The reason I want this up now is so I don't forget and brighten your day! Last night as I was drinking, I found this post on Reddit. It is a graphic of the top 10 DJ's on this year's DJ Mag Poll in the style of Grand Theft Auto. Since I love these DJ's and I love Grand Theft Auto V, I thought you may like it to.  If you didn't know, the top 10 DJ's according this poll that many people dislike are the following:
Hardwell
Armin Van Buuren
Avicii
Tiesto
David Guetta
Dimitri Vegas and Like Mike
Nicky Romero
Steve Aoki
Afrojack
Dash Berlin
Whether you agree with the poll or not isn't in question right now. The graphic is awesome and if you are struggling to figure out who everyone is, Reddit user, Malikot figured it out:
Top Row: Like Mike, Hardwell, Dimitri Vegas

Middle Row: Avicii, Afrojack, Tiesto, Dash Berlin

Bottom Row: David Guetta, Armin Van Buuren, Steve Aoki

Motorcycle: Nicky Romero
Who ever did this, this is super neat!
Leave a Reply