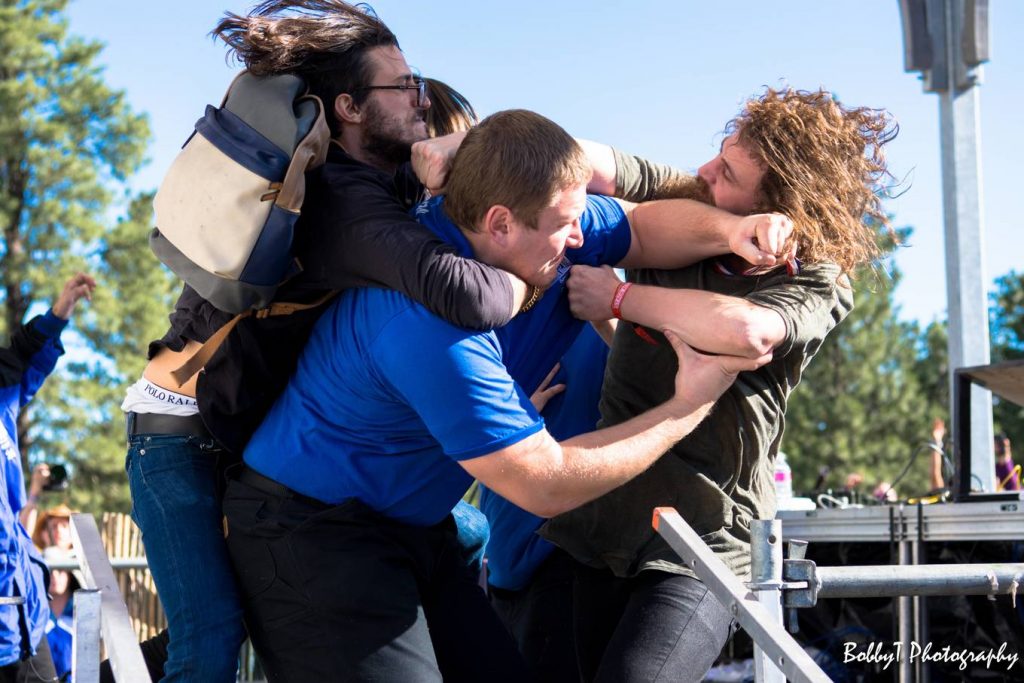 What The Festival is well known in Oregon as a boutique festival where people can go to have fun with friends and soak up the atmosphere, with good music from a variety of styles being played at eight different stages. Last weekend the 2016 event was held, and by all accounts everyone had lots of fun and good vibes were shared all round, except for one act that turned pear shaped.
Hippie Sabotage were playing their set in a pool area and (apparently) one of the duo was cupping a mic, screaming "I don't give a fuck" and messing with the sound. The sound technician (naturally) didn't like that, and after the member of the duo responded harshly they cut off the mic. Hippie Sabotage responded by getting rowdier and throwing the mics (which belonged to the festival) into the pool. This was the last straw for the crew, who called in security to remove the two from the festival. Then, this happened.
Not cool, at all. Behaviour like this is assault first of all, but also a great way to alienate fans and ensure that you don't get booked at nearly as many events. There is a big focus on PLUR in the EDM scene, and good vibes are what everyone comes together and makes, listens to and dances to music for. Completely ruining this by being complete dicks and disrespecting the event and audience is unacceptable, and even though they paid for the equipment that they broke their apology was quite half-hearted:
"It was an unfortunate event that placed us in an unsafe situation in the middle of our performance. We feel terrible that the fans didn't get the full set, but we love performing for Portland and will be back."
We'll see about that.
Leave a Reply