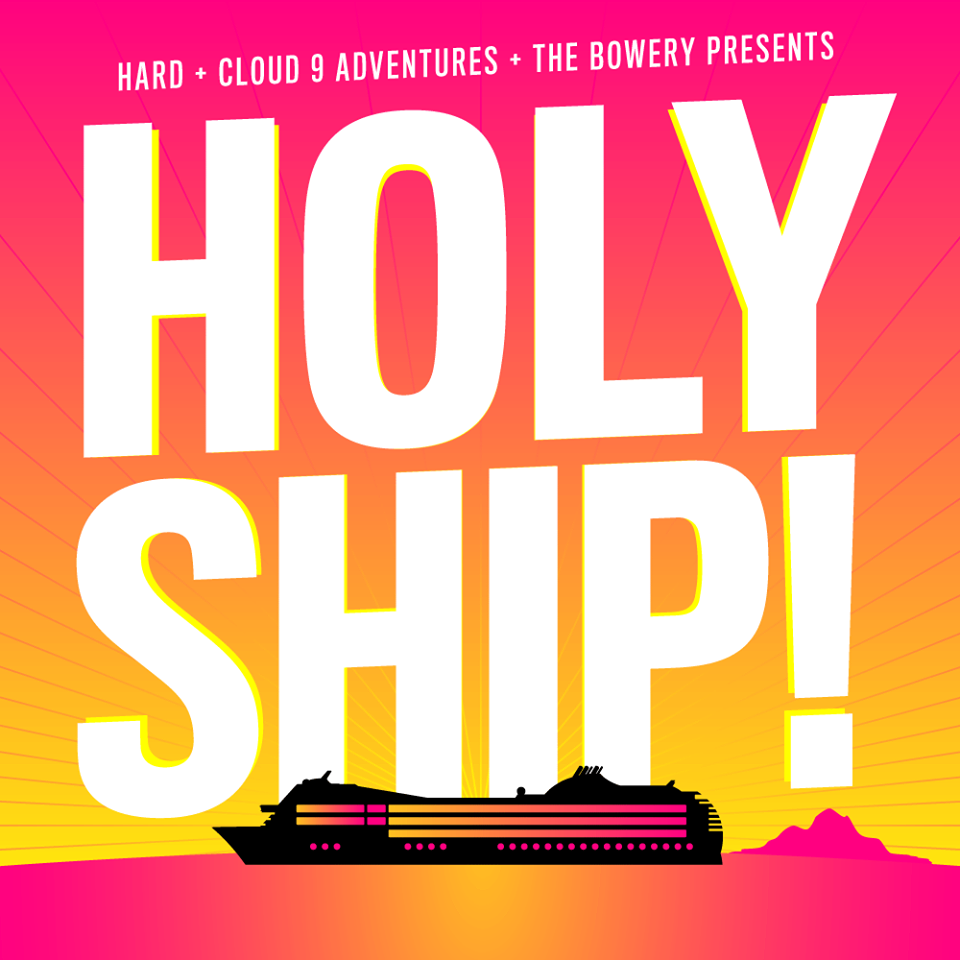 I don't know you, but for me, the festivals signed under the Hard brand are absolute the top of the range and from a few years now Hard DOTD, Hard Summer, and Holy Ship! have become an highly expected fixture in my web-raver's schedule, overtaking competitors the likes of Tomorrowland, TomorrowWorld and so on.
Then you can understand my enthusiasm when, a couple of hours ago in the middle of the night, I found out the first long-awaited playlist, full of some of the live set recorded at the January edition of the glorious Holy Ship! featuring first-class performers like AC Slater, Tommy Trash, Bot, Slumberjack and that two crazy guys called Peking Duck.
So, If you are a fan like me, forget what you were actually doing, sleeping or studying or whatever it was, wear you rave suit and enter the ShipFam by pressing play below.
Doorly
[soundcloud url="https://api.soundcloud.com/tracks/246066985″ params="color=ff5500&auto_play=false&hide_related=false&show_comments=true&show_user=true&show_reposts=false" width="100%" height="166″ iframe="true" /]
Bot (January Set)
[soundcloud url="https://api.soundcloud.com/tracks/246074043″ params="color=ff5500&auto_play=false&hide_related=false&show_comments=true&show_user=true&show_reposts=false" width="100%" height="166″ iframe="true" /]
Tommy Trash
[soundcloud url="https://api.soundcloud.com/tracks/246079353″ params="color=ff5500&auto_play=false&hide_related=false&show_comments=true&show_user=true&show_reposts=false" width="100%" height="166″ iframe="true" /]
Lee Foss
[soundcloud url="https://api.soundcloud.com/tracks/246080372″ params="color=ff5500&auto_play=false&hide_related=false&show_comments=true&show_user=true&show_reposts=false" width="100%" height="166″ iframe="true" /]
Slumberjack
[soundcloud url="https://api.soundcloud.com/tracks/246071744″ params="color=ff5500&auto_play=false&hide_related=false&show_comments=true&show_user=true&show_reposts=false" width="100%" height="166″ iframe="true" /]
AC Slater (January Set)
[soundcloud url="https://api.soundcloud.com/tracks/246093803″ params="color=ff5500&auto_play=false&hide_related=false&show_comments=true&show_user=true&show_reposts=false" width="100%" height="166″ iframe="true" /]
Peking Duk
[soundcloud url="https://api.soundcloud.com/tracks/246111917″ params="color=ff5500&auto_play=false&hide_related=false&show_comments=true&show_user=true&show_reposts=false" width="100%" height="166″ iframe="true" /]
Bot (February Set)
[soundcloud url="https://api.soundcloud.com/tracks/246142694″ params="color=ff5500&auto_play=false&hide_related=false&show_comments=true&show_user=true&show_reposts=false" width="100%" height="166″ iframe="true" /]
AC Slater (February Set)
[soundcloud url="https://api.soundcloud.com/tracks/246142660″ params="color=ff5500&auto_play=false&hide_related=false&show_comments=true&show_user=true&show_reposts=false" width="100%" height="166″ iframe="true" /]
Lane 8 
[soundcloud url="https://api.soundcloud.com/tracks/246142176″ params="color=ff5500&auto_play=false&hide_related=false&show_comments=true&show_user=true&show_reposts=false" width="100%" height="166″ iframe="true" /]
Wiwek
[soundcloud url="https://api.soundcloud.com/tracks/246144014″ params="color=ff5500&auto_play=false&hide_related=false&show_comments=true&show_user=true&show_reposts=false" width="100%" height="166″ iframe="true" /]
Brazzabelle
[soundcloud url="https://api.soundcloud.com/tracks/246142944″ params="color=ff5500&auto_play=false&hide_related=false&show_comments=true&show_user=true&show_reposts=false" width="100%" height="166″ iframe="true" /]
Steve Aoki
[soundcloud url="https://api.soundcloud.com/tracks/246144048″ params="color=ff5500&auto_play=false&hide_related=false&show_comments=true&show_user=true&show_reposts=false" width="100%" height="166″ iframe="true" /]
Riva Starr
[soundcloud url="https://api.soundcloud.com/tracks/246142740″ params="color=ff5500&auto_play=false&hide_related=false&show_comments=true&show_user=true&show_reposts=false" width="100%" height="166″ iframe="true" /]
Curses
[soundcloud url="https://api.soundcloud.com/tracks/246140476″ params="color=ff5500&auto_play=false&hide_related=false&show_comments=true&show_user=true&show_reposts=false" width="100%" height="166″ iframe="true" /]
Soysauce
[soundcloud url="https://api.soundcloud.com/tracks/246143743″ params="color=ff5500&auto_play=false&hide_related=false&show_comments=true&show_user=true&show_reposts=false" width="100%" height="166″ iframe="true" /]
Destructo
[soundcloud url="https://api.soundcloud.com/tracks/246140327″ params="color=ff5500&auto_play=false&hide_related=false&show_comments=true&show_user=true&show_reposts=false" width="100%" height="166″ iframe="true" /]
Wax Motif b2b Genghis Clan b2b Riva Starr
Dillstradamus (Dillon Francis & Flosstradamus)
Robin Schulz
Gorgon City
Tommy Trash (February Set)
Bones
Flosstradamus
Louisahhh
Genghis Clan
Slumberjack (February Set)
Destructo b2b Justin Martin
Destructo (February Sets)
Leave a Reply