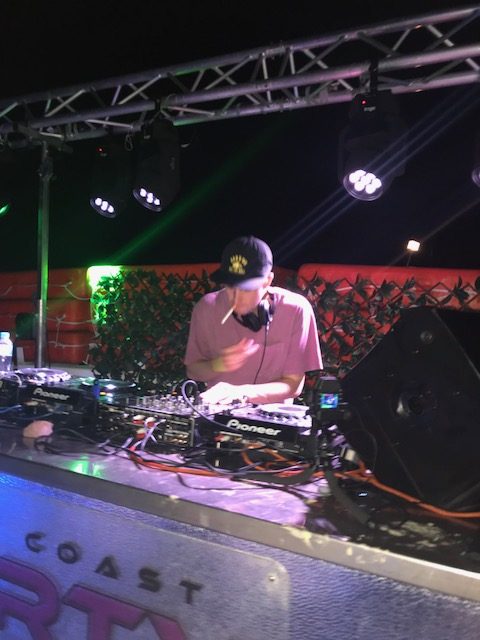 What actually is better about a public holiday weekend in sub tropical Australia is finding a decent boat party with an outstanding house artist headlining the bill. Ant LaRock may not be a household name but he should be. Further investigation before the evening cruise discovered Ants first single was picked up by Todd Terry's InHouse records which to my mind propels him to house music royalty.
2015 saw several releases including remixes for the likes of Moroder and Minogue's hit 'Right Here Right Now' and Petite Mellers 'BabyLove'. Ants contribution helped both achieve fame on Billboard Charts and also on the dancefloor, this writer included can attest to that fact! An April 2015 collaboration with Todd Terry saw the release on Ministry of Sound of 'Back Around'. Throw in Ants production on Charlotte Devaney's and Snoop Dogg's dance room hit and you suddenly realize this guy has some heavyweight clout.
2016 saw Ants release of an EP on Nervous Records and while Ants was DJing in Ibiza he was spotted by Kenny Dope who took him under his wing and saw more releases on DopeWax & Strictly Rhythm as well as DJing alongside Kenny. Ants also added to his high class producer connections by featuring on Armand Van Helden's album Extra Dimension with the collab 'Sacred Geometry'.
2017 saw releases on Brobot, inHouse and Dopewax and a string of international gigs from NYC to London and back in Ibiza.
This is Ants first tour in Australia and I'm glad to say the 'vegan' DJ is glowing in his assessment so far. I would have to say after my first introduction to his style aboard this HausManagement organised cruise, I'm a fan.
Ably supported by local James Curd (check him out if you love the house vibes) Ant LaRock took the small but appreciative crowd through a set choc full of house goodness. The smooth transitions and subtle choices of beats melded beautifully into the scenery that surrounds the stunning coast of the Gold Coast's broadwater.
Aside from providing the slick set, Ants is a personable guy who had time for all aboard and the genuine enthusiasm for house music is infectious.
Haus Management newly into the House Cruises provided a great venue aboard with anti pasto platters, happy hour and I could honestly say to Ryan Spellman and all his crew that the entire night was a pleasure to be there. Could also have a lot to do with that chilled vibe an Aussie crowd gives you where relaxing and enjoying decent house music is becoming more of the norm than your average everyday EDM.
I'm looking forward to this company taking huge steps forward to making these nights more frequent and even more successful although I'm a fan of a small group with plenty of room to dance. It was well worth the sunburn!
Check out some Ant LaRock below and I'm sure as a true house fan you won't be disappointed.
Leave a Reply