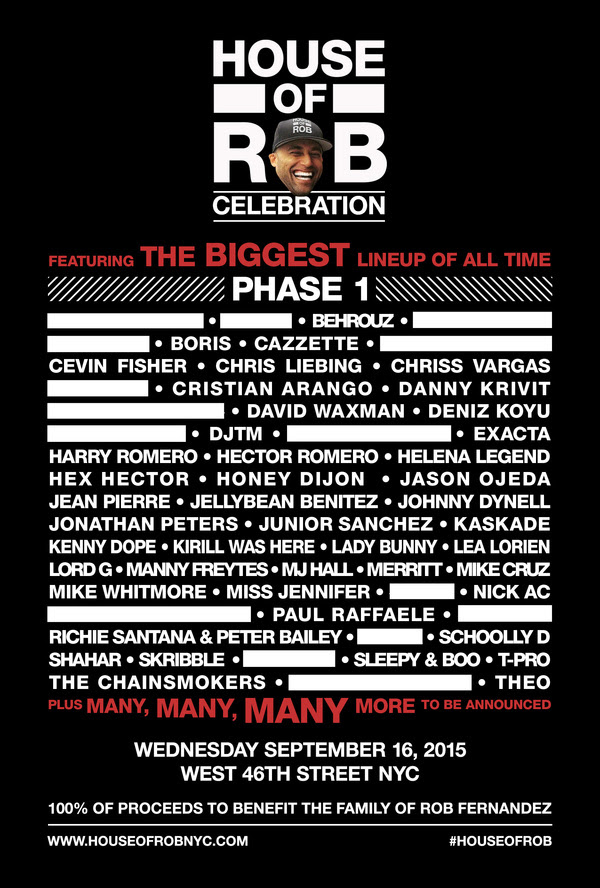 With the outpouring of support from DJs, promoters and everyone who Rob Fernandez influenced, it was no surprise that a massive show featuring these artists would happen to benefit Rob's family. On September 16th at Pacha, artists will show their support by donating their time and services to play one last for Rob and his memory. With more artists to be announced, this is easily one of the largest shows in NY and Rob would be proud.
"Dubbed the 'King of New York,' Fernandez's inventive parties, keen eye for trends and talent, and generosity to stars, peers and upstarts alike made him a beloved figure throughout the global music industry," says Billboard.
You can get your tickets to the event right here and be on the lookout for more artists to be announced right after Labor Day!
Behrouz
Boris
Cazzette
Cevin Fisher
Chris Liebing
Chriss Vargas
Cristian Arango
Danny Krivit
David Waxman
Deniz Koyu
DJTM
Exacta
Harry Romero
Hector Romero
Helena Legend
Hex Hector
Jason Ojeda
Jean Pierre
Jellybean Benitez
Johnny Dynell
Jonathan Peters
Junior Sanchez
Kaskade
Kenny Dope
Kirill Was Here
Lady Bunny
Lea Lorien
Lord G
Manny Freytes
MJ Hall
Merritt
Mike Cruz
Mike Whitmore
Miss Jennifer
Nick AC
Paul Raffaele
Richie Santana & Peter Bailey
Schoolly D
Shahar
Skribble
Sleepy & Boo
T-Pro
The Chainsmokers
Theo
Plus many more to be announced!

Leave a Reply