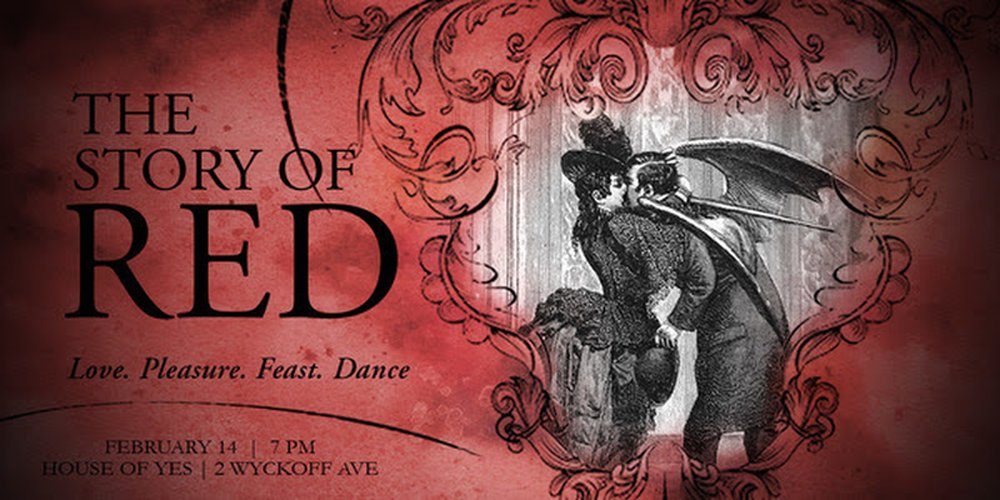 The amazing House of Yes is coming up with a scandalous, sexual, and sensual way to spend Valentine's Day. A costume-mandatory party, themed 'The Story of Red' will be taking place February 14th with activities happening from 7pm until 4am.  Doors are open to those in groups, couples and individuals looking to be entranced on Valentine's Day this year.
The night will be divided up into 5 different parts, being referenced as Dark Fairytale Chapters:
The Introductions
The Kiss
The Heart
The Blood
Happily Ever After – Dance and Seduction
Guests are only allowed in wearing their "sexiest couture in shades of red". Once in, they will be treated with treats of the visual, edible, and sensual kind. Some features will be a three course feast, hors d'oeuvres and "love potions". On the dance floor, per usual will be acrobatics, lights, decoration and amazing music.
Along with what is on the dance floor, YES is also offering:
The Wolves of the Dark Woods: BDSM kink space
The infamous rooftop hot tub in action for onesomes, twosomes, threesomes and more!
Private heart openings: a one-on-one experience with an energy clearing love specialist witch
Love tarot sessions
Divination readings using relics and ruins
Tantric massages
Aphrodisiacs
Shadowbox of Pleasure: an installation space for those interested in anonymous exhibitionism
The breakdown of the night is as follows:
From 7pm until 10pm there will be a unique dining experience will with immersive interactions, live music and the YES Ensemble; an ensemble created by the minds of running House of Yes. The live ensemble is directed by Leo Leite and Ricardo Romaneiro. The YES Ensemble will be called upon to set the mood with angelic melodies.
During The Introduction, the performers will be Addi (vocals) and Jacqui Kerrod(harp).
During the section, The Kiss, Hannah Sumner (Vocals) with Vasko Dukovski (clarinet) will perform
Sandbox Percussion will perform during The Heart, using different and unique percussive drums
The Blood will Little Kruta (strings) accompanied by all ensemble members performing together.
From 10pm until 4am will be Happily Ever After, where there live music will be mixed by international DJ, Alex Cruz and the local DJ, playsuit.
Below you can click the link to get a showcase of different artists performing throughout the night. If you are interested in attending head to EventBrite for tickets, and remember, No Red, No Entry.
Entertainment Line Up:
Alex Cruz
[soundcloud url="https://api.soundcloud.com/tracks/301205989″ params="color=ff5500&auto_play=false&hide_related=false&show_comments=true&show_user=true&show_reposts=false" width="100%" height="166″ iframe="true" /]
Playsuit
[soundcloud url="https://api.soundcloud.com/tracks/218787234″ params="color=ff5500&auto_play=false&hide_related=false&show_comments=true&show_user=true&show_reposts=false" width="100%" height="166″ iframe="true" /]
YES Ensemble directed by Leo Leite and Ricardo Romaneiro
Leave a Reply