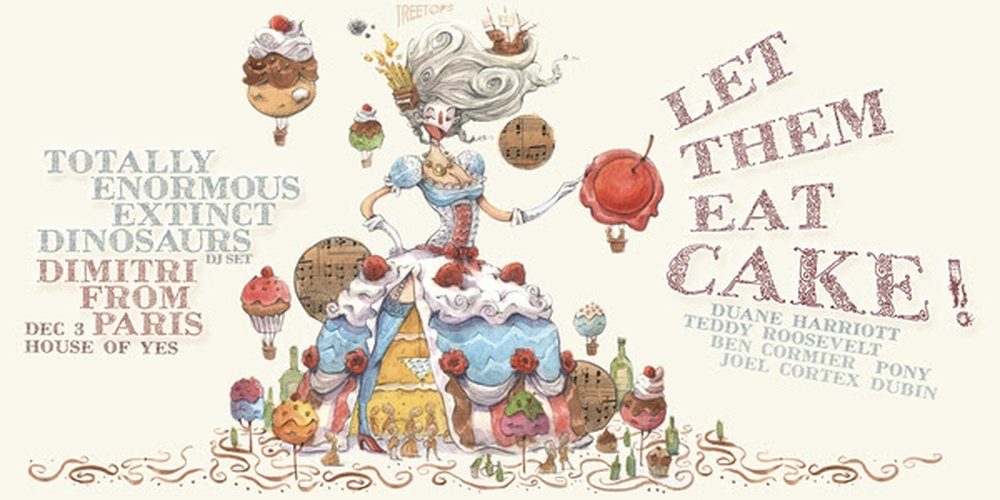 House of Yes is coming out for another power-packed weekend. After last Saturday's All White Party, the club is hosting a 'Let The Eat Cake!' party. For this French Revolution themed dance party, House of Yes has called upon an awesome DJ lineup. Headlining artists include Totally Enormous Extinct Dinosaurs and Dimitri From Paris.
Guests are encouraged to dress as aristocratic as possible. While attending, they will experience:
Aerial ballroom performances like in the Palace of Versailles
Edible costumes inspired by Marie Antoinette (courtesy of the Theatre Development Fund)
French Revolution and pastry themed visual projection mapping
A centrally placed Fire Organ by Guerilla Science, which will shoot fire to the sound of music
Entertaining those attempting to get in will be philosophical and delicious characters who will be sparking quirky conversations and hinting at the extravagance waiting inside over pastries, cake and delicately frosted Baroque desserts
The full DJ Line Up includes:
Totally Enormous Extinct Dinosaurs (DJ set)
Dimitri From Paris
Duane Harriott
Teddy Roosevelt
PONY
Ben Cormier
Joel Cortex Dubin
Head to Evenbrite to purchased advanced tickets. Make sure to have fun December 3rd!
Leave a Reply