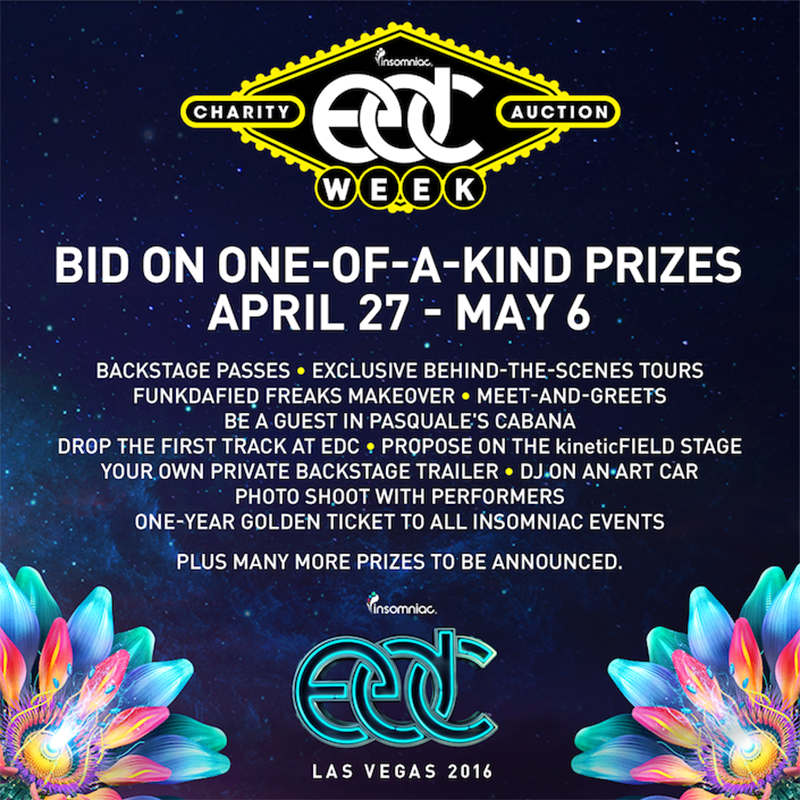 For the last few years, Insomniac decides to do this thing where they put items up for auction in relation to the festival for charity. People will get to vote for items that are considered once-in-a-lifetime from April 27th to May 6th. Specific fan experience items will go on sale May 2nd to May 12th. Proceeds will go to The Shade Tree which is a nonprofit organization dedicated to improving the lives of women, children and their pets affected by domestic violence and crisis in the Las Vegas valley. With the money generated from this year's EDC Week Charity Auction, Insomniac will help innovate and redesign The Shade Tree's Children's Activity Center (CAC), an arts and education space designed to inspire and encourage a positive and healthy atmosphere for the youth being served at the shelter.
Here are the items that will be on the first round of items for auction. This also includes the descriptions of each item. Please visit  www.ebay.com/insomniac to bid today.
I've Got the Golden Ticket!: This premier pass will grant the winner and their guest entry to up to 10 Insomniac festivals for the next year including Electric Forest 2016, EDC UK, Beyond Wonderland, EDC Orlando, Countdown and more.
Be a Guest of Pasquale's in His Private Cabana at EDC Las Vegas: Spend time with the man behind North America's largest dance music festival, Pasquale Rotella, and enjoy EDC with the best view in the house. One winner and a friend will be personal guests of head night owl, Rotella, and enjoy exclusive seating in his private cabana overlooking kinecticFIELD.
EDC Snap Chat Takeover: Calling all social media mavens!  For one hour, one lucky winner will have the power to hold the reins to Insomniac's Snap Chat account during EDC Las Vegas 2016.
Private Backstage Trailer at EDC Las Vegas: Every VIP needs a personal trailer. One winner and a guest will enjoy the comfort of their own private trailer, provided by Star Wagons, in the Production/Artist Area from Thursday through Monday, 5 p.m.– 8 a.m.
Drop the First Track at EDC Las Vegas: Every party has to start somewhere, and one fan will have the chance to kick off EDC Las Vegas by playing the opening track at the stage of their choice.
Cut the Ribbon at EDC Las Vegas: Ever wanted to feel like the mayor of EDC? One winner will get to be the official ribbon cutter and mark the opening of EDC Las Vegas.
Appear in an EDC Las Vegas Official Promotional Video: One auction winner will become an overnight celebrity when they guest star in an official EDC Las Vegas video.
Two VIP Passes to EDC Las Vegas 2017: Nothing says VIP better than being the first VIP ticket holder to EDC Las Vegas 2017 – before tickets are even on sale.
Weekend access to EDC Las Vegas Artist Area: Roll in style with the DJs of EDC Las Vegas and spend the three-day weekend with a friend in the exclusive artist area.
Song Critique with Insomniac Records: Attention aspiring artists and producers! Bring an original track and sit down with an executive member of Insomniac Records for honest, constructive feedback from one of the most experienced faces of the electronic music industry.
EDC Merch Guest Designer: Be a guest designer and see your very own merchandise concept come to life at EDC.
Exclusive EDC Behind-the-Scenes Tour: Before the gates open, one winner will get to be the first Headliner to see EDC Las Vegas with a private tour from a member of the Insomniac production team.
Funkdafied Freaks Photo Shoot: Work it! One Headliner and a friend will have exclusive photos taken with some of the incredible Insomniac performers.
Take a Ride on an EDC Art Car at EDC Vegas 2016: Experience EDC through the eyes of the mobile party crew and win a ride throughout the festival grounds on one of EDC's larger-than-life art cars.
EDC Lighting and Sound Booth Tour: How does EDC create the visual effects for each stage? Hang out with one of EDC's Experience Creators and get a behind-the-scenes look at what goes into the mind-blowing visual effects and cutting edge sounds that create EDC.
Rock-Star Parking at EDC: Park close with a premium parking pass to the Artist Parking area.
Backstage Passes to EDC Vegas: The winner and a guest will have the opportunity to go backstage and see what goes on behind-the-scenes and in front of the stage.
Hang Out with Insomniac's Head of Talent: Meet the man who works with the world's top dance music acts and is responsible for booking all of the stages at EDC – Dave Ralph. Pick his brain about selecting Headliner's favorite artists all while managing his own long career as a house and trance DJ.
Ice Cream with Pasquale Rotella: Cool down and soak up the EDC atmosphere with lead night owl, Pasquale Rotella, while enjoying a sweet ice cream treat.
Leave a Reply