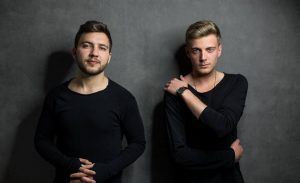 This week we grab a few words with production two-piece Gigo'n'Migo, who are having a great year for making music. We grill them on their latest track "My Heart" and more.
What first inspired you both to get into music?
We went to a lot of parties when we were younger. House music stood out the most to us and we wanted to be the ones you play and the ones you party to when you go out.
What's the best piece of advice you've been given from your peers?
Appreciate the little things, be grateful for everything you get.
"My Heart" is an awesome tune! How have your fans reacted to it so far?
We were surprised. We did not have the biggest marketing campaign. But playing "My Heart" at shows is amazing. Everybody seemed to like it from the get-go.
[soundcloud url="https://api.soundcloud.com/tracks/268435579″ params="auto_play=false&hide_related=false&show_comments=true&show_user=true&show_reposts=false&visual=true" width="100%" height="450″ iframe="true" /]
Would you like to work with Jonas Stero on another release at some point?
Definitely. We work on a lot of things and we also assist each other at single releases.
What have been your favourite festivals or shows to play so far? Do you have any dream places you would like to play some day?
Bootshaus in Cologne and Halo club Hamburg have been our favorite clubs to play so far. But playing at a festival is completely different. Open Beatz and Electric Love in particular have been absolutely breathtaking this year. We're also looking forward to play at Ferdinand Fields festival soon.
What are your three current top songs?
Gigo'n'Migo & Jonas Stero – "My Heart"
Marshmello – "Alone"
Ayokay – "Kings of Summer"
Leave a Reply