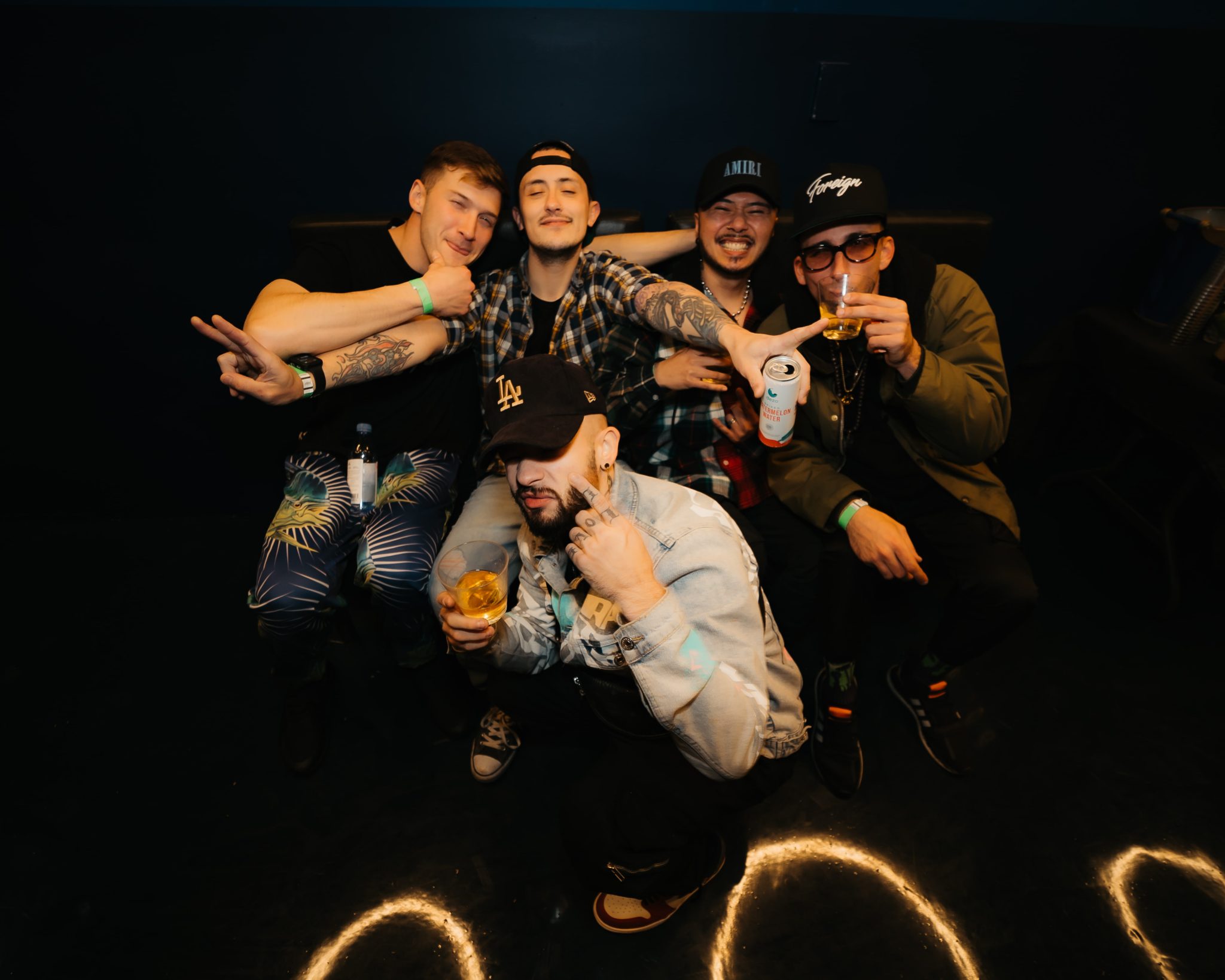 Spicing things up in the LA electronic music scene, groovy duo Jakk'd has been tearing it up with their infectious releases and skill behind the decks. Jakk'd's dedication to their craft has led to support slots for the likes of 4B, Ghastly, GRiZ, and more. Additionally, the pair has been featured on top-tier outlets, such as Two Friends Radio and Sirius Radio.
Uniting with an assortment of talented artists they have met throughout their musical journey, Jakk'd is back with their new single, "CHECK THIS OUT". This club-ready banger features HAWD HITTA, $on-$hine, and NoBueno, all of which showcase their signature styles. Instantly emitting a funky vibe, the song kicks off with a percussion-centric bassline. Throughout "CHECK THIS OUT", these producers weave together thrilling horns, immersive effects, and a hype vocal sample.
Similar to Jakk'd, the other three artists have made huge strides in the EDM circuit. Hailing from Boston, NoBueno is a proficient DJ-producer hybrid who has been on the grind to have a continuous stream of releases this year. $on-$hine has been cultivating his skill set as a drummer for over nine years and that has shown in his energetic production. The final member of this collab, HAWD HITTA, has opened for SIgala, KSHMR, Tritonal, and other renowned artists. He is now preparing to embark on a country-wide tour.
Whether you are cruising on the back roads or pre-gaming a festival, "CHECK THIS OUT" is an essential anthem to have on your playlist. Be on the lookout for these four sonic gurus as they dive into the next chapter of their careers.
The squad behind the song took the time out to chat with us on a variety of subjects, check out the interview below.
Interview
What sparked the idea/concept behind "CHECK THIS OUT"?
HAWD HITTA: "We have collectively been working together on production at the start of 2023 in anticipation of a big second half to this year. We also have been focused on certain vocal patterns and sound design we are huge fans of to build production around, and "CHECK THIS OUT" is a perfect example of bringing that swagger into our sound."
What makes "CHECK THIS OUT" a good match for its surrounding imprint, SEARCHPRTY RECORDS?
NoBueno: "We have a combination of producers that all work on different styles, each with unique backgrounds. "CHECK THIS OUT" is a culmination of all of our efforts and we think that it really is a statement for our first track of this genre on the label to date, and definitely want this to continue."
In terms of production, what was the most difficult challenge you guys faced when collaborating on "CHECK THIS OUT" and how did you work together to overcome it? –
$on-$hine: "When we wanted to rewrite parts of the song after a car drive down to Vjay and Max's studio, I picked up HAWD HITTA from his apartment, headed south to Lakewood and we both noticed we could quickly rearrange some parts to create more energy out of the structure and go after the drop to make it better. It ended up being very easy working together in the studio to make this track come together"
What advantages come with working with a variety of creative and talented artists on a track when compared to a solo release?
NoBueno: "We have 5 minds, it's way more powerful than one. We are altogether a mastermind".
HAWD HITTA: "Momentum is contagious, it can really grow to a higher level than expected when a group gets together and commits to projects time and time again"
Can you break down the process of creating the intro and outro for "CHECK THIS OUT" so that it can be blended smoothly in your mixes?
HAWD HITTA: "When it comes to DJing, and mixing tracks in and out, it's important to leave enough room on both ends of the extended mix. We felt like we built in that energy right off the bat in the intro and hope the outro gets the listener hooked enough for another listen."
What are you guys most looking forward to in regard to any upcoming live performances and touring?
$on-$hine: "I'm going to take the most time, to mix, to get better at producing, coming out with at least 5 original funk house tracks before I perform, as weird as it sounds. I want to come out guns blazing"
Jakk'd: "We are excited to release steadily and play more shows for sure, and I think that we feel more confident in our sound than ever before. We are really glad we can go out and showcase what we've been cooking these past few months. We've really thought that now is the time where we are prepared to focus on performing on stage"
HAWD HITTA: "This next wave of music is an absolute golden opportunity to go tour again, and I think this is the year I'll drop an EP"
NoBueno: "I'm excited to play shows and want to perform in the Boston area soon. The goal is to play in a lot more places around the globe and I think we are very capable of that.
What are each of your biggest goals as artists for 2023?
$on-$hine: "I want to get over 50,000 streams on a Spotify track on an original song this year, I feel like that's a realistic goal for me to have"
HAWD HITTA: "I would love to do some International stops on a tour, I think that would really be awesome as well as crossing the 100,000 monthly listener mark"
NoBueno: "Platinum Record, that's an easy one"
Jakk'd: "We would love to play some major shows and festivals this year as we release more tunes, we can't wait for the rest of 2023. We are really looking forward to a steady release schedule where we have the goal of landing on some great lineups and have the chance to collaborate with some great people"
Leave a Reply