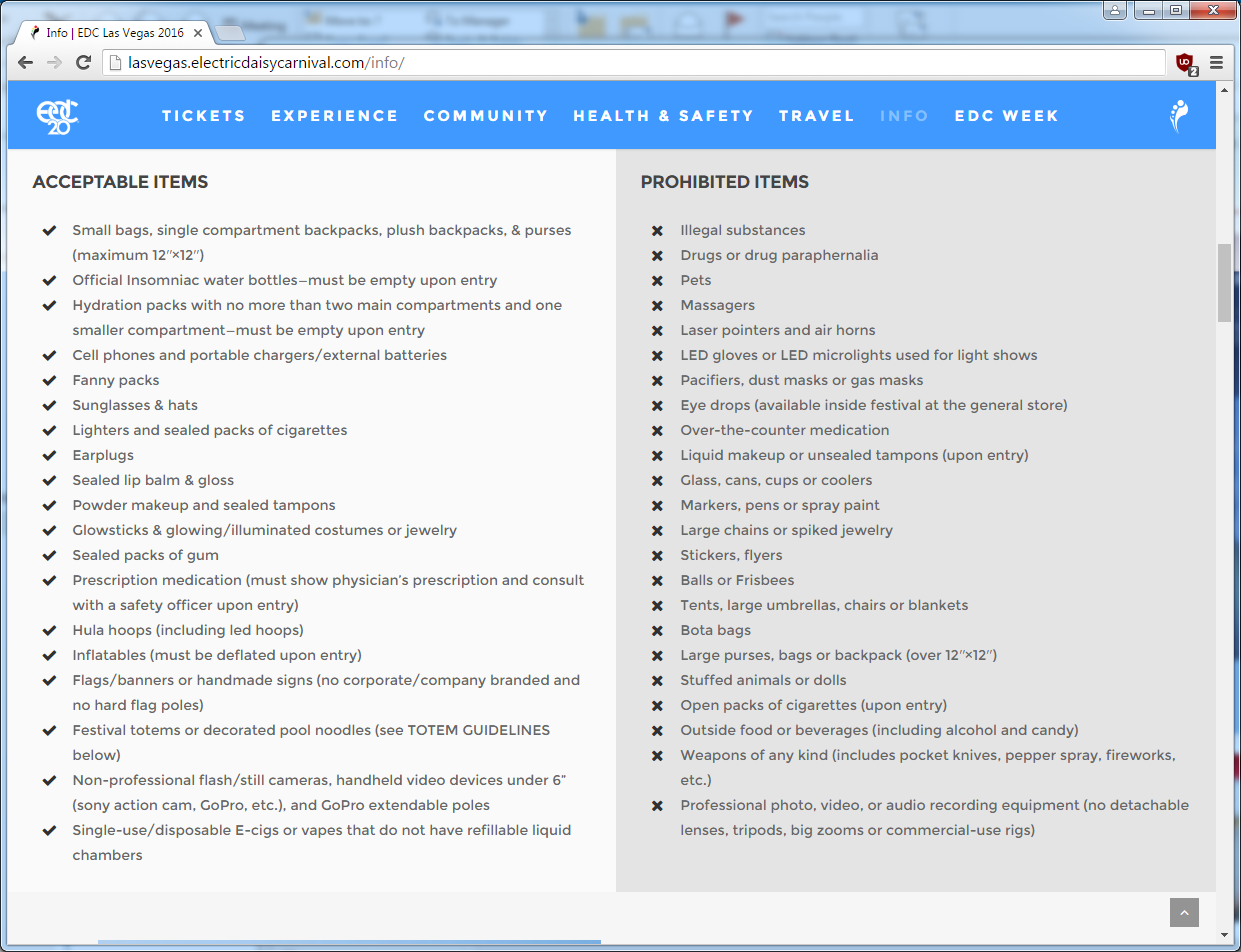 With EDC Las Vegas and the Unique EDC20 event quickly approaching, and even though many are overly excited to realize the rules that are being set in place by Insomniac, a certain individual noticed. Jonathan Corbett, a civil rights advocate, posted on his WordPress that he will be suing Insomiac for their latest drug-related regulations.
The company has decided to have TSA-style searches to ensure people are not hiding drugs, a common practice in today's festival age. That, however, is not what got Corbett's attention. Insomniac is prohibiting all over-the-counter medicine from entering the Las Vegas Motor Speedway and will be requesting that any attendee bringing in a prescription explains their medication.
As a company who organizes, orchestrates, and supervises events like Electric Daisy Carnival, Insomniac does feel obligated to minimize unlawful drug usage in their venues. It is a dangerous practice, to prohibit all over-the-counter medicine. Corbett uses the example of Benadryl for someone who has allergies. Which is an excellent point, as a lot of allergy medication is over-the-counter. It is also an invasion of privacy in the eyes of many to have to explain why they have a certain medication. Again, Corbett uses the examples of psychiatric medications, or HIV medications.
Although many nightclubs in the United States refuse to allow medicine, those are for 4 or 5-hour events at most. Insomniac runs EDC for whole days, which can turn out to be dangerous for some festivalgoers.
Corbett is working strongly with the question of if this is considered discrimination towards attendees as prohibited by the Americans with Disabilities Act and similar state laws. He is also looking for assistance in legal fees, if one feels so inclined: Donate via PayPal, Venmo, Chace QuickPay, Bitcoin, or check.
Below you will find the links to the court documents for Corbett V. Insomniac. The first document, "Complaint with Exhibit" explains what they court case is and why it is being filed.
Corbett v. Insomniac – Complaint with Exhibit
The second, "Motion for TRO", is the Motion of a Temporary Restraining Order against Insomniac Holdings, LLC and Speedway Motorsports, Inc. This will prevent the companies or any hired bodies from removing medication that is required for an attendee's health. It also prevents them from asking why the medication is being brought in. Corbett plans to attend, for a consecutive year, to attend EDCLV and also admits he requires both over-the-counter and prescription drugs if he is to attend all day.
II. Nature of the Injunction:

1. Sought CORBETT seeks that the Court prohibit both EDC and SPEEDWAY from: 1. Advertising or enforcing, directly or via any of its agents, any policy which prohibits attendees at any music festival, operated or hosted by either party, from entering said festivals with any reasonable quantity of lawful medications.

2. Advertising or enforcing, directly or via any of its agents, any policy which requires attendees at any music festival, operated or hosted by either party, to explain or justify any reasonable quantity of lawful medication as they enter, or at any point during, said festivals.
Corbett v. Insomniac – Motion for TRO
The final document, "Motion for TRO Affidavit", lists the reasons, in the form of an Affidavit, why he is filling the Temporary Restraining Order. In whole, the Affidavit says the following:
I, Jonathan Corbett, declare the following:

My name is Jonathan Corbett, I am over the age of 18, and I reside in Miami, Florida.
I am the author of the Complaint and Motion for Temporary Restraining Order in this action, and to the best of my knowledge, all statements therein are accurate representations of the facts.
Specifically, I affirm that I have regularly attended the "EDC" music festival for the last several years and that I intended to attend this year.
I affirm that I regularly carry both prescription and over-the-counter medication to treat my medical conditions, and cannot attend EDC without those medications without risk of adverse medical consequences.
I affirm that Exhibit A of the Complaint is a true and accurate copy of the Web site published by Insomniac that I retrieved on the date specified while within California.

I certify that these statements are true and correct under penalty of perjury, this 24th day of May, 2016.
Corbett v. Insomniac – Motion for TRO Affidavit
Leave a Reply