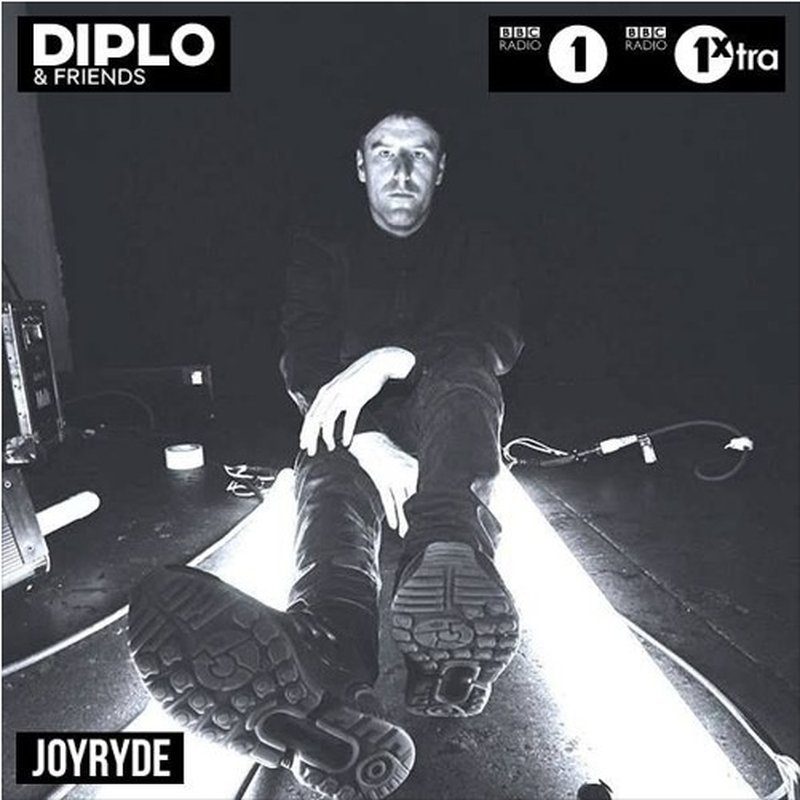 Radio 1 throws listeners some of the best tunes.  Diplo & Friends is one of the awesome mixes that are available.  The latest in Diplo & Friends is the awesome DJ Joyryde.
Joyryde wrote:
rydrz, here is my diplo and friends mix i did for radio 1 .. so many records i love inside & some unreleased ones from me… big respect to diplo for asking me & hope u feel it… J x
So What does that mean for fans?  Joyryde picked the best of the best right now to create almost an hour of amazing music.  Starting right of the bat, and continuing throughout the mix, Joyryde made sure to add some of his personal music; a few of them unreleased.  A few times, he cuts the beats to allow vocals that lead up into an INCREDIBLE drop.
If you are interested to see what he played during the set, the setlist can be found below, thanks to the Diplo & Friends website.  You can purchase this mix here.
[soundcloud url="https://api.soundcloud.com/tracks/302387413″ params="auto_play=false&hide_related=false&show_comments=true&show_user=true&show_reposts=false&visual=true" width="100%" height="450″ iframe="true" /]
JOYRYDE – G BOMB [UNRELEASED]
JOYRYDE – SPEED TRAP
FELIX CARTAL – KEEP UP FT. STEPH JONES (BROHUG REMIX)
DESTRUCTO – 4 REAL [ JOYRYDE 'SWURVE' MIX ]
SCHOOLBOY Q – THAT PART FT. KANYE WEST
WIWEK & MOKSI – MASTA
JOYRYDE – KICKIN OFF
DOUBLE 99 FT. TOP CAT – RIP GROOVE
JAY KARAMA – KEEP CALM
MEDASIN & X&G – THE ZOO [ FT. JOSH PAN ]
JOYRYDE – HARI KARI
SEEK N DESTROY – WRAP STARS
JOYRYDE – THE BOX
TY DOLLA $IGN – BLASÉ FT. FUTURE & RAE SREMMURD
DRAKE – BLESSINGS [ RIOT TEN REMIX ]
KRNE & B.LEWIS – PCP
SOLO 45 – FEED EM TO THE LIONS
JAUZ – FEEL THE VOLUME
JAUZ – FEEL THE VOLUME [ JOYRYDE ' STICK IT IN REVERSE' MIX ]
SKRILLEX & RICK ROSS – PURPLE LAMBORGHINI [ TOM BUDIN ]
SWITCH – A BIT PATCHY
KANYE WEST – MERCY FT. BIG SEAN, PUSHA T, 2 CHAINZ
WILEY – CAN'T GO WRONG
JOYRYDE – HOAM
GHETTS & RUDE KID – BAD BOY
JACKAL – GUNSHOT (FEAT. JAMMIN)
STORMZY – SCARY
T Q D – DAY & NIGHT [DAY MIX]
JACK Ü – TO Ü [ JOYRYDE MIX 2015 ] [UNRELEASED]
BAAUER – DAY ONES
JOYRYDE – DAMN FT. FREDDIE GIBBS
DRAKE – BACK 2 BACK
DJ GUV – WARNING
LNY TNZ – ALL THE LADIES (FT. SAM KING)
KALI UCHIS – RIDIN ROUND FT. TORY LANEZ [ OSHI REDO ]
JOYRYDE – I WEAR HOUSE [UNRELEASED]
BROHUG – WTF
JOYRYDE – HOT DRUM
GETTER & GHASTLY – 666 [ GETTER VIP ]
JOYRYDE – GIVE MY LOVE
EPHWURD – HIGH ON YOU
GHASTLY – TOKYO
BORGORE & GETTER – SQUAD [ JOYRYDE REMIX ] [UNRELEASED]
JOSH PAN – PLATINUM
DJ SLIINK – HIGHER (FEAT. FATMAN SCOOP)
JOYRYDE – WINDOWS (FEAT. RICK ROSS)
Leave a Reply