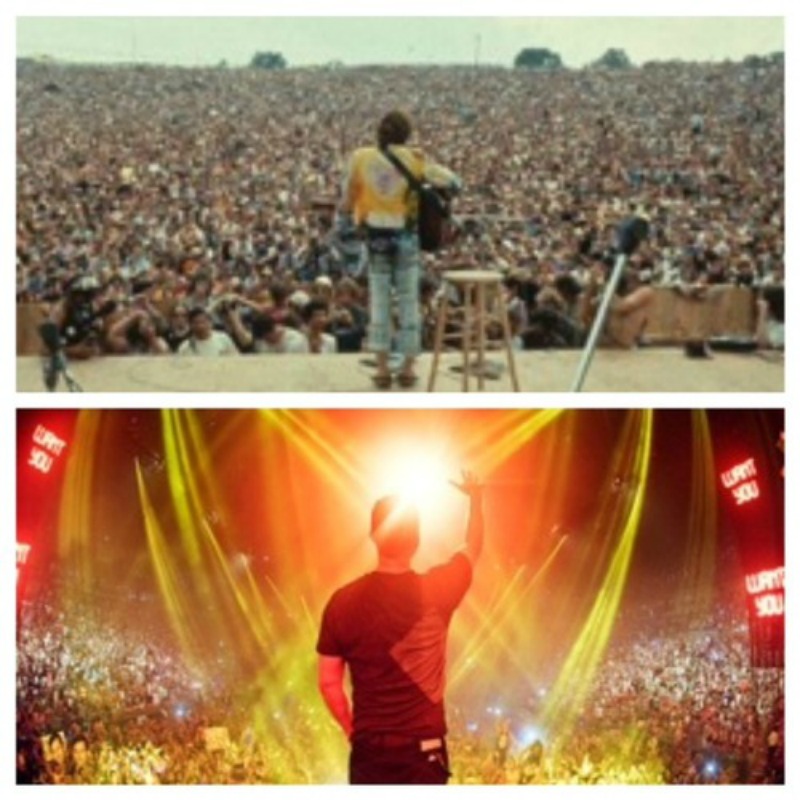 Kaskade took to Tumblr earlier today to let out his frustrations on the criticisms the EDM scene has been receiving. It all started when a reporter asked him how he felt to be performing at the Woodstock grounds for next month's Mysteryland USA. He compared the current rise of EDM to the rise of rock music when Woodstock was happening. It was a major pop culture moment, much like dance music is now.
Like Electronic Music now, it [rock music] was mired in tales of rampant drug use and accused of having little musical merit. It terrified the Moral Authority, with its sexuality and racial mixing. And music critics went crazy describing the act of plugging in an electric guitar as simple and crude, a violation of the heritage of the past.
Doesn't that ring a bell? People seem quick to forget that rock music had undergone the same criticisms that dance music does today. Replace the electric guitars with DJ software and turntables. Switch out the band for the producer. Alas, history repeats itself, and people are too quick to judge something they are either afraid of or just don't understand. All we can do is hope that more exposure to the music will calm the critics down. Kudos also goes out to Kaskade for responding to Arcade Fire and Rolling Stone. In regards to Arcade Fire's pretentious "shout-out" to Coachella fans for choosing to see a live band over an EDM artist, Kaskade reminded us all how everyone infuses technology into artistry in the modern era, showcasing the contradiction of the band's statement. As far as Rolling Stone goes, Kaskade put the publication on blast for their "Rocker vs. DJ" viral video, a heinous crime against music culture. The man of the hour had this to say about the video…
Clearly Rolling Stone wasn't one of the two-million viewers that watched my Ultra set on YouTube. There was an audience. They were chanting my name. They knew my songs by heart. But perhaps I'm not the Third-class whore they're talking about? More First-class? I dare to dream big.
Kaskade took the high road and ended on a more positive note, telling his fans how thankful he is to be on this journey of dance music's rise to the top. We have to say that artists like Kaskade only come once in a generation, and we are so very lucky and extremely fortunate to have him. He chooses to be not only an artist but a role model and a natural leader. He questions the norms, he challenges the oppressors, and he pushes for change and growth not only for the music industry but for a better and stronger American society and culture; a society and culture that values the ideals of peace, love, unity, and respect and fosters them and takes them seriously. If only his Tumblr followers got the message, that is enough. They will be more understanding, and they will spread those powerful vibes to their friends, who will spread them to their friends' friends, and their friends' friends' friends, and so on down the line until this nation and this culture finally takes the term 'United' seriously. This isn't just what Kaskade is saying; it's what Ryan Raddon is saying, and we should listen to him! Not only is this about our music, but it's about the bigger picture: Are we hating on the music of others, or are we hating on the humanity of others?
Leave a Reply