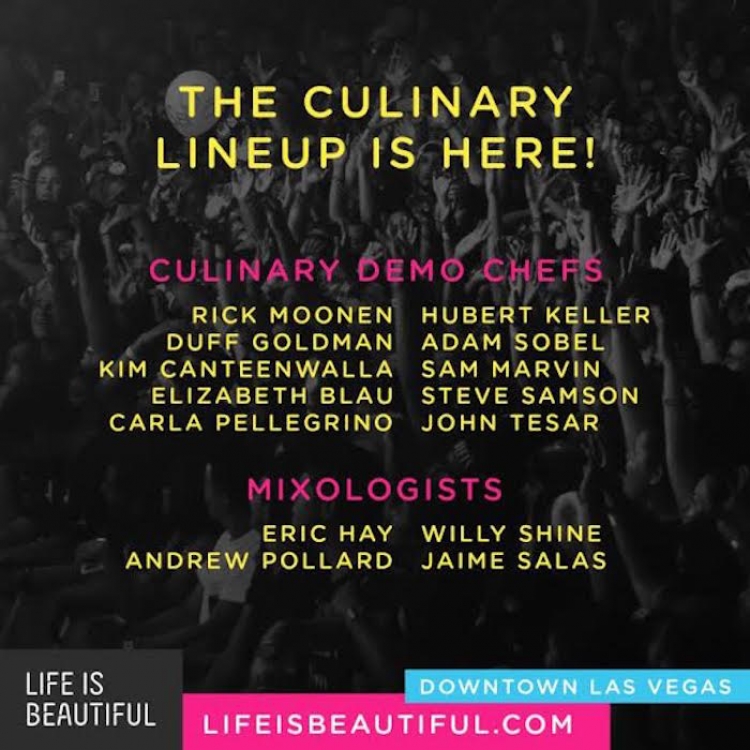 In it's third year, Life Is Beautiful continues to up it's game, including their recent announcement of the culinary lineup for the weekend.
Including a beer garden with over 20 craft beers, which will be placed near the Ambassador stage, plus Culinary Villages at other stages at the festival and pop-up culinary demos, there is plenty of offerings for everyone, including vegan and vegetarian options.
"It is very important for us to continue to incorporate the local Las Vegas restaurant scene and food culture into the festival," says Eve Cohen, Managing Director at Life is Beautiful. "We're excited to bring the culinary experience closer to the fans this year by providing them with front row access to the pop-up demonstrations."
Festival attendees 21 and older will be treated to the opportunity to sample many handcrafted beers, wines and spirits, made by world class mixologists such as Eric Hay, Willy Shine, Andrew Pollard and Jaime Salas.
Culinary Demonstrations will be performed and live-streamed to festival attendees from world famous, award-winning chefs like Rick Moonen, Duff Goldman, Kim Canteenwalla, Adam Sobel, Hubert Keller, Carla Pellegrino and more.
The festival even has a VIP option, provided by Vegas' favorite, Hearthstone Kitchen & Cellar. For everyone else, there will be a wide option of local food vendors and food trucks available throughout the festival.
Life Is Beautiful is under a month away and promises to be an amazing combination of music, art, food, and learning. Be sure to visit their website to get your tickets and learn more about the performers, artists and food options at this great event!
Leave a Reply