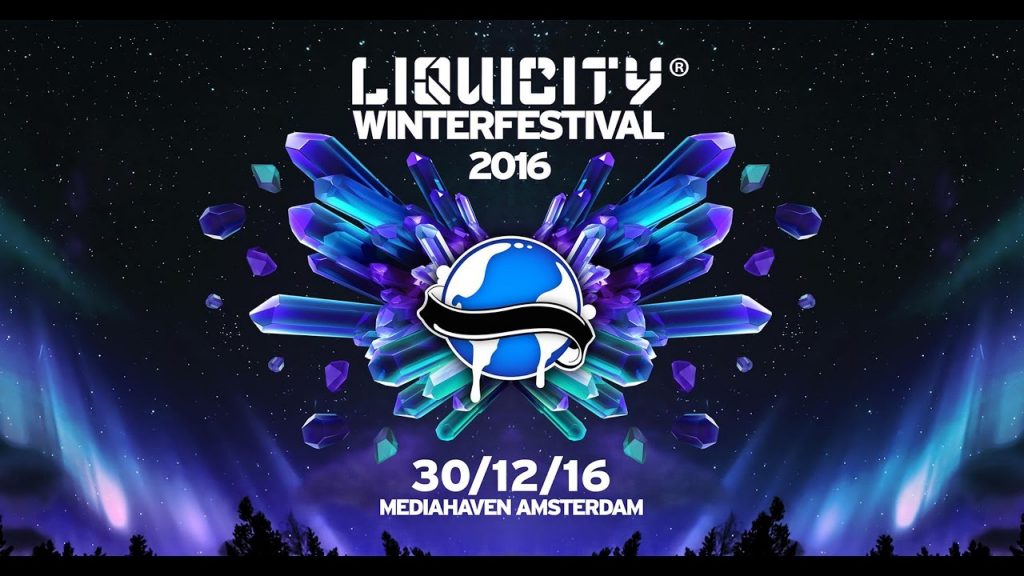 Another year, another Liquicity Winterfestival which means more new music! This year there have been nothing but MASSIVE sets from everyone that was there, I really wish I could've made the journey out there. The Liquicity Events channel on Youtube has been slowly uploading the sets from this year on their channel and some have surfaced on Soundcloud from the artists themselves or the viewers who recorded the sets from the live stream. A couple honorable mentions for sets I'd like to give are Maduk b2b Feint, Fox Stevenson, and Matrix & Futurebound. I'll give each one a separate review.
Starting off with Matrix & Futurebound, in the video you can see it's only one of them unfortunately however that doesn't mean that he won't bring the heat. MC Fava even said during the end of his set, "F***ing amazing." The thing that I always love about Matrix & Futurebound is they're NEVER afraid to play out neurofunk or jump up tunes at Liquicity events which, you would expect liquid or dancefloor drum and bass. With that being said, their set is mixed with their hit song Happy Alone as a memorable moment, as well as a Major Happy mashup with Afterglow. But those moments aren't all, this set gets DIRTY during some moments. Take a listen at the end and figure out, you definitely will not be disappointed.
Second we'll go to Fox Stevenson, set aside the fact that he's my favorite artist also. He starts his set with a new song Knowhow that will be out on the RAMPAGE 2017 EP and continues into his set playing his classics and some unreleased tunes and some new unreleased ones. A few memorable moments are where he ends his set with a popular unreleased song named by his fanbase "It's Hot" as well as when he switches up the drop from a memorable song, Kernkraft 400 by Zombie Nation but Priority One's Remix. But that's not all, he then switched the drop of that into Myro – Playa (Annix Remix) and even later in the mix you get a bit of Hedex with his song Forever. Fox always likes to dabble in dirty dnb and I love it, but I saved the best for last.
Ending off with Maduk b2b Feint, these two are known powerhouses of this label. Feint having major hits like Vagrant and Take It In with Veela and Maduk being a co-owner of the label as well as having releases like his remix of Anyone Out There by Stan SB and his VIP of Avalon. This set gets chilled out in a few spots… but very few. The rest of the set SLAPS you left and right with classics and bangers together. My favorite moment from the whole set is when they play a classic song by Pendulum named Witchcraft, and then after that go right into a double drop of Hypercube by The Prototypes & Warning by DJ Guv and it is UNBELIEVABLE. The only downside to this set is that it's somewhat lacking bass, so if you are able to turn on a bass boost or something I definitely recommend it. All in all though, this set is one of my favorites I've heard in my life and will probably play it until I hate it. Which would be never.
Check out some of these sets below, I'll include many others that I didn't list here and more will be uploaded in the future!
[soundcloud url="https://api.soundcloud.com/tracks/303889993″ params="auto_play=false&hide_related=false&show_comments=true&show_user=true&show_reposts=false&visual=true" width="100%" height="450″ iframe="true" /]
[soundcloud url="https://api.soundcloud.com/tracks/302670642″ params="auto_play=false&hide_related=false&show_comments=true&show_user=true&show_reposts=false&visual=true" width="100%" height="450″ iframe="true" /]
[soundcloud url="https://api.soundcloud.com/tracks/302725922″ params="auto_play=false&hide_related=false&show_comments=true&show_user=true&show_reposts=false&visual=true" width="100%" height="450″ iframe="true" /]
[soundcloud url="https://api.soundcloud.com/tracks/302104086″ params="auto_play=false&hide_related=false&show_comments=true&show_user=true&show_reposts=false&visual=true" width="100%" height="450″ iframe="true" /]
[soundcloud url="https://api.soundcloud.com/tracks/301578871″ params="auto_play=false&hide_related=false&show_comments=true&show_user=true&show_reposts=false&visual=true" width="100%" height="450″ iframe="true" /]
[soundcloud url="https://api.soundcloud.com/tracks/302151178″ params="auto_play=false&hide_related=false&show_comments=true&show_user=true&show_reposts=false&visual=true" width="100%" height="450″ iframe="true" /]
[soundcloud url="https://api.soundcloud.com/tracks/302133041″ params="auto_play=false&hide_related=false&show_comments=true&show_user=true&show_reposts=false&visual=true" width="100%" height="450″ iframe="true" /]
Leave a Reply