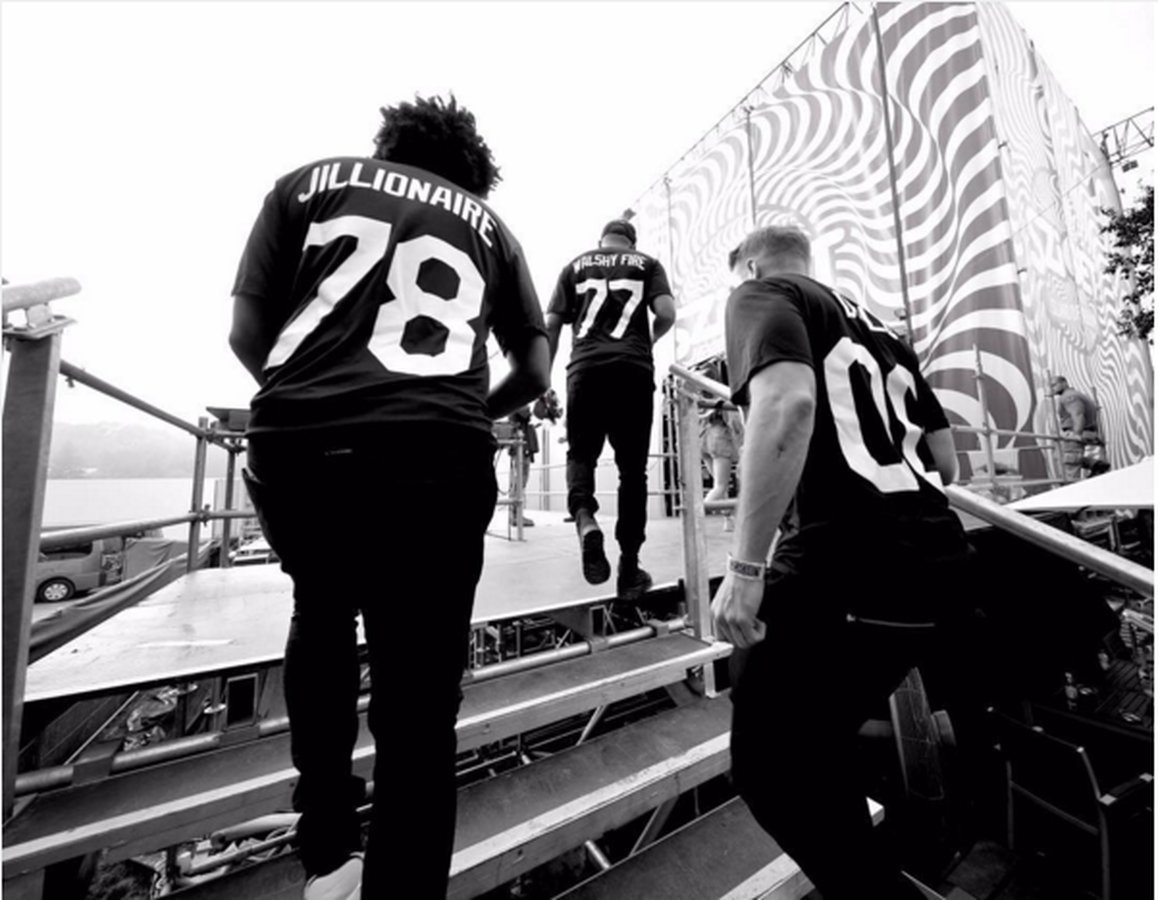 March 6th marked one of the first times that a U.S. act performed in Cuba since Washington and Havana started fixing diplomatic relations between the United States and Cuba. Diplo, Walshy Fire and Jillionaire, the three men that make up the face of Major Lazer, performed to a crowd that local papers reported being over 400,000 strong and performed as the first EDM act in Cuba. Giving their amazing performance on Sunday at the capital's Tibuna Antiiperialista, which was built to honor those who suffered from American injustices in 2000.
When the group began planning this concert, over a year ago, it was set up to be the warm-up for the free festival; Musicabana in May. The festival was founded and is co-produced by Fabien Pisani, who grew up saw a waterfront park he used to go to turn into Tibuna Antiiperialista. Pisani has been hoping Musicabana will bring more international music to the country and help with Cuba's citizens to find who they are musically and pop-culturally as a nation.
Diplo was backing Pisani when he was quoted as saying, "We came to bring peace," being the biggest concert since the Puerto Rican rap group Calle 13 visited the Tribuna in 2010. While Major Lazer promotes peace, waving the Cuban Flag and having the crown wave the Major Lazer flag, Calle 13 was channeling the tension of the time by screaming profanities at the U.S. embassy that the stage was built in front of.
To help get the concert started, the performers agreed that everything would be self-funded. According to a representative of Major Lazer, the group spent US $150,000 to perform. The commitment there is awesome. Indirectly by putting in that kind of money, the group was going to up on one amazing show. They took songs that are on top forty stations in the US like Can't Hold Us, or Sorry and they put reggaeton and salsa rhythms onto the songs. The group did not go on stage right away. They had gone after three DJ's from Cuba and a Rumba band. These four acts led to hours of partying before Major Lazer took the stand.
When I was asked to write this blog I was "double doggy dared" by Grant to include the DIPLOmacy that was involved in the trip. No Seriously: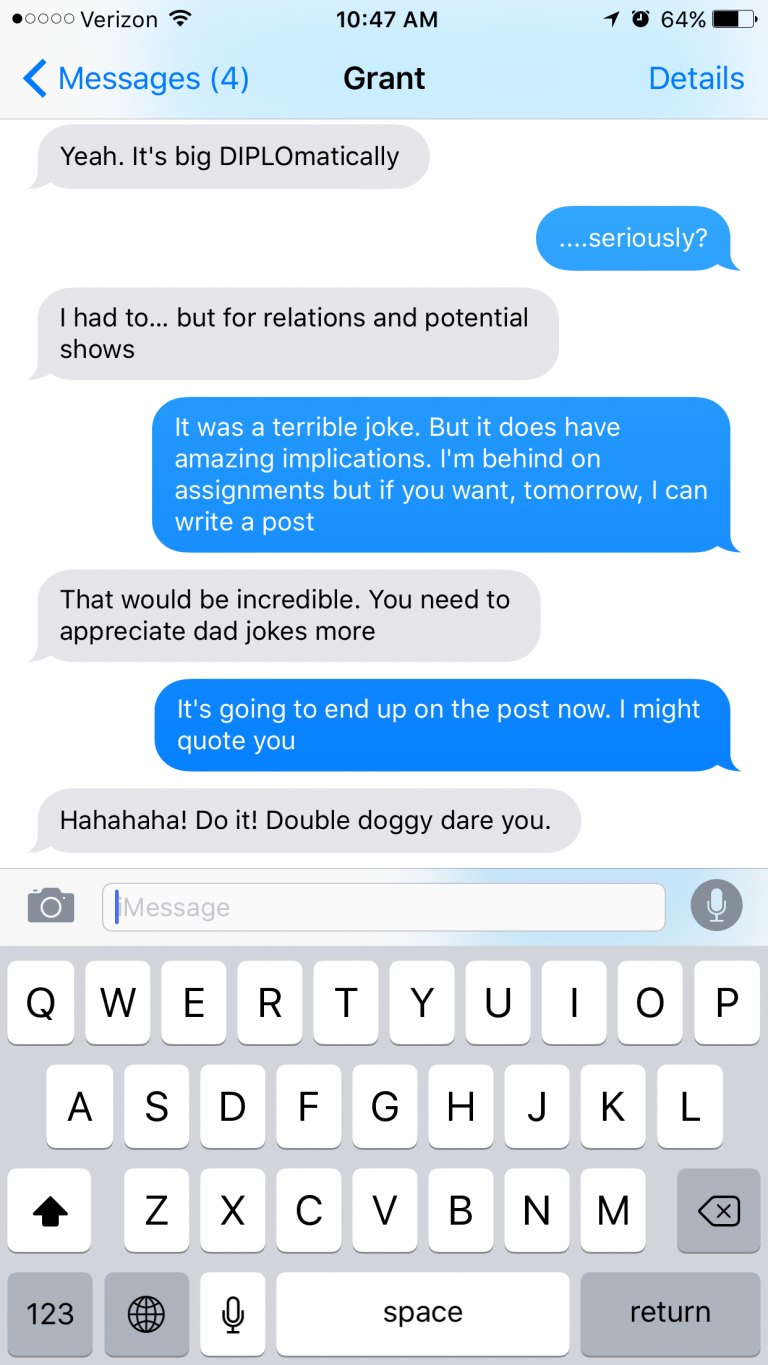 Diplo met with 40 Cuban DJs and other music students Saturday morning to speak with them on being Musicians in Cuba. There are many issues stemming from lack of internet, new music, and difficulty of finding equipment to use. He also found out that it is uncommon to send music to another person to have it mixed after he finishes. His eyes were opened up to the differences between the United States and other countries when it comes to being a DJ.
In a press conference that afternoon with Major Lazer, Musicabana festival leaders, and Cuban music officials, Diplo was quoted as saying the electronic music scene is "New York in the '80s," because of how Do-It-Yourself everything is. He mentioned his conversation with the DJ's earlier in the day and also pointed out how many of the venues those DJs perform at for the public are rooftops, peoples' homes, open lots, or buildings converted into dance floors for the night.
While on the trip Major Lazer hit up some of Havana's hotspot and dance clubs.   On Saturday night, they performed a 20-minute set at the Marina Hemingway with a 90-minute aftershow at the new art gallery/music venue/bar Fabrica del Arte Cubano. According to the economics of Cuba, it is a US $10 to get into the Marina and US $2 to get into Fabrica. For tourists and Foreign students, this is nothing, but for a Cuban national, $10 is a fourth of their month income.
It seems Major Lazer fell in love with the style of the public. They loved performing for the fans, the fans loved the performance, the guys loved traveling around the city and were excited to get involved in the nightlife. Diplo told admitted in multiple interviews that he did while on his trip. He also admitting the group wanted to go back every year, which is good news to everyone in the crowd cheering "Deep-Low" or "It's amazing because we have never received someone like him…We love American music."
If you want to know what Havana, Cuba was like for the group; check out Instagram posts, tweets, and media below:
(Youtube Video courtesy of Fusion – Not great quality)
[youtube https://www.youtube.com/watch?v=bbwBD1LBH1U&w=560&h=315]
Cuba has cooler police officers than we do pic.twitter.com/ARHtDtTW8p

— diplo (@diplo) March 8, 2016
— MAJOR LAZER (@MAJORLAZER) March 8, 2016
watch my full interview with @charlierose in Cuba from @cbsthismorning https://t.co/rnHWQuQC01https://t.co/C2NpDpbNRv

— diplo (@diplo) March 8, 2016
"Going to change a lot. When info starts to come, you can't stop that flow." @diplo on Cuba: https://t.co/HagkJEZ2TDhttps://t.co/0ECoXl0Vxg

— CBS This Morning (@CBSThisMorning) March 8, 2016
.@diplo and @majorlazer took Havana. And it was ridiculous. pic.twitter.com/tKeE9pxFlK

— Paige Kendig (@PaigeKK) March 6, 2016
Charlie Rose and @diplo from Cuba, tomorrow on @CBSThisMorninghttps://t.co/Jh0fcMjzAi

— CBS This Morning (@CBSThisMorning) March 7, 2016
— MAJOR LAZER (@MAJORLAZER) March 9, 2016
https://twitter.com/CBSThisMorning/status/707170182591021056https://twitter.com/diplo/status/707174141795766273
TO THE PEOPLE AND THE COUNTRY OF CUBA THANK YOU. WE HAVE BEEN HUMBLED BY YOUR LOVE pic.twitter.com/4KkYBZb0ih

— MAJOR LAZER (@MAJORLAZER) March 7, 2016
🇨🇺 one love pic.twitter.com/Ab5ktzcCnv

— diplo (@diplo) March 7, 2016
Wow

🇨🇺 400,000 fans in Havana 🙌 pic.twitter.com/mtBE3HCDsR

— diplo (@diplo) March 7, 2016
Some moments from Havana via @shanemccauley pic.twitter.com/oWBtHdLAll

— diplo (@diplo) March 8, 2016
GRATEFUL FOR THESE GYALS AND ALL YOU LADIES AROUND THE 🌎#INTERNATIONALWOMENSDAY pic.twitter.com/XqYNOCpjNY

— MAJOR LAZER (@MAJORLAZER) March 8, 2016
Major laZer Las Vegas tonight 🙌 pic.twitter.com/1JABTt9ITu

— diplo (@diplo) March 9, 2016
@MAJORLAZER @musicabana LAZER MASSIVE! 🇨🇺 FREE CONCERT @musicabana #livefromhabana #cuba pic.twitter.com/1WshoekjHQ

— Casa en la Habana (@CasaenHabana) March 7, 2016
Leave a Reply