Crime wasn't all misdemeanors and drug related this past weekend at Ultra Music Festival in Miami.
According to local news sources, Sunday night, after the last night of the festival, a young woman was raped by a Metromover supervisor. The Metromover, a raised monorail that runs throughout parts of Miami, was a great way for several festival goers to travel to and from the hotel, as it had extended hours to accommodate the festival. A 25 year-old woman attempted to board the train at 9:30pm at the West Station platform was denied access because the level of intoxication she was exhibiting made it unsafe for her to ride. The Brazilian native, visiting for the festival, was found unconscious with the 41 year-old supervisor, Carl Lee Wilt in a utility room. A witness came forward saying they saw Wilt take the young woman into the room. When police arrived, Wilt's pants where undone with his zipper down. Reports say that He confessed to having sex with the unconscious woman until her body relieved itself and it got on him. He also claimed not to know that she was incapacitated. Sources state that the young woman who was raped had no recollection of her time with Wilt and what occurred.
Arriving in court on Monday he was charged with kidnapping and sexual batter on a person who was physically incapacitated. This gives another bad look to Electronic Dance Festivals as Judge Nushin Safie of the Miami-Dade County courts was quoted as saying, "This is why we shouldn't let our kids go to Ultra – right here," pointing out the young woman's state of mind and the actions Wilt took.
This judge was insinuating Dance Community induced Rape Culture. When outside parties look in on the EDM community, this is not what we want people to think about. No one is asking for sex, no one is asking for drugs, no one is asking to be cat-called or attacked for what they are wearing. We, as a community, I would like to say, respect consent. This judge is giving the idea that there is no such thing in the dance festival world. Lets begin to change it.
This is what google brings up when you google 'Ultra Music Festival Outfits'.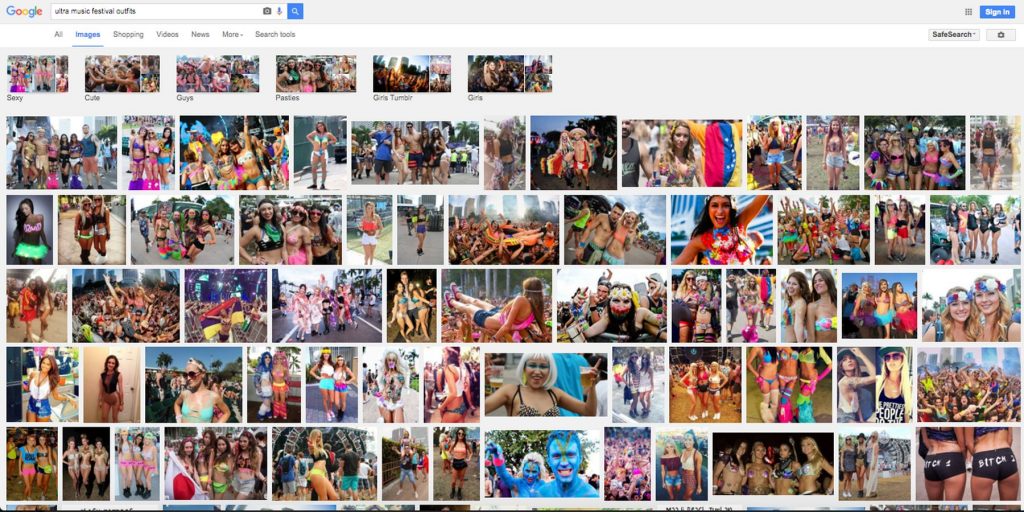 We all know that just because this is what people look like, doesn't mean they are asking for anything.  Festivals are for our freedom of our own, individual, expression.  Do not take that as freedom to do what you want to others, to say what you want to others, or act however you wish towards others.
If you would like to read more on this sad topic, head to this broadly.vice.com article.
Leave a Reply