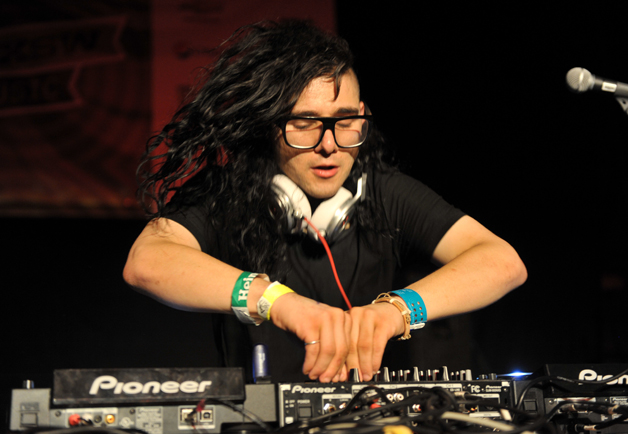 For tonight, I bring to you a brand new essential mix from BBC radio.  This is when BBC radio brings in Top DJs to perform for over an hour.  This week, BBC Radio decided to bring in the huge and famous Skrillex.  Here is the tracklist:
Dog Blood – Untitled Demo
Knife Party – Power Glove (Adam F Edit)
Torro Torro x Astronomar – Go Deep
Disclosure – When A Fire Starts To Burn [PMR]
Destructo – Higher [Boyznoize]
Blawan – Why They Hide Their Bodies Under My Garage? (Skrillex Bootleg)
Jeremih x D'Angelo – F*** U All The Time x French Fries
Dog Blood – Middle Finger 2
AC Slater – Out Here [Trouble & Bass]
Sluggers – Rollex
Culprate – McFunk (feat. Torqux) [Inspected Records]
UZ – Trap Sh*t V13 (Justin Martin Remix) [Boysnoize Records]
Millions Like Us – Behind You [Inspected Records]
Skrillex – Leaving [OWSLA]
Deftones – You've Seen The Butcher (Mustard Pimp Remix)
Boys Noize – Excuse Me
Stephen Brown – Fuego (Ben Sims Remix) [Theory]
Branchez – Shake
A$AP Rocky – Wild For The Night (Dog Blood Remix)
Skrillex – Try It Out (feat. Alvin Risk)
Skrillex – Scary Bolly Dub [OSWLA]
Felguk – Loud Blue (12th Planet Remix)
Jeremih – 773 Love (Cashmere Cat Edit)
Alvin Risk – Put 'Em Up (feat. Jason Aalon Butler)
Blood Diamonds – Barcode (The Widdler Remix)
Flux Pavillion & SKism – Jump Back (VIP) (feat. Foreign Beggars) [Circus]
Kendrick Lamar – m.A.A.d city (feat. MC Eiht) [Aftermath]
Sub Focus – Tidal Wave (Flosstradamus Remix) (feat. Alpines) [Mercury]
Josh Wink – Higher State of Consciousness (Dog Blood Edit)
Phonat – Ride The Prejudice [OWSLA]
Bro Safari & UFO! – Animal
Dada Life – Boing Clash Boom (Major Lazer Remix)
DJPJMADEDISTRACK! – Juke That Ass From The Back [Halstead Street Entertainment]
Leatherface – No Love For [Booty Call Records]
Orties – Plus pute que toutes les putes (Lecter remix) [Booty Call Records]
Valentino Khan – The Dip
Bro Safari – The Drop (Must Die! Remix)
Justin Martin – Ghettos & Gardens (Bachelors Of Science D&B Remix) [Dirty Bird]
Skrillex – Untitled DJ Tool
A$AP Rocky – LVL [Polo Grounds Music]
This mix is incredible and a must listen for dubstep fans.  Check it out! Cheers!
Leave a Reply