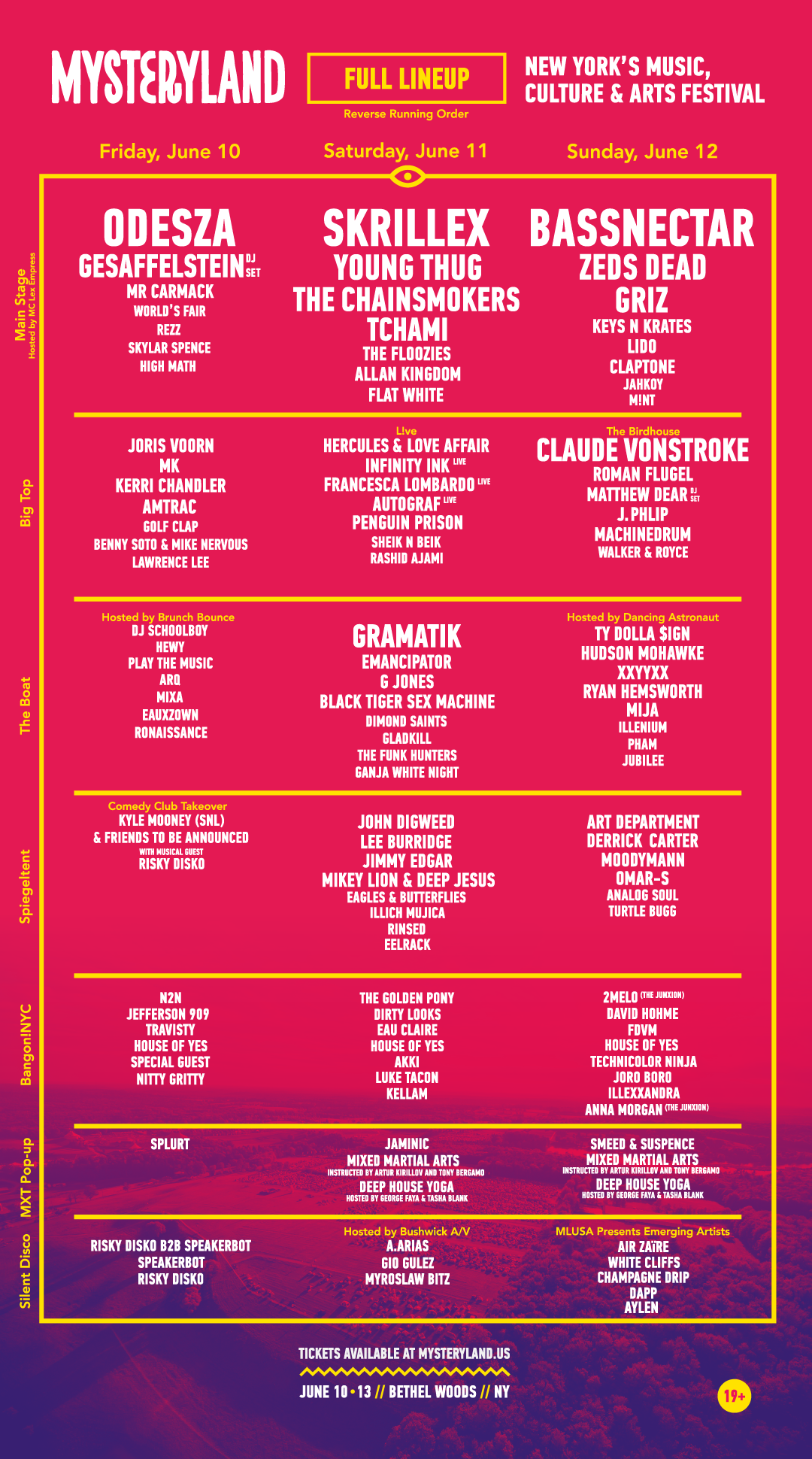 Not long ago we updated you with the full Mysteryland lineup (both phase 1 and 2 in their greatness), but still there wasn't complete information about the timing and location of the each artist's performances. Well, today we are here to bring you the definitive announcement about the detailed organization by stage/day of all the various forms of art, plus all the last-minute additions.
Check the picture below to be sure to plan your Mysteryland journey in the best way possible, in order to not miss any of your favorite artists and performers.
As you can see, the already satisfying list has been filled with other hot names such Amtrac, Autograf (Live), Infinity Ink (Live), Machinedrum, Mikey Lion & Deep Jesus, Penguin Prison and Roman Flugel, new (non musical) guest and activities plus, and here is the biggest news, a brand brand new exclusive Comedy Tent, for which, to leading this sensational U.S debut, there'll be Kyle Mooney (writer/performer member of the sketch group Good Neighbor and featured on the 'Saturday Night Live', HBO's "Hello, Ladies," NBC's "Parks and Recreation," and FX's "Wilfred," Zoolander 2 and Hello My Name Is Doris).
Alongside the novelty, there'll be some classics like the speakers program curated and hosted by NPR personality Anya Kamenetz, The Healing Garden's restorative powers curated by Sarah Schroder and back by popular demand, the Incendia 50' fire dome.
A long time has passed since Mysteryland was born and since festivals are no longer a mere musical show, the Dutch brand is able to demonstrate each year why they are first in line leading the 'winds of change' of the whole industry, simply following these few words:
"It's important to think outside the box and provide an experience that delivers much more to our fans than just musical performances on a stage.  Equally as important, is the positive impact we have on our community by promoting and participating in the preservation of our environment,"
"We seek to inspire our fans to take action at the festival and carry that over into making a difference in the real world."
(quote by MYSTERYLAND's Sebastian Solano, CEO of ID & T North America)
Leave a Reply