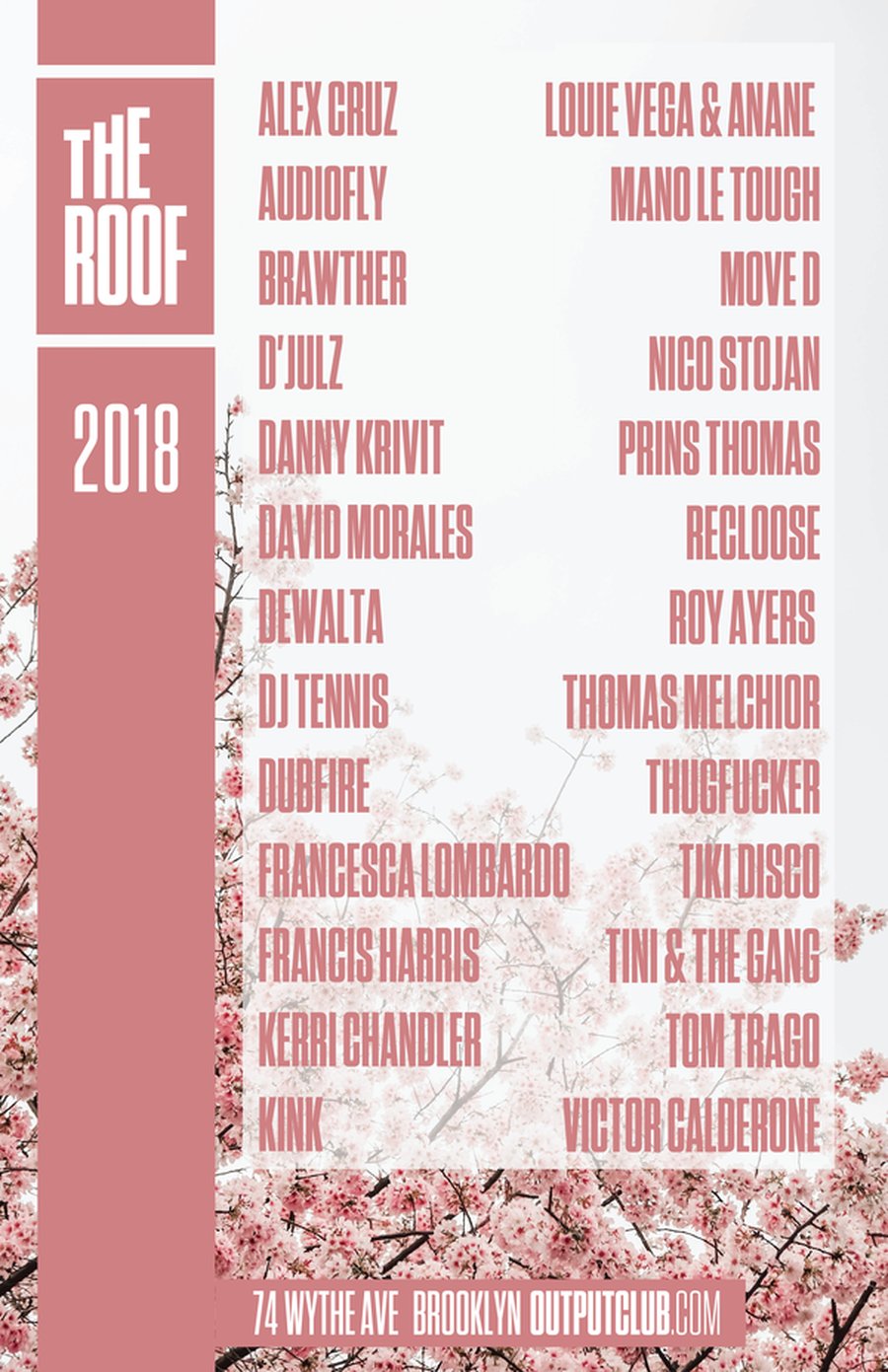 OUTPUT, the nightclub located in Brooklyn, NY, recently announced their opening weekend of The Roof and its full summer 2018 lineup. For the sixth season, The Roof is coming back to the nightclub to bring amazing parties all summer long.
The opening weekend kicks off Friday, May 11 through Sunday, May 13 on the amazing multi-level open air roof deck with a wide variety of international DJs and live acts that last through late September.  With beautiful views of the Manhattan skyline, spectacular sunsets, and a full bar serving their signature boozy slushies, The Roof is the place to be this summer in New York.
Below you can check out the promo video for this year.  Followed by that is a breakdown of who will be performing each weekend.
Friday Night Live May 11
Sunday May 13
Resolute on The Roof
SIT
Move D
Lauren Ritter
Saturday May 19
Sundays on The Roof May 20
DeWalta
D'Julz
Nicolas Matar
Thursday May 24
Arcana Presents
Jesse Calosso
Jean Pierre
Blas Cordero
Friday Night Live May 25
KiNK (live)
Giorgia Angiuli (live)
Saturday May 26
718 Sessions
Danny Krivit
Sundays on The Roof May 27
Nico Stojan
Christian Voldstad
Monday May 28
Everyday Afrique
DJ Moma
Cortega
Silent Addy
Kashaka
Underdog
Rich Knight
Saturday June 2
The Ritual with
Anané and Louie Vega
Sundays on The Roof June 3
Tom Trago
Brawther
Recloose
Friday Night Live June 8
Stavroz (live)
Crussen (live)
Saturday June 9
Dubfire (classic house set)
Nicolas Matar
Sundays on The Roof June 10
Mano Le Tough
Jade
Ray Zuniga
Friday June 22
Saturday June 30
Sundays on The Roof July 1
Wednesday July 4
Saturday July 7
Sundays on The Roof July 8
Sunday July 15
Resolute on The Roof:
Daniel Bell
Thomas Melchior
Kalabrese & Rumpleorchester (live)
Saturday July 21
718 Sessions
Danny Krivit
Wednesday July 25
Saturday July 28
Sunday July 29
Sundays on The Roof August 5
Francis Harris
DJ Fett Burger
Saturday August 18
718 Sessions
Danny Krivit
Wednesday August 22
B.T.S (Most Below The Surface)
The Scumfrog
Saturday August 25
Sunday August 26
Sundays on The Roof September 2
Monday September 3
Saturday September 8
Sundays on The Roof September 9
Thugfucker
Francesca Lombardo
Galen
Saturday September 15
718 Sessions
Danny Krivit
Sundays on The Roof September 16
Saturday September 22
Leave a Reply