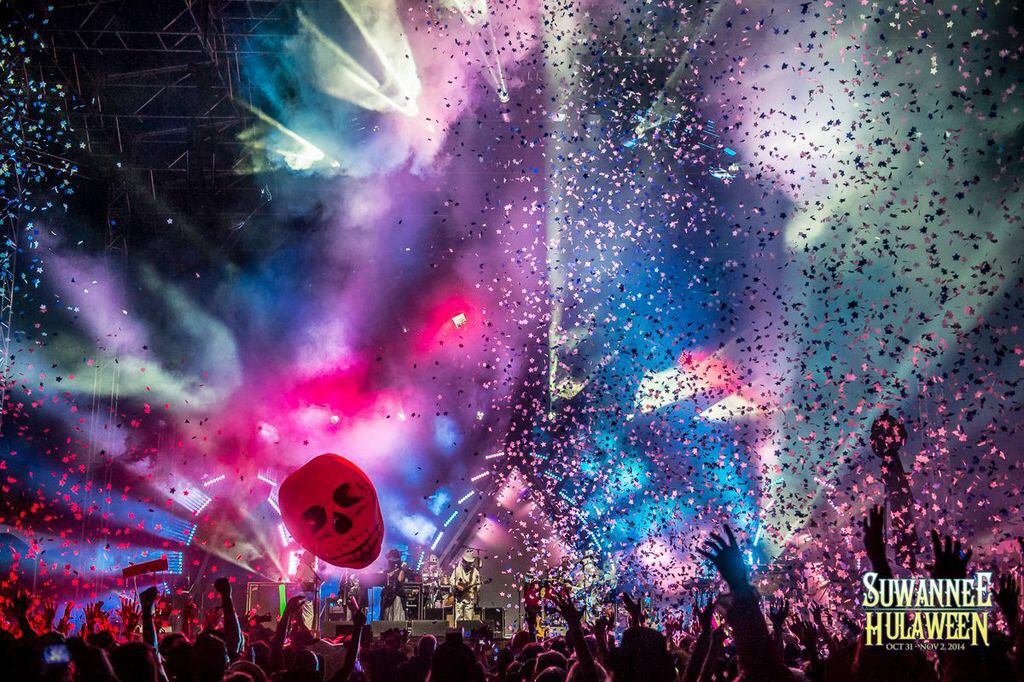 I decided to put together a small list of suggestions to bring to Suwannee Hulaween for those who have never been (just kidding it's huge). Some of these items are essential and some are optional. Check out the list below and let us know if there is anything we missed! We'd like to make sure you are well prepared for an awesome Hulaween weekend! We hope you all have a blast and we'll see you in The Spirit of Suwannee!
Ticket
Paper Towels
Tent
Garbage Bags
Firewood
Flashlight/Head Lamp
Food (Fruit, Vegetables, Trail Mix, Bread, Lunch Meat, Hot Dogs, Hamburgers, Buns, etc.)
Drinks (Alcoholic AND Non-Alcoholic)
Sleeping bags/Blankets/Pillows
Air Mattress
Canopy
Solar Powered Phone Charger
Baby Wipes
Halloween Attire
Rug
Chairs
Toiletries
Tooth Brush/Tooth Paste
Clothes (For Hot AND Cold Weather)
Bug Spray
Sunscreen
Towels
Plates/Silverware
Grill/Charcoal
Matches/Lighters
Reusable Water Containers/Camelback
Big Bucket (For Dirty Dishes)
Cooler
Tapestries/Sheets/Tarps
Mats
Hammer
Extra Stakes
Rope
Tables
Lantern
Duck Tape
Solar Lights
Portable Shower
Binder Clips
Hammock
Allergy Medicine
Ibuprofin/Tylenol
Neosporin
Aloe Vera
Band Aids
Gauze/Medical Tape
Personal Medications
Vitamins
Ice
Condiments
Spatula/Tongs
Hand Soap/Sanitizer
Spray Bottle
Battery Operated Fan
Scissors
Broom
Sunglasses
Batteries
Glow Sticks
Boombox
Money
Hair Ties
Gum
Camera
Paint
Squirt Guns
Bubbles
Make sure if you are starting to pack your stuff for Suwanee that you have the most important item, your tickets. you can get them from the website right here! Always Remember to clean up after yourselves. Let's keep our parks clean so we can continue to have great festivals like Hulaween!
Leave a Reply