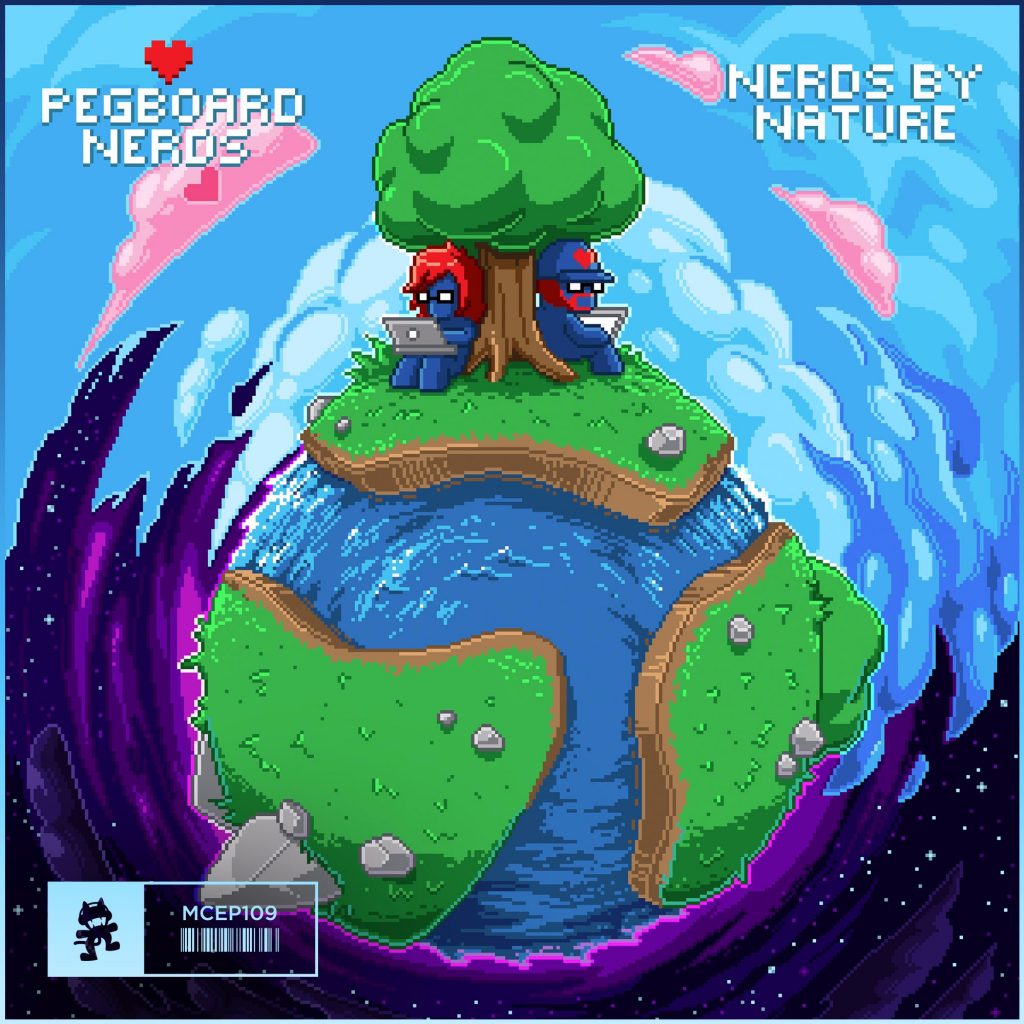 Released on Monstercat on January 12th is the much anticipated Nerds by Nature EP by the very skilled Pegboard Nerds.  the six track EP features Desirée Dawson and Quiet Disorder.   Tracks included have been featured all over the world and included on Monstercat's compilations at the end of 2016.
(1) Speed of Light
Speed of Light's intro is exactly what you'd expect from Pegboard Nerds as an intro track.  The beginning reminds you of a classic videogame as the track cycles the vocal sample "Speed of light".  Adding faint instrumentals in the background, there begins to be a crescendo in the beat until you hit the drop that adds dramatic bass beats on the downbeat.  The song works perfectly for an introductory track.  A favorite of this track is the beautiful vocals.
(2) Talk About It (feat. Desirée Dawson)
With a mix of rhythm and Desirée Dawson singing beautifully, this track is off to a great start.  The beat is that of an electronic drum kid and addition electronic samples sprinkled throughout lead up to the stop-and-go style (for lack of a better word) of a drop, very common in dubstep. The beat throughout the track is what I love.  It is a percussion beat that anyone could play along to; something I really look for as someone who likes to play drums. Creating the outro, part of me just feels as though they were just messing around with samples – and I LOVE it.
(3) Pegboard Nerds — Melodymania
When first written about, Melodymania was noted as having a classic 8-bit video game style of sound. I couldn't agree more.  After listening to this track, I wanted to hook up my old NES system and get back to some old school Nintendo.  The only vocals in the track is an "ARE YOU READY" more than half way through, so the ability to hear a straight insturmental track adds to this nostalgic feeling, that I promise once you hear the track you will feel the exact same way!
Pegboard Nerds x Quiet Disorder – Go Berzerk
Pegboard Nerds and Quiet Disorder definitely have teamed up for an awesome track right here. They do not waste any time building towards a hard and strong drop.  This drop isn't even what really sets the tone for the drop, its actually the intro where you hear where the two artistic style collide.  The beat is fast-paced, spontaneous and ever-changing – a great way to describe this track.  If you are looking for a classic dubstep to enjoy, this is definitely one you will want to listen to again and again.
Pegboard Nerds — BAMF
"Bad Ass Mother Fucker", if you didn't know, is what BAMF stands for.  This is also to help in case you were wondering why this track kept repeating "BAD MOTHER Fff" over and over again. This is one of Pegboard Nerds' more aggressive song.  Aggressive being a good term, in this instance.  The track makes you want to me.  Just like Grant in the original review of the song, this is on my work out playlist – and I am pretty sure you can tell why.
Pegboard Nerds — Blackout
Pegboard Nerds wants you to end the album by getting up and moving.  The track was originally written about as part of Monstercat's 5 year anniversary, and then I said that it was a hattip to classic Pegboards, way back in the day when they were telling their fans to get up and dance.  I would say this was my favorite track on the EP.
The whole album, I think has a message to fans.  Keep getting up, keep dancing, and keep loving the music.  Make sure to check the album out below.
Leave a Reply