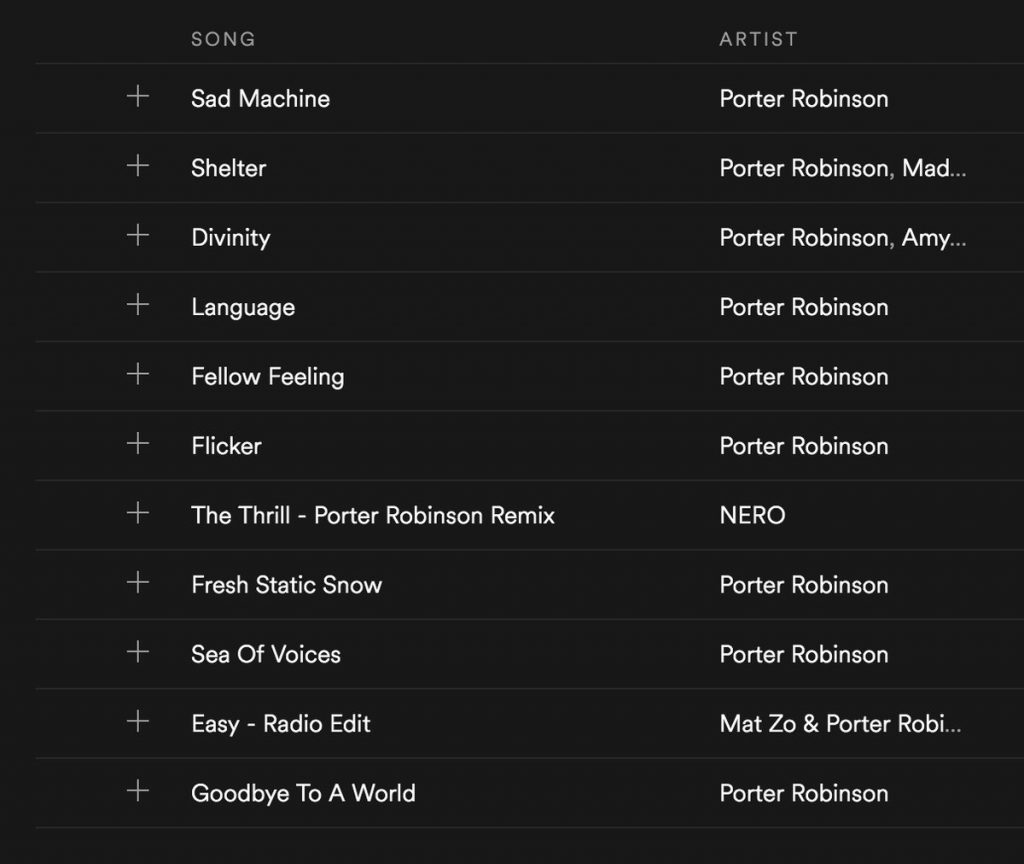 Porter Robinson makes the cut as one of my favorite artists.  When I listen to his music, it is an amazing feeling.  I am sure many of you know that feeling.
Well, on January 23rd, he posted on twitter the following tweet.
no disrespect but this is the canon

everything else is unofficial now

i've been making music for 12 years and i only wrote 11 songs, wow pic.twitter.com/xgpzMk8iFh

— porter robinson (@porterrobinson) January 24, 2017
Porter Robinson has decided to go through his library and pick the 11 songs that he feels are completely his.  these are the songs that he says he has "written".
Sad Machine
Shelter
Divinity
Language
Fell0w Feeling
Flicker
The Thrill (Porter Robinson Remix)
Fresh Static Snow
Sea of Voices
Easy (Radio Edit)
Goodbye to a World
The list is short, unfortunately, and only contains a small sampling of the amazing music that he has released over time.  One can only hope that this list means that he will be doing something big with these 11 tracks.  Definitely going to need to keep an eye on it.
I have added, below, the songs that Porter Robinson has added to this list for your listening pleasure.
EDIT: for those asking if this is realistic or not, Porter Robinson went to his Snapchat to clarify this tweet. the snapchats stated:
"don't wanna bump that thread on twitter but because people are misunderstanding it: i am literally saying those are the only songs that i stand by. i was not being sarcastic. that was a playlist that i made to showcase the music that i feel proud of. it was not sarcasm. that tweet was 100% unprovoked by anything specific. just wanted to let you know how i feel!"
Follow my man on snapchat for more fun and information: porterrobinson
[soundcloud url="https://api.soundcloud.com/playlists/296188508″ params="color=ff5500&auto_play=false&hide_related=false&show_comments=true&show_user=true&show_reposts=false" width="100%" height="450″ iframe="true" /]
Leave a Reply