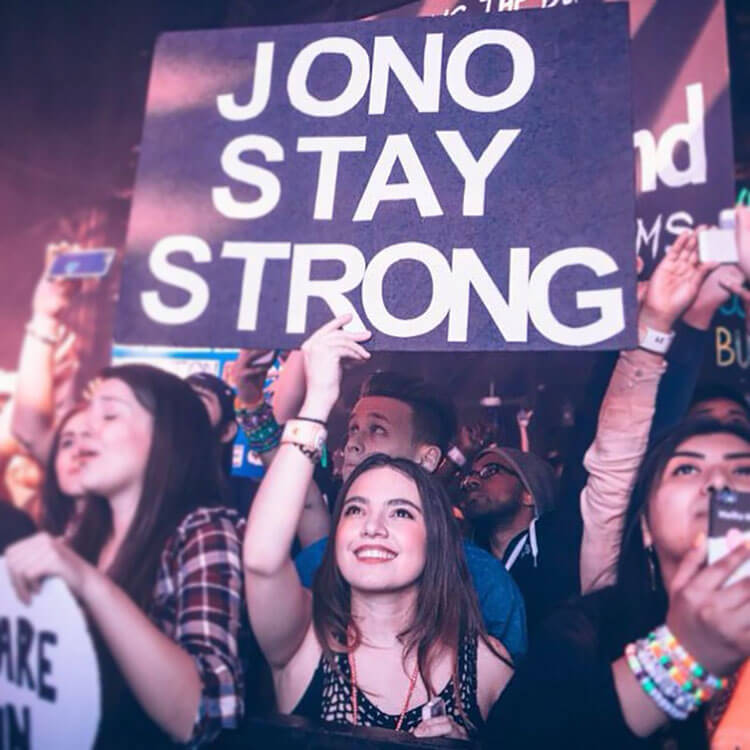 "Pushing the button." Google it before you read further. Now, maybe you don't understand why there is so much hype over starting the record on a song by one group, but clearly we need to teach you about the Anjuna family.
Anjuna is a label first and foremost, consisting of artists that represent different genres of the over-arching Trance. The trio that heads the label includes the trance act collectively known worldwide as Above & Beyond. Not only do Paavo, Jono, and Tony manage some of the best acts in the world, they themselves continue to push Trance further by testing the limits of what it means to have music move you and elicit emotions. One live show will be enough to convince you that music is magical.
Back to that whole "push the button" thing, there is moment near the end of their set where a signature song begins to play. The melody begins, drawing the audience in, reminiscent of a bedtime lullaby. In Dallas, Tony chose "Blue Sky Action," letting the pluck of the guitar resonate slowly. With the introduction of vocals, the crowd takes over. As if almost by magic, thousands of voices unite and produce the rich notes that are so intimately familiar to everyone in the room. The song speaks to clouds of grey parting, blue sky emerging, having been there always. An ode to the struggles that plagued a member of the Anjuna family; despite the hardships faced, the true color and character would always find its way through.
Tony stepped back from the decks and begin surveying the crowd. What he was looking for isn't clear, and it surely differs every time. A clever sign, a glimmer of hope in one eye, a radiant smile refusing to fade. Whatever it may be on this stop, an arm reaches out and points. The entire room holds their breath as security reaches into the crowd and grabs a woman holding a sign that reads "Jono Stay Strong."
In light of recent health troubles for a member of the Anjuna family, the sign reminds everyone that Above & Beyond's music inspires hope and a bright future awaiting on the other side of difficult times. Security escorts her around the stage and up to the booth. This is a moment some will spend a lifetime waiting for and never experience.
Tony stands with a guiding hand on her back, whispering rushed hellos and words of encouragement as she comes into full view of the crowd for the first time. Her sign is held high and everyone in attendance echoes her sentiment with their cheers. Emotion is raw and difficult to control under the best of circumstances, here, impossible.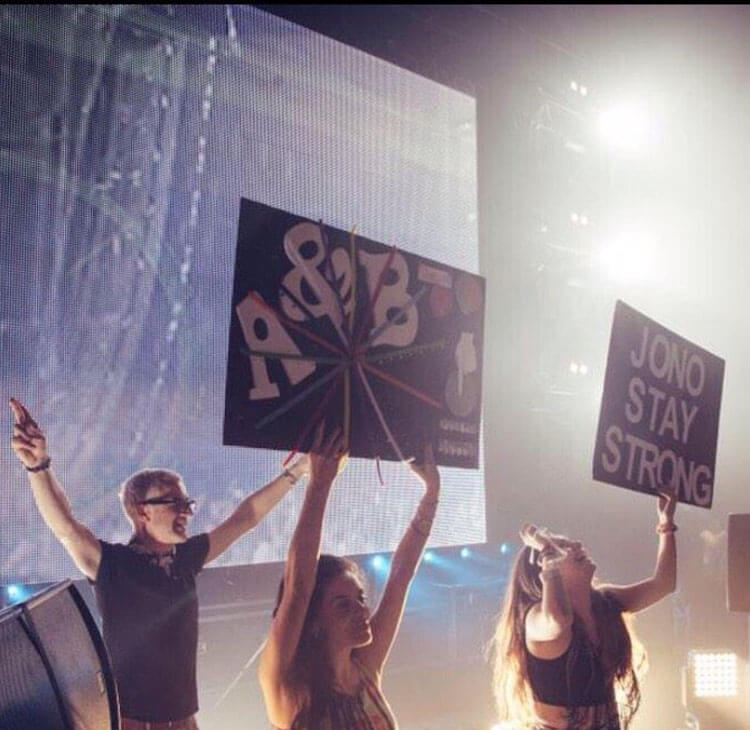 As she steps forward with a trembling hand, there is a flicker of understanding that crosses her face. It is too subtle to notice, and I doubt she would recall the exact moment, but it is an understanding of how music truly shapes and changes our world. People will travel thousands of miles and endure countless hardships to hear their favorite song. Artists will spend their entire careers crafting art to connect thousands of unique individuals. And in that moment, as Ruby's hand descends to start the song again, she sees where they all intertwine.
That magic. That connectedness, can be found within everyone; you simply need to ask them what their favorite song is and why. Watch as their eyes light up, an eternal flame burning just behind them, a fire that cannot be extinguished. Their words are tougher, exiting with more resolve and confidence. They aren't trying to persuade you, but their reasoning washes over you and engulfs your existence with raw emotion.
Music is universal precisely because of this. For Ruby, that one moment was all she needed to see that flame brighten within thousands of people at once. Their strength and sense of community soars in order to support one of their own. A moment she will remember with perfect clarity for the remainder of her life.
Ask her what is was like to "push the button" and she will throw her head back and let out a sigh that you know to be absolute truth. Her eyes will glisten and her cheeks glow with the warm radiance of a sunny day.
In that moment you'll understand. Connecting all of the dots and seeing the larger picture at work happens in an instant with one sound and an involuntary reaction to what she may consider the greatest moment of her life. Ask Ruby what it was like to "push the button" and you'll see why music has the ability to change everything.
Leave a Reply