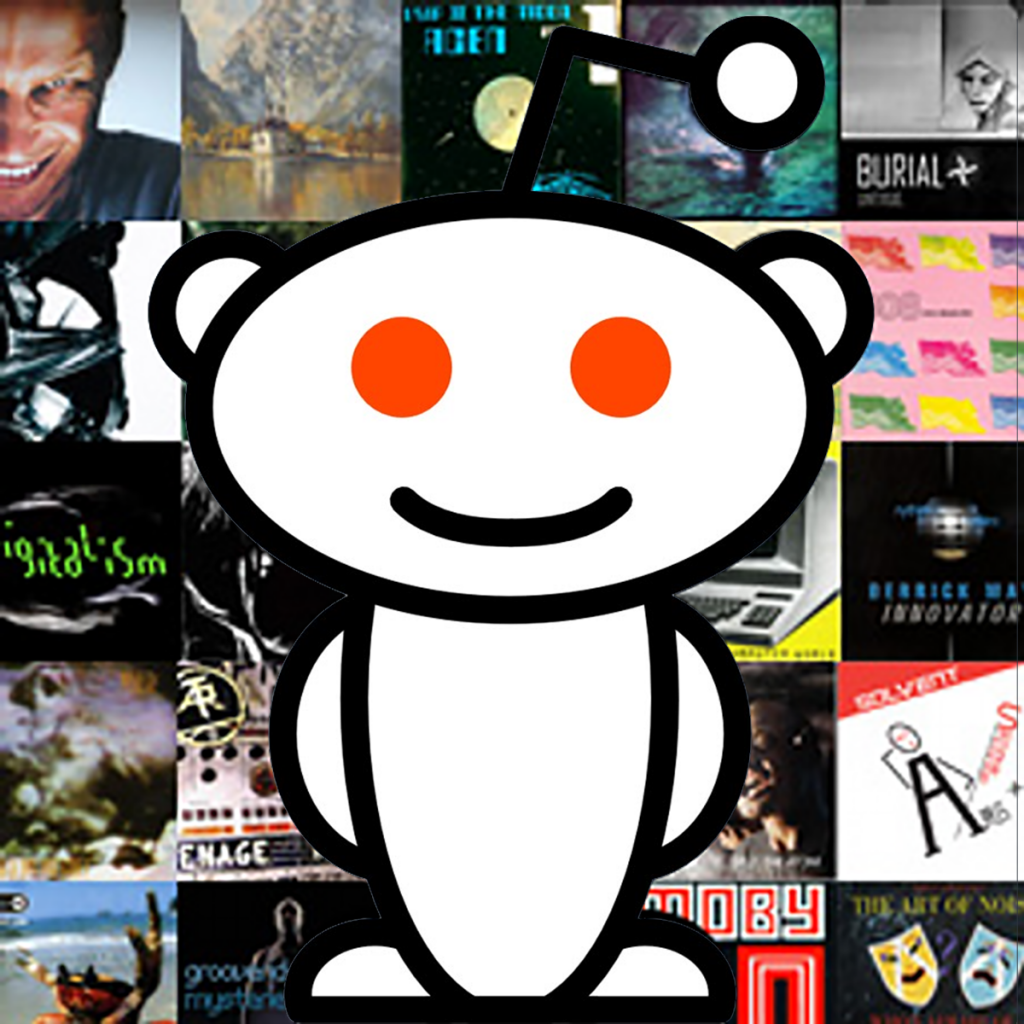 Reddit does it once again! I love Reddit and am apart of the community (more lurker, but hey, I have GOLD). The electronic dance music community is vast, but spread apart on quite a number of subreddits. One of them, r/electronicmusic took on the task of creating a yearmix. This isn't your ordinary yearmix as this one is twenty four hours long and spans just about every sub-genre there is out there.. It is broken up into four sections of six hours.
This was made up of 42 individuals (unless there are duos or groups listed – sorry if I was mistaken) and took over 9 months to achieve. This mix is 612 tracks long so you're guaranteed to find something you'll love whether it is new or old. I gotta hand it to Reddit, it never ceases to impress. Check it out below. We also included the free download links they provided, the credits, the tracklist, and the breakdown of genres! Cheers to whoever can listen to this mix straight through!
Here is the breakdown of all the subgenres and what hour they take place. This is if you don't want to listen straight through and jump around!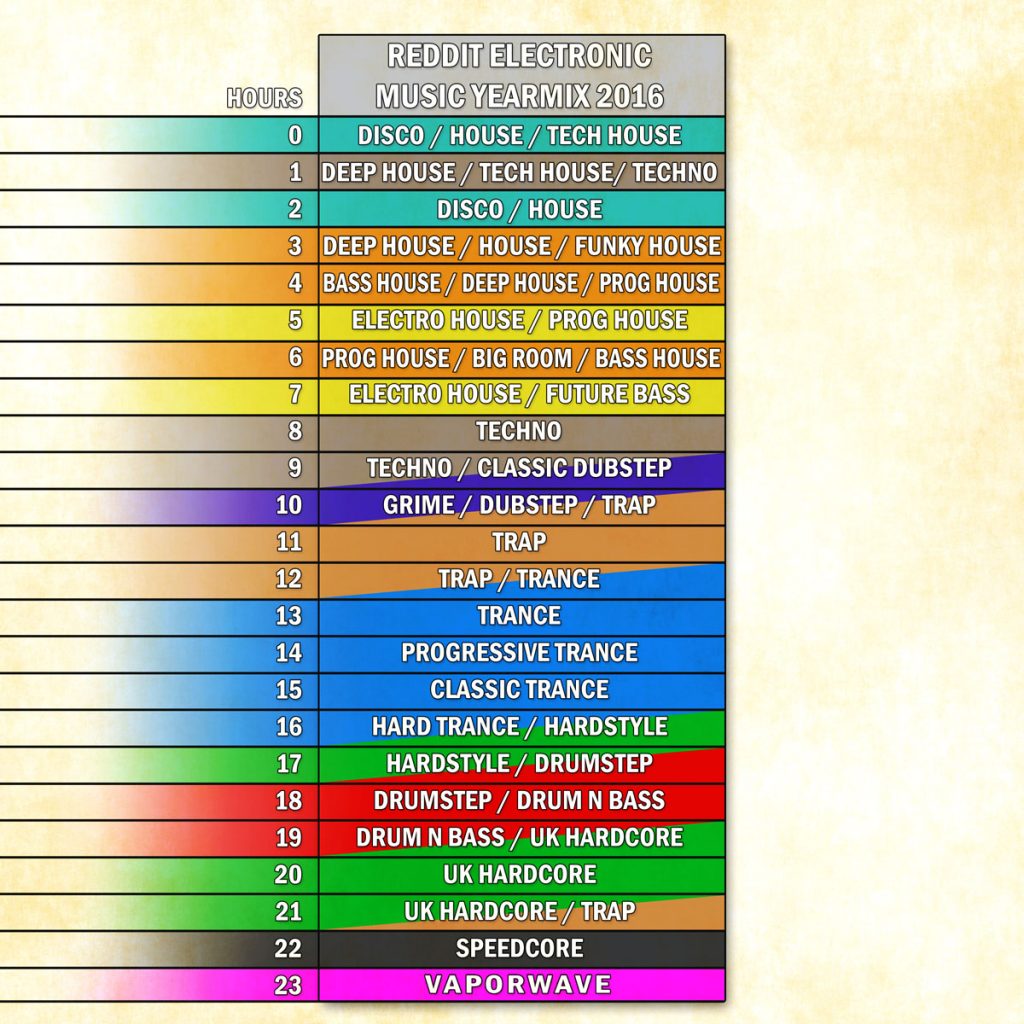 Free Downloads are located here:
It wouldn't be fair to credit just Reddit alone, but rather than the individual members that make up the site. With that, we took the credit list that they listed and provided links to everyone involved! Go check out their stuff! If they created this, they must do incredible things individually.
Cover and graphic design by CND9 (Shelf___Label, Nemui Bunny, Amblis Records, Mecha Yuri, URL Future – Atlanta, Georgia/Los Angeles, California) – Reddit | Website | Soundcloud | Website | Twitter | Website
Editing and compilation by CHIA (99Sounds) Reddit | Facebook | Mixcloud | Soundcloud
Narration by VINESAUCE (New York City, New York) – Twitter | Bandcamp | YouTube
Here is the INCREDIBLY LONG tracklist:
[00:00:00] PART 1: CAAEL
1. Skream – Rollercoaster
2. Strictlove feat. Zan – Ain't No Man (Kinny's Disco Dub)
3. Mosquito feat. Rob Elliot – San Frandisco (Matt Kootchi Rework)
4. The Shapeshifters – Lola's Theme
5. Richard Dinsdale – DJ, You Have My Love
6. Afro Medusa – Pasilda (Knee Deep Remix)
7. Kultissime feat. Linda Hopkins – Take Me Back (Bibi Pieces of Paradise Mix)
8. The Supermen Lovers feat. Mani Hoffman – Starlight
9. Knee Deep feat. Shena – Mysterious (Sunset Vocal Mix)
[00:26:36] PART 2: JAMES KEITH MEINTJES
10. Hamid – Do's and Dont's
11. Efde – Oy
12. Detroit Swindle – Huh, What!
13. Ian Blevins – Next (Frits Wentink Remix)
14. Baaz – Owl's Night
15. Uffe – Like You Mean It
16. Percussions – KHLHI
17. Secret Society – Our Society
18. Never Be The Same Again – Alex Agore
19. Moments – Mr. G
20. 4 Club Use Only – Delroy Edwards
21. Crawlspace – Gerry Read
23. Untitled – Chris Carrier
24. Truncate.17 – Truncate
[01:09:59] PART 3: FUNKYSNAVE
25. Cajmere feat. Dajae – Brighter Days
26. Egokind & Ozean – Everybody Dance Now
27. Global Communication – The Way (Secret Ingerdients Remix)
28. Tensnake – Holding Back (My Love) (Tiger and Woods Remix)
29. Change – Hold Tight (Moods Remix)
30. Osborne – Air Pistol
31. I:Cube – Supernovac
32. Butch – Mushroom Man
33. Kartell – Attracted
34. Modeselektor – Silikon (Sirius Mo Edit)
35. Indeep – Last Night a DJ Saved My Life (LeMarquis Remix)
36. Floating Points – Vacuum Boogie
[01:42:26] PART 4: MIKRONAUT
37. Stunza – Consistency
38. Wendepunkt – Running
39. ONNO – Techno Jam
40. Kaiserdisco – Aymara
41. Donnie Ozone – Don't Watch the DJ (Acapella)
42. Bart Skils – Cabana
43. Victor Calderone – Roll (Mikronaut Vs. AllenMDX Remix)
44. DJ Jock – Raw Love
45. Gary Beck – Holcombe
[02:15:23] PART 5: OCTEN
46. Rescue – Reachin'
47. Stonebridge – Put Em High
48. Junior Jack – Stupidisco
49. Eric Prydz – Call On Me (Funk Mix)
50. Stardust – Music Sounds Better with You
51. Octen – Cash Register
52. Phil Collins – Another Day in Paradise (Felix Jaehn & Alex Schulz Bootleg)
53. Tobtok feat. Alex Mills – Shelter
54. Slicerboys – Glow
[02:35:55] PART 6: MAXJCJ
55. The Owl – Pimp Talk
56. Gay Marvine – Luv to Luv
57. Love Drop – Temptation
58. Dimitri from Brooklyn – Right My File
59. Dimitri from Paris & DJ Rocca – Disco Shake
[02:56:21] PART 7: BROWN V. BEAR
60. Round Table Knights – Why Be Serious
61. Smash TV – El Matematico (Dirty Doering Remix)
62. 4th Measure Men – 4 You (Maya Jane Coles Remix)
63. Marc Houle – Hitcherman (Magda Hitcher Women Remix)
64. Connan Mockasain – Faking Jazz Together (Michael Mayer Remix)
[03:15:14] PART 8: SOUL LEE
65. Siji – Ijo (Alix Alvares Vocal Mix)
66. Nils Ohrmann – In Ya Face
67. Solomun – Kackvoge
68. Johnny Corporate – Sunday Shoutin' (Robosnonic Rework)
[03:33:25] PART 9: DJ NICE GUY
69. Dene Antony – Good To Me
70. Sigother – Converting
71. Dario Lotti – Sun (Extended)
72. Doorly – Lustfahrt
[03:54:35] PART 10: REYMUNDO THE DJ
73. Diplo & Laidback Luke – Hey (AutoErotique Remix)
74. Taiki Nulight – Yakitori
75. Doug English – Hood Life (Rrotik Remix)
76. Jesse Slayter – Thick
77. Skrillex – Stranger
78. Gesaffelstein x Dr. Dre x Snoop x Kitz – Next Hellifornia Shake (SwaggleRock House Edit)
79. Ac Slater – U Got 2
80. Somepoe – About To Go (Marc Spence Remix)
[04:09:03] PART 11: DJ ERAH
81. 3LAU & Paris – Escape (Acapella)
82. Kygo feat. Parson James – Stole the Show (Praia del Sol Rework)
83. Feenixpawl & Jason Forte feat. Mary Jane Smith – Blue Sky (Michael Burn Remix)
84. Nicky Romero – Lighthouse
85. Volt & State vs Manse feat. Jaime Drake – Falling Down
86. KSHMR & Dzeko & Torres – Imaginate
87. Kyle Walker & Spencer wakefield – Pressure
88. Major Lazer feat. Ellie Goulding – Powerful (Gregor Salto Remix)
89. Travis Scott – Antidote
90. Ian Carey vs DVBBS & Jay Hardway – Rise
91. Kronic & Krunk – 3 Percent
92. Drake vs Kronic & Krunk – 3 Percent Kush (DJ Icey Edit)
93. Breathe Carolina feat. Karmin – Bang It Out (Gazzo Remix)
94. Kanye West – Bound 2 (Nima G & Lenny Kiser Remix)
95. Full Crate x Mar – Nobody Else
96. Croatia Squad – All the Girlz
[04:38:53] PART 12: CROWNED VICTORIA
97. LiTek & Gully – Level 8
98. Vitamindevo – Double Rainbow
99. Fresch – Superfreak
100. Housing Corp – When I Hit the Club (S. Jay Remix)
101. HI-LO – Wappy Flirt
102. Linier feat. CAYO – Another Love
103. Autograf – Dream (Sebastian Carter Remix)
104. The Police – Message In A Bottle (Kayliox Remix)
[05:04:02] PART 13: OREMM
105. Draper feat. Alby Hobbs – With You
106. Galantis – Runaway (U&I) (RobbieG Remix)
107. Swanky Tunes feat. Raign – Fix Me (Terrace Remix)
108. Gabriel & Dresden – Tracking Treasure Down (Oremm's Friday Night Edit)
109. Eminence – Shapes & Shifts
110. Chris Ramos & MC Flipside – What You Waiting For
111. Stonebank – The Entity
112. Shelco Garcia & Teenwolf – Stuck In My Head
113. Feint – Phosphor
114. Chocolate Puma feat. Kris Kiss – The Max
115. Ummet Ozcan & R3hab & NERVO – Revolution (Vocal Mix)
116. Linkin Park & Steve Aoki – Darker Than Blood (Bassjackers Remix)
117. Ummet Ozcan – Kensei
[05:34:22] PART 14: T-SHIRT & TIE
118. Borgore & Jauz – Lindsay Lohan
119. Martin Garrix, Matisse & Sadko – Break Through the Silence
120. Dillon Francis feat. Major Lazer & Style G – We Make It Bounce
121. Martin Garrix – Animals
122. Pharrell Williams – Happy (Zakii Remix Bootleg)
123. Steve Aoki feat. will.i.am – Born To Get Wild
124. Karetus feat. Stacy Barthe – One Deeper
125. Tchami – After Life
126. Martin Garrix, Matisse & Sadko – Dragon
127. The Chainsmokers – #SELFIE (Botnek Remix)
128. The Chainsmokers – Kanye (Steve Aoki vs Twoloud Remix)
[06:04:33] PART 15: DJ SPINNY STYLE
129. Alex Adair – Make Me Feel Better (Don Diablo CIP remix)
130. Gregor Salto – Can't Stop Playing (Oliver Heldens and Gregor Salto Remix)
131. Fox Stevenson – Hoohah
132. Jason Derulo – Want to Want Me (Merk and Kremont Remix)
133. David Guetta – Lovers on the Sun (Showtek Remix)
134. Tujamo – Booty Bounce
135. Steve Aoki – Boneless
136. Alpharock & JAGGS – Bassface
137. Hardwell & Armin Van Buuren – Off the Hook
138. TJR & VINAI – Bounce Generation
139. TJR – How Ya Feelin
140. Ftampa & The Fish House – 031
141. Dzeko and Torres – L'Amour Toujours (Tiësto Edit)
142. Ummet Ozcan – Stars
143. Dannic vs Tom Jane – Clap
144. Tujamo & Danny Avila – Cream
145. VINAI – The Wave
146. R3hab – Tiger
147. R3hab – Badlight (Mixcloud (DJ Spinny) Mashup)
148. Calvin Harris – Outside (Hardwell Remix)
149. Rihanna – We Found Love
[06:36:53] PART 16: BMAN
150. Hunter Siegel – Waiting Up
151. Bordertown – All This Before (Taim Remix)
152. Rrotik – Woomp
153. Foamo – Rep Your Manor
154. Pasteman – Oh Baby
155. Wax Motif – Krush Groove
156. Future feat. Pusha T – Move That Dope (Sleepy Tom Bootleg)
157. KRUMM & Jameston Thieves – Drop It Low
158. Cake Eater & Inflect – Jello (Treovr remix)
159. Jauz – Deeper Love (Extended Mix)
[07:08:52] PART 17: DJ HJ
160. O.T. Genasis – CoCo (Victor Niglio Remix)
161. Deadmau5 – The Reward Is Cheese (Tujamo Remix)
162. Astronaut & Eyes – Pinball (The McMash Clan Remix)
163. Oliver Heldens feat. Mr. Belt – Pikachu
164. Tut Tut Child – I Can't
165. Mr. Fijiwiji – Let Me Out
166. Televisor – Old Skool (Different Heaven Remix)
167. Karma Fields – Build the Cities (Project 46 Remix)
168. Karma Fields – Build the Cities (Grabbitz Remix)
169. Sushi Killer & Kevin Villecco – Anime Bae
170. Hyper Potions – Porta Vista
171. Grabbitz – Turn Around
172. Hellberg – The Girl (Color Source Remix)
173. Hellberg – The Girl (Outmakers Remix)
[07:42:55] PART 18: JACKSON POTTER
174. Zedd – Stay the Night (Henry Frog Remix)
175. Zedd – Bumble Bee
176. Stereotronique – Grind
177. Porter Robinson – Unison
178. Pierce Fulton – Noon Gun
179. Orkestrated and Fries & Shine feat. Big Nab – Melbourne Bounce (Deorro Remix)
180. Knife Party – Red Dawn
181. Hardwell & Showtek – How We Do
[08:15:10] PART 19: JOE MICHAEL
182. Danny Daze – Ready2go
183. Yotam Avni – This is How
184. Jeroen Search – Magnus
185. DJ Haus – Hot in This Muthafuka
186. Nina Kraviz – Ghetto Kraviz (Regal 303 Dub)
187. Jaguar Woman, Oni Ayhun, RRoxymore, Aquarian Jugs – DR1-2
188. PQM – You Are Sleeping (Matador Remix)
189. Jplex – Shyva Raises Up (Traumer Remix)
[08:44:49] PART 20: PSEUDO
190. Hollen – Premium
191. Joseph Capriati – This Then That (Coyu Remix)
192. Random Key – Want Your Body
193. Pseudo – Internal Meeting
194. Pseudo – Striking Twelve
195. Pedro Delgardo & TKNO – Emotion
196. Joseph Capriati – Awake (Julian Jeweil remix)
197. Meramek – Know Me
198. Pseudo – Molecular
199. Dani Sbert – Never Say Never
200. Pseudo – Dahkness
[09:08:07] PART 21: BRAM MOOLENAAR
201. Nikola Gala – Bias.28
202. Frank De Wulf – The Tape (Claudia Cazacu Remix)
203. Darkrow – The Gangstar (Steve Mulder Remix)
204. D-Unity – Our House
205. Roberto Capuano – Trust
206. Julian Jeweil – Meteorite
207. Anti-Slam & W.E.A.P.O.N. – Recoil (D-Unity remix)
208. Spektre – Away From Here
[09:37:50] PART 22: FUNKEDUB
209. Moving Ninja – Ankoku Butoh
210. Kode 9 – Magnetic City
211. Breakage – Callahan
212. Kryptic Minds – Six Degrees
213. Skream – Rottan
214. The Others- Bushido (Caspa Remix)
215. DZ – Strong On Ya
216. Joker- Digidesign
217. Quest – Hardfood
218. zen Militia – The Pull Of Guilt (Scuba Remix)
219. Sully – Flashback
[10:07:20] PART 23: GRIEFER
220. Jakes – Tuning Dub
221. Mikael- Shut
222. RSD – Know U 2
223. Shackleton – Massacre
224. Ipman – IPA
225. Ipman – Gravity
226. Tremble – We Nuh Care
227. Causa – Mighty Dub
228. Darj – Submarine Dub
229. LAS – Backyard
230. Sepia – Harp Song
231. Vaccine – Side Effects
232. Sleeper – Reclaim
233. Moonstones – Power Nap
234. Sorrow – Iscariot
235. JME – Pulse 8
236. Thelem – Latched
237. Commodo – F_ck Mountain
238. Wiley – Outchea
239. Skream – Midnight Request Line (Gundam Refix)
[10:42:26] PART 24: JONNO
240. Moski – The Dopest (Cesqeaux Remix)
241. Galantis – You (Brillz Remix)
242. Lana Del Rey – Summertime Sadness (Cedric Gervais Remix) (ETC!ETC! Trapped It! Remix)
243. Zedd feat. Foxes – Clarity (Brillz Remix)
244. Gregor Salto & Wiwek – On Your Mark (Ookay Trap Flip)
245. Gregor Salto & Wiwek – On Your Mark
246. Kendrick Lamar – M.A.A.D City
247. Yo Majesty – Club Action (Smookie Illson Bootleg)
248. Alice Deejay – Better Off Alone (Barely Alive Remix)
249. Knife Party – Fire Hive
250. Flinch feat. Jamtech Foundation – Bad Boy
251. A-Trak vs Yeah Yeah Yeahs – Heads Will Roll (Gioni Bootleg)
252. Flux Pavilion – I Can't Stop
253. Lookas – Loko
254. Major Lazer feat. Elliphant & Jovi Rockwell – Too Original (Max Styler Remix)
255. Flosstradamus feat. Casino – Mosh Pit (Razihel Remix)
256. Eptic – Spellbound
257. Schoolboy Q feat. Kendrick Lamar – Collard Greens (GZ Remix)
258. SKisM & LAXX – Hostile (Eptic Remix)
259. LAXX – Step One
260. NYMZ – Bingbong
261. Yellow Claw – Run Away (Valentino Khan Remix)
262. Major Lazer – Roll the Bass
263. Hardwell & MAKJ – Countdown (Enzo Picardi & Clips X Ahoy Remix)
264. Eptic – The End (Carnage & Breaux Festival Trap Remix)
265. Dillon Francis & DJ Snake – Get Low (Aazar Remix)
266. Flux Pavilion & Matthew Koma – Emotional
267. Flux Pavilion feat. Rosie Oddie – Gold Love (LAXX Remix)
268. LAXX – Threat
269. LAXX – Threat VIP
[11:16:57] PART 25: DIGILOG
270. Tisoki – Werk
271. Grabbitz & Tisoki – Pretty Much LA
272. Oski – Spark
273. Aero Chord & Gawtbass – Secret (Rickyxsan Remix)
274. Barely Alive – Binary
275. Keys n Krates – Dum Dee Dum (NGHTMRE Remix)
276. Yogi – Burial (Skrillex & TrollPhace Remix) (G-Buck Edit)
277. RL Grime – Core ($unday $ervice Remix)
278. Skrillex – Scary Monsters and Nice Sprites (YOOKIE's 'This Kills It Live Edit)
279. Razihel & Xilent feat. Becko – Edge of the World
280. Knife Party – Intenet Friends (Digilog Edit)
281. MrCarmack – Hit That
282. Jack U – To U (WOWSLA Mashup)
283. Herobust – Skurt Reynolds (Zomek Remix)
284. The Game & Skrillex – El Chapo (QUIX & Party Thieves Remix)
285. Mat Zo – Ruffneck Bad Boy
286. RL Grime – Scylla VIP
287. Slips & Slurs – Heartless
288. Skrillex – Ease My Mind (Jai Wolf Remix)
289. Botnek & 3lau – Vikings (Aero Chord Remix)
290. Skellism & Vena Cava – Shots Fired
291. Hellberg feat. Danyka Nadeau – This is Forever (Acapella)
292. Ariana Grande – One Last Time (Hitmane Remix)
293. Trivecta feat. Connor Zwetsch – Believe
[11:48:37] PART 26: PRESIDENT C
294. SNBRN – Raindrops (Prince Fox Remix) (Atom E Rearranged Edit)
295. Adventure Club, The Kite String Tangle – Wonder (Jai Wolf Remix)
296. StéLouse – Brave (Tim Gunter Remix)
297. Ryn Weaver – OctaHate (Cashmere Cat Remix)
298. Jai Wolf – Indian Summer
299. Major Lazer – B2GETHER (MIJA REMIX)
300. Baauer – One Touch feat. AlunaGeorge (SKULS RIP)
301. Robokid, Manila Killa & AOBeats – Helix 2.0 (feat. Blaise Railey)
302. Cashmere Cat & DJ Mustard – Ice Rink
303. Mark Morrison – Return of the Mack (Tim Gunter Remix)
304. Manila Killa – Pink Medicine (Manila Killa Remix)
305. DJ Snake – Middle (feat. Bipolar Sunshine)
306. Odesza – Memories (CRNKN Remix)
307. Porter Robinson – Sad Machine (Astre Remix)
308. Jamie xx – I Know There's Gonna Be (Good Times) (Flaxo Bootleg)
309. Fetty Wap – Trap Queen (Jesse Slayter Bootleg)
310. Major Lazer & DJ Snake feat. MØ – Lean On (Delusion Flip)
311. Sable – Surf
312. Baauer – GoGo
313. KRNE – Dollar Sines
314. Marshmello – KnOw mE
315. eSenTRIK – 1-800-CALLESENTRIK
316. LUCA LUSH x Feki – Where Are Ü Now (Marshmello Remix)
317. King Henry & Santell – Do You Think About Us?
318. The Weeknd – The Hills (RL Grime Remix)
[12:26:53] PART 27: AGERIUS
319. Abstract Vision & Aimoon – #OnFire
320. Tasso – Airstrikes
321. Richard Durand – Art Of Noise
322. David Forbes – Airdrop
323. Marco V – GODD (Paul Cook 2015 Rework)
324. Will Atkinson – Numb the Pain
325. Sean Tyas – Vagabond
326. EverLight – Sensory Toy
327. UP3 – Apollo 503
328. Scot Project & Mark Sherry – Acid Air Raid (Mark Sherry's Acidburst Mix)
329. Liam Wilson – The Trip
[13:18:27] PART 28: DUCLAW
330. Simon Patterson – Apex
331. Sean Tyas – Da Doo Da Dah
332. John Askew – Mechanism
333. Nick Callaghan – DFRNT
334. MaRLo – Atlantis
335. Conductor & The Cowboy – Feeling This Way (Bryan Kearney & Adam Ellis Remix)
336. Sam Jones vs Dogzilla – Buckle Up Without You (DuClaw Mashup)
337. Jamie Drummond – Orphan (Will Atkinson Remix)
338. Matt Darey feat. Kate Louise – See the Sun (Dan Stone Remix)
[14:11:44] PART 29: XARDO
339. Ferry Tayle feat. Hannah Ray – Memory of Me
340. Tritonal feat. Christina Soto – Let Solitude (Air Up There Mix)
341. Arty & Mat Zo vs. Kaskade & Deadmau5 – Rebound vs. Move For Me (Xardo Mashup)
342. Andrew Bayer vs. Dillion Francis & Deadmau5 – Nobody Told Me vs. Some Chords (Xardo Mashup)
343. Ben Gold – Interstate
344. Tritonal feat. Christina Soto – Still With Me (Tritonal Club Mix)
345. Above & Beyond Presents Oceanlab – Sky Falls Down (Armin Van Buuren Remix)
346. Photographer feat. Susana – Find a Way
[15:02:13] PART 30: EATOFO
347. Moonman – Don't Be Afraid (Ferry Corsten 99 Remix)
348. DJ Jan – X-Santo (Transa Remix)
349. Plastic Boy – Twixt
350. Arrakis – Aira Force
351. Cor Fijneman feat. Jan Johnston – Venus (Meant To Be Your Lover) (Tiësto Remix)
352. Ton T.B. – Electronic Malfunction
353. Three Drives – Carrera 2 (Nu NRG Remix)
[15:45:45] PART 31: KOLTER
354. Alphazone – Rocking
355. Simon Patterson – Brush Strokes
356. Adam Ellis – The Babadook
357. Kaimo – K-Mayhem (Paul Denton Remix)
358. Phil York & BRK3 – Traffic (ShockForce_Remix)
359. Ranji – Power of Acid
360. DJ U Hey vs DJ Minagawa – Survivor (Alphazone Remix)
361. John O'callaghan & Giussepe Otavianni – Ride the Wave (Will Atkinson Remix)
362. 1200 Micrograms – Rock Into the Future
[16:45:19] PART 32: XAOSTICA
363. Francesco Zeta – Rock N' Rave
364. Josh & Lareau – Give it One
365. Geck-O – How Low Can You Go
366. Concept Art & Peacekeeper – Giddem Di Style
367. Frontliner – You Want It
368. Azeon – Burn & Shiver
369. Anderson & Ellie – Disco Bitch
[17:15:49] PART 33: INTOXIQATOR
370. Brennan Heart & Wildstylez – Lies or Truth
371. Showtek – Partylover
372. Showtek – Here We Fucking Go
373. Coone – Earthquake
374. Technoboy & Tuneboy – Double Dutch Darkies
375. Atmozfears – Nature's Gasp
376. Dark Pact – I Don't Care
377. Gunz 4 Hire – This is Los Angeles
378. Brennan Heart – Imaginary
379. Max Enforcer – Lost in Paradise
380. Sound Rush – Magical (Euphoria 2015 OST)
381. Atmozfears – Release
382. Crypsis – Get Hit
383. D-Block & S-te-Fan – Part of the Hard
384. Technoboy & Tuneboy – Fahrenheit
385. A-Lusion – Drummer Beat
386. D-Block & S-te-Fan – The Nature of Our Mind (Qlimax 2009 Anthem)
[17:48:44] PART 34: LUKE SNYWALKER
387. Noisestorm – Heist
388. Snavs – Time
389. Rogue – Rattlesnake
390. Rogue – Ultimatum
391. Skrillex & Diplo feat. Snails & Taranchyla – Holla Out
392. Excision & Pegboard Nerds feat. Mayor Apeshit – Bring the Madness (Aero Chord Remix)
393. DotEXE – Inside Out
394. Pegboard Nerds – Emoji
395. Botnek & I See MONSTAS – Deeper Love
[18:16:54] PART 35: DJ N
396. Basement Jaxx feat. Yo Majesty – Twerk (Sub Focus remix)
397. Rene Lavice – Meow
398. Brainfuzz – Method Lean
399. Icicle – Neutralize (Joe Ford remix)
400. Quadrant + Kid Hops + Iris feat. Collette Warren – Eternal September
401. DJ M.S. & Dima Pulsar – Krater
402. Okuli – The Shadow
403. Insom – Future
404. Basher – Devotion
405. Calyx & TeeBee feat. Kemo – Pure Gold
406. Mefjus – Genetic Drift
407. Quadrant + Kid Hops + Iris – Solar Wind
408. Eleven:Eleven – Escape (Quadrant, Kid Hops, Iris remix)
409. Rene Lavice – Bill Folderson
410. Icicle – Arrows
411. Quadrant feat. Cease – Wirecutter
412. Camo & Krooked – Menace (Mefjus remix)
413. Sparfunk – Dimension X
414. Spor feat. Tasha Baxter – As I Need You
415. Mind Vortex – Arc
416. Icicle & Safire – Suction Cap
417. Datsik & Joe Ford feat. Georgia Murray – Hold It Down (Joe Ford Remix)
418. State of Mind – Response Signal
419. The Upbeats feat. Tasha Baxter – Alone (Fourward Remix)
[18:44:37] PART 36: JNJ213
420. Muzzy feat. Charlotte Colley – Feeling Stronger (Priorty One & NCT Remix)
421. Muzzy feat. Charlotte Colley – Feeling Stronger (High Maintanence Remix)
422. Muzzy – Get Crazy
423. Muzzy feat. KG & Skyelle – Calling Out
424. Kings Of The City – Wrong (Muzzy Remix)
425. Dodge & Fuski – Bad
426. Karma Fields & Morten feat. Juliette Lewis – STICKUP (Modestep Remix)
427. Bustre – How To Disappear
[19:08:20] PART 37: PAWS
428. Mind Vortex – Future Fold
429. Noisia & The Upbeats – Dead Limit
430. Audio – Make It Happen
431. Mefjus – Surrounded
432. Bad Company UK – Bullet Time (Spor Remix)
433. Black Sun Empire – Arrakis
434. Bad Company UK – Nitrous
435. Maztek & BTK – Wraith
436. Ed Rush & Optical – Chubrub
437. Noisia & Phace – Floating Zero (Icicle Remix)
438. The Quemists – Stompbox (Spor Remix)
438. Konflict – Messiah
439. The Upbeats – Undertaker
440. Bad Company UK – Planet Dust
441. Matrix & Fierce – Climate (Cause4Concern Remix)
442. Icicle feat. SP:MC – Dreadnaught
443. Ed Rush & Optical – Medicine (Matrix Remix)
444. Sub Focus – Follow the Light
445. Chase & Status feat. Liam Baily – Blind Faith (Loadstar Remix)
446. DJ Rap – Spiritual Aura (Basher Remix)
447. High Contrast – If We Ever
448. The Fugees – Ready Or Not (Zinc's 2003 Remix)
449. DJ Hazard & D.Minds – Mr Happy
450. Omni Trio – Renegade Snares (Foul Play VIP)
451. Roni Size Reprazent – Brown Paper Bag (Full Vocal Mix)
452. Bad Company UK – The Nine
[19:36:20] PART 38: MODULUS
453. Lost Soul – Silicon Hell
454. Yiruma – Rivers Flow In You (Lumin8's 2010 Remix)
455. Fracus & Sam Honey – Every Word You Say
456. Digital Fidelity – Take Me Away
457. Ultrabeat – Elysium (I Go Crazy) (Styles & Breeze Mix)
458. Lumin8 – Pretty Eyes
459. Bishop feat. Marie Louise – Born to Bleed (Orbit1 remix)
460. Dougal & Gammer feat. Lisa Marie – Fuck Me I'm Famous
461. Gammer & JB-C – Bigger and Bolder
462. Defnoyz – Rock Out
463. Chris Fear – Rock N' Roller
464. Scooter – Sessaja (Breeze Remix)
465. Fracus & Darwin – Ganja Crew
466. Bang! – Sunshine On A Cloudy Day (Chaos Remix)
467. Entity – Higher Functions
468. Darwin – Without Fear
469. Impact & Nomad – Utopia
[20:11:58] PART 39: DJ COTTS
470. United In Dance feat. Lisa Marie – Still the One (Gammer Remix)
471. Stlyes & Breeze – The Beat Kicks
472. Orbit1 & Milo – Groove 2 Da Beat
473. JAKAZiD – Funky Town
474. Storm & Euphony – Show Me the Way (DJ Shimamura Remix)
475. Andy C – Workout
476. Gammer – Good Life (Bad Day)
477. Dougal & Gammer – Burn
478. Nobody feat. Hyperforce – Going Under (IYF & Nobody Powerstomp Mix)
479. Daniel Seven – Valley
480. Gammer & Re-Con – I Know You (Drop This)
481. S3RL feat. Chi Chi – I'll See You Again
482. D-Lyte & Stormtrooper – Cock Rat
483. DJ Stormtrooper feat. Kristy – Set It Off
484. Joey Riot vs Tonic – Out of My Mind
485. Ultravibes & Andy Dee – Set Your Soul Free
486. Tom Swoon, Myon & Shane 54 feat. Taylr Renee – Wings (Rhythmics Edit)
487. The Prodigy – Everybody in the Place (Rhythmics Bootleg)
488. Anon – Aeropienamic
489. S3RL feat. Yuki – Princess Bubblegum
490. Hommarju – The Haunted!
491. Kurt Vs Dyrekt – Fuck Wid Da Beat
492. Dougal & Gammer – Shoulder Lock
493. Mark Breeze – Raving Drug
494. Darren Styles & Alex Prospect – Rock Right Now
495. Michael Scout – Mind Body Soul
496. Youth (Darren Styles & Gammer Remix)
497. Olly P & Cotts – #Teh Creep
498. Scott Brown – Crack It
499. Chris Unknown – I Don't Need No Drugs
500. DJ Shimamura – Victoria
501. Tanuki vs JAKAZiD – New Day
502. Olly P – Fuck It Up
503. MAKJ, Henry Fong – Encore (Olly P Bootleg)
504. Technikore, JTS & Cotts – Monster's Belly
[20:43:32] PART 40: CHIA
505. Neoclubber – Dreams Come True (Ultravibes Remix)
506. Gammer, Re-Con & Klubfiller – Bang Yer Head Off (Fauxami Mega Mashup)
507. Riddy & Niddy – Chop Yer Dick Off
508. Baked Potato – Savaged (You've Been Lied To)
509. George Centeno – Blow Loop
510. Kurt vs Dan Edge & Spin R feat Rachel R – In Your Head
511. M-Project – Vapor Trail
512. George Centeno – Party Loop
513. M-Project – Kidz War 2013 (Haze's 10 Years After Rmx)
514. M-Project – Burn the Floor (Gone Remix)
515. Jony-K vs Dani Delirio – Synthetic Opera
516. Who Da Funk – Shiny Disco Balls (Acapella Mix)
517. DJ Alba – La Noche
518. Re-Style – Get It Crackin' (2013 Final Edit)
519. Whitney Houston – I Wanna Dance With Somebody (Acapella Mix)
[21:10:35] PART 41: TWI2T3D
520. Styles & Breeze – You're My Angel (Acapella)
521. Patch & Eufeion – Explicit Content
522. Darren Styles & Gammer – Tom Riddle
523. Eufeion – Fright Night
524. Mike Vapour – Cotton Eye Joe
525. Nobody – Bass Down Low (Remix)
526. JAKAZiD – Dr. Who (Edit)
527. Clowny – Tight rope
528. Masterbucks – Eat World
529. Jakka B – Rock This Bass
530. Lozzie – What Is Drugs
531. Gregor le DahL – Nintendo Sounds
532. Luna-C — I Run These Streets (Brisk Remix)
533. Topvibe & Destiny – The Download
534. Technical Difficulties – Blow the Bloody Doors Off! (Edit)
535. Evanescence – Hello (Technikore Remix)
536. Hardcore Masif – Mad World (Weaver & Steve Hill Mix)
537. Perfect Phase – Horny Horns (Stu Allan & Darwin Remix)
[21:44:13] PART 42: JONNO (part 2)
538. Gammer – Pigface >±< (Dougal & Gammer Edit)
539. TC – Get Down Low
540. DJ Hazard & D Minds – Mr Happy (Hydraulix Trap Remix)
541. Doctor P – Going Gorillas
542. Eptic – Death
543. Knife Party – Boss Mode
544. Skrillex feat. Sirah – Kyoto
545. Excision & Pegboard Nerds feat. Mayor Apeshit – Bring the Madness
546. Noisestorm – Breakdown VIP
547. Tristam & Braken – Flight
548. Aero Chord – Surface
549. David Guetta & Afrojack feat. Nicki Minaj & Bebe Rexha – Hey Mama
550. Snails – Frogbass
551. Collie Buddz – Come Around (Barely Alive Remix)
552. Zomboy feat. Lady Chann – Here To Stay (MUST DIE! Remix)
553. The Prototypes – Suffocate (VIP)
554. Excision & The Frim – X UP (feat. Messinian)
555. Nero – Crush On You (Knife Party Remix)
556. Excision & Ajapai – Destriod 9 Blast Off
557. Major Lazer & DJ Snake feat. MØ – Lean On (Delta Heavy's Lean Back Bootleg)
558. Muzzy – Insignia
559. Nanobii – Rainbow Road
[22:08:57] PART 43: INFERNAL IMP
560. moro – Enter the Forest
561. moro – She Wanna Paint it red
562. QUIL – Revenge (More Revenge)
563. Noizenecio – Judgement
564. moro – W.I.N.O
565. moro – The Other Side
566. Kobaryo – Clock Control
567. Komprex – Awake the Revolution
568. Round Wave Crusher – Fucking Your Brain (FRENCHCORE!)
569. M1dy – M1dy is Sexy (Edit)
570. moro – Automatic Destruction
571. Round Wave Crusher – O.D. (Big FKing Trouble)
572. Javelin – Headshot Kill
573. kenta-v.ez – ListENiNg to spEEDcorE turNs you iNto A fuckiNg idiot
574. Kobaryo – Cereal Eater
575. moro – Keep Temaki in
576. Kobaryo feat. You – Aozora Gradation
577. t+pazolite – Boogie Woggie Splatter Show
578. DJ ChuChu – 220 Bpm Loli in My Bathtub (Round Wave Crusher Added Some Shit To Make It 230 Bpm Tekno Mix)
579. DJ Myosuke – Living Dead
580. ETIA. – Liar
581. t+pazolite – Saw-Saw
[22:47:14] PART 44: CND9
582. DJKurara – Bye Loved Ones
583. goreshit – Welcome to High Life!
584. goreshit – Mimic Me
585. Kyou1110 – Revavavavava Ideoloololololololo
586. m1dy – 37Dicks
587. goreshit – Bad Habits
588. DJ Nicko – The Otherside 2010
589. Scott Brown – How Many Sukkas
590. Gammer & Whizzkid – Jump
591. Acen – Trip to the Moon 2 (Timewarped by DJ Luna-C)
592. Machinedrum – Only 1 Way 2 Know
593. XXYYXX – Set it Off
594. DJ Serial Experimentz & DJ MTV – L.O.U.D.
595. CND9 – 98′ Werk Ur Feet
[23:14:40] PART 45: ℍUM♥ℕIGHTM♥RE
596. Telepath テレパシー能力者 – 秘密の恋人たち
597. Telepath テレパシー能力者 – 私たちの感情は一緒になって
598. トリニティー無限大 – 愛しています
599. Waterfront Dining – Princess
600. death's dynamic shroud.wmv – CD Player Pt III
601. Telepath テレパシー能力者 – I NEED YOU あなたと私は永遠
602. Dante Mars Ajeto! – Bump Jam
603. VHS Logos – Feeling
604. Luxury Elite – Reflections
605. Seabaud – 陽光 微笑 Sunshine Smile
606. Telepath テレパシー能力者 – プレジャープラネット
607. 豆bean – Beauty
608. ℍUM♥ℕIGHTM♥RE – Tell Me Why
609. VAV-31 – Rotation
610. ℍUM♥ℕIGHTM♥RE – We Don't Have To Rush
611. Telepath テレパシー能力者 – 無限 TEARDROPS 涙の海で
612. Telepath テレパシー能力者 – DEEP IN THE SLUSH
[23:56:53] END
Leave a Reply