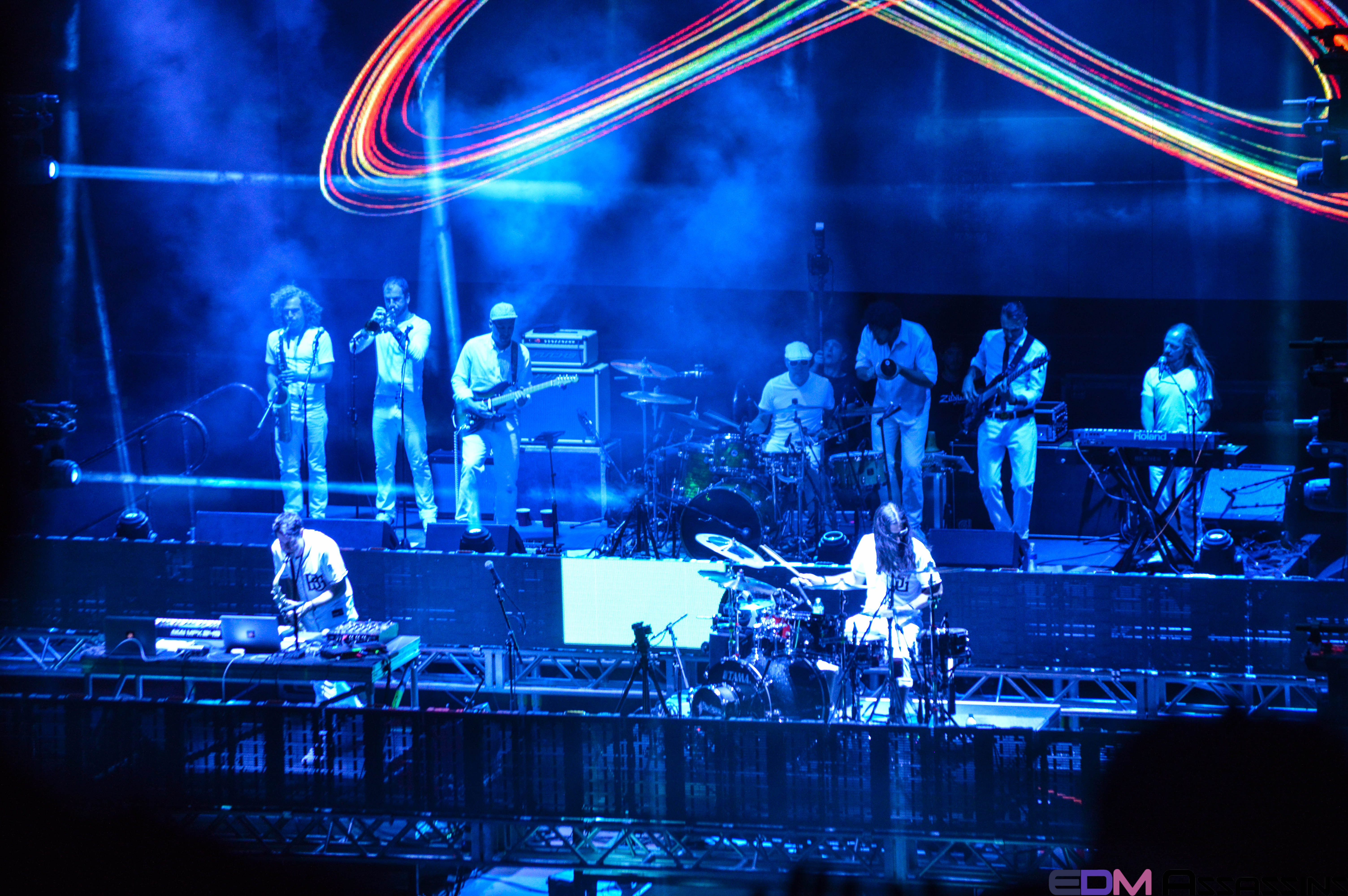 Night 2 of RowdyTown IV. Oh what a night it would be.
With Two Fresh kicking things off and providing some hip hop beats to get the crowd turned up, Snails was all primed to come in with his signature vomitstep and turn the crowd the hell up. The dirty dubstep style beats had the sold out crowd on their feet, screaming and clamoring for more. It was hard to understand Snails on the mic with the crowd so loud, but it wasn't all that important what he was saying because the crowd knew to turn up whenever the beat was about to drop.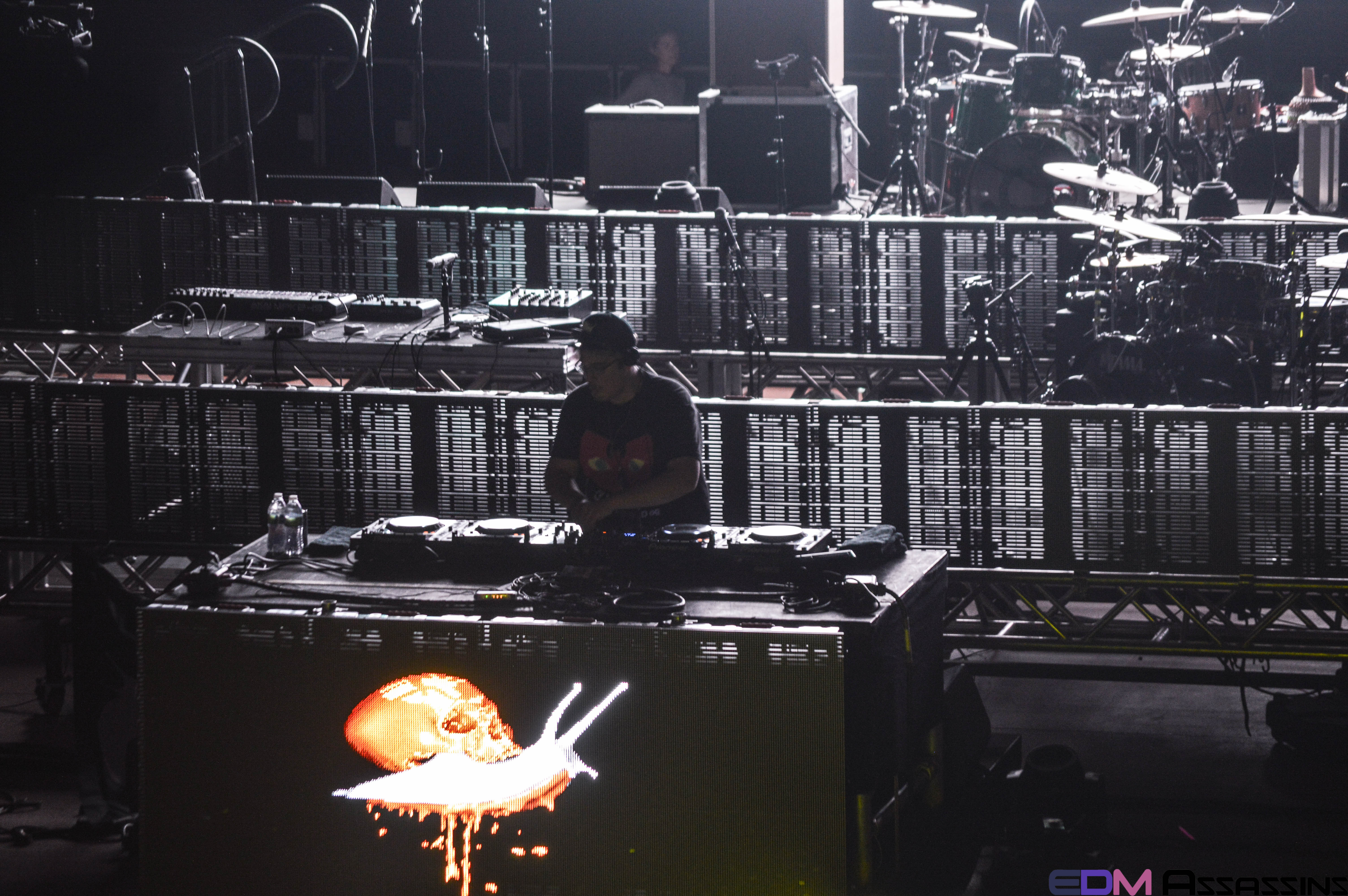 With a harder set from Snails, he let everyone know just how much he appreciated them by getting on the mic right at the end and saying how playing Red Rocks was a dream come true. While not the first artist to say this, it is a right of passage for many artists and certainly a dream to headline Red Rocks. One of the most iconic venues in the world, it is no wonder that artists and fans from around the world stop there to leave their mark. Whether it be feet stomping into the time worn wood seats or the long-lost echoes off the pillars that surround the amphitheater. We would love to have Snails return, any time he'd like.
After getting the crowd worked up to a fever pitch, it was time for RL Grime to takeover and as the trap star popped up from behind the decks, it was about to be one hell of a set. Much different than the night before with Thomas Jack, RL Grime went straight into heavy trap and kept the crowd turnt all night. He played some new music, mixed in with tracks he helped make famous like Jauz's track "Feel The Volume". Elbows were flying as RL Grime put on a display of mixing skills, keeping his attention on the crowd and looking down to mix as he saw necessary. What I thoroughly enjoyed was his willingness to jump around and get as much into his music as the crowd. Not all artists dance around on stage and sometimes it looks staged. With RL Grime, it was all him and how much he loved the music he was creating. A smile was plastered to his fave whenever he looked up, it was evident that he was hard at work mixing as his face was serious whenever he was paying attention to the decks in front of him.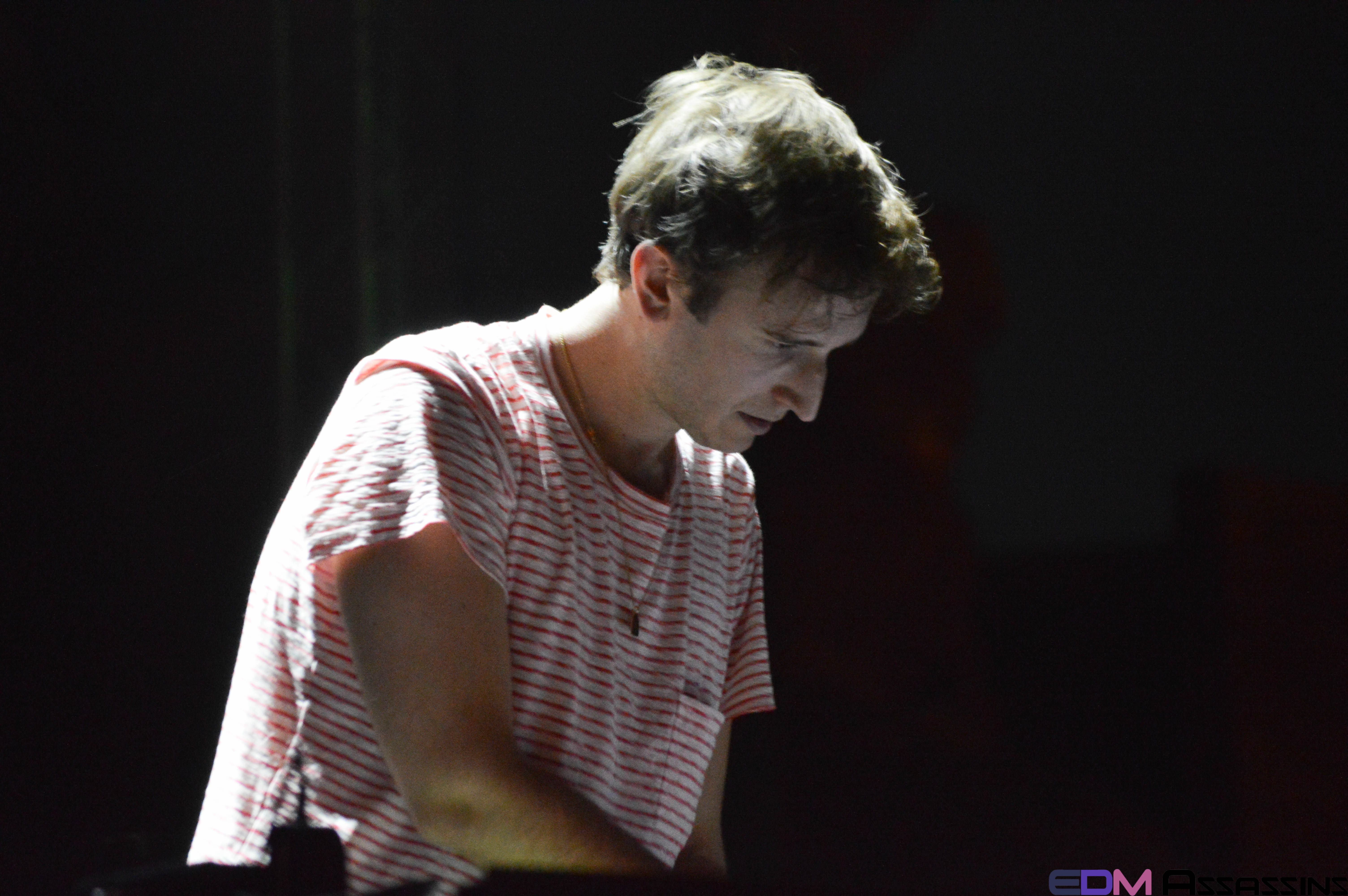 Though I'm not a huge trap fan, I may be starting to convert having seen some amazing sets lately, RL Grime especially. On to the headliner, but first a little story.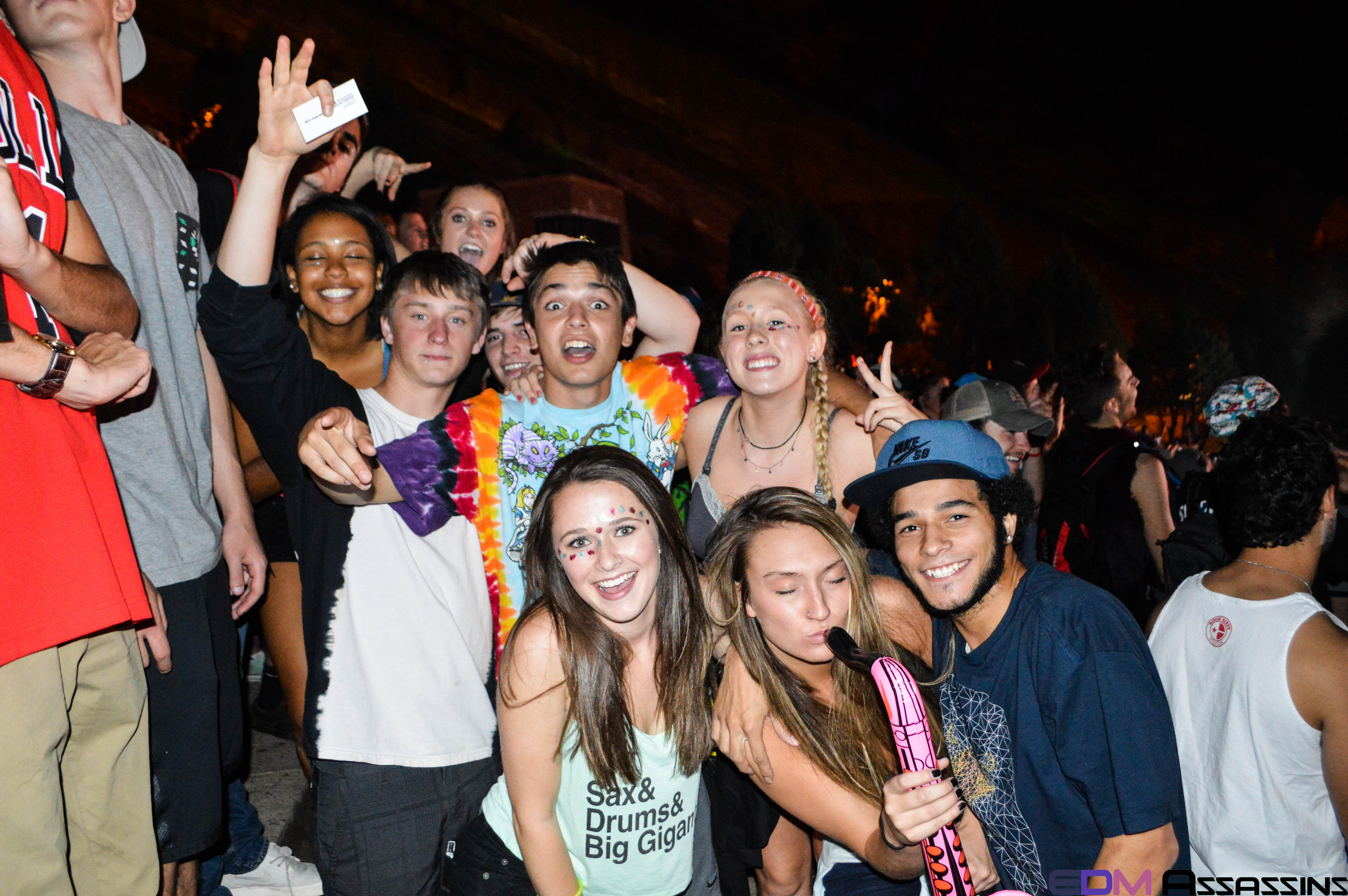 Wandering through the crowd holding a camera, you attract some level of attention. People are much more likely to get out of your way as you look for the perfect spot to get one picture. Others are incredibly surprised that you "got that thing in here" as they maybe do not realize we are allowed to have it. What I love best is when I'm stopped and asked for a picture of a group of friends. This time however, what started as an explanation of the website I write for, turned into a touching moment of one stranger telling another why they come for the music. What makes it special for them.
Meet Peter, he's in that picture above with all of his friends. You could tell by his enthusiasm, that it was not his first show. Aside from the pleasantries we exchanged, the mood turned slightly serious as he explained a few tattoos he was planning to get. Now I know we were there for the music, but our conversation became much more important than what specific song was playing. He explained to me about three of his friends that passed away in a car accident on their way home from a festival. What touched me was his sense of determination to have them with him at all times. To make it to Red Rocks carrying their spirit with him. The tattoos were a visible reminder that they were with him, but the camaraderie I saw throughout the group was evident that something else was holding them together.
The love of friends no longer with them brought them to shows. It gave them an energy we could not hope to sustain, but most of it all, it gave them all purpose. It was a small moment out of millions happening that night, but it stuck with me. Not only because of my own experience with loss, but because I continually look for deeper reasons that we are drawn to music. Here Peter was, enjoying RowdyTown with his friends in remembrance of their fallen allies. The music was special to them in a way many others could not understand, and I wanted to capture it, immortalize it forever, and remind everyone that music is universal. It helps us cope, and it brings us together in ways we could not begin to understand.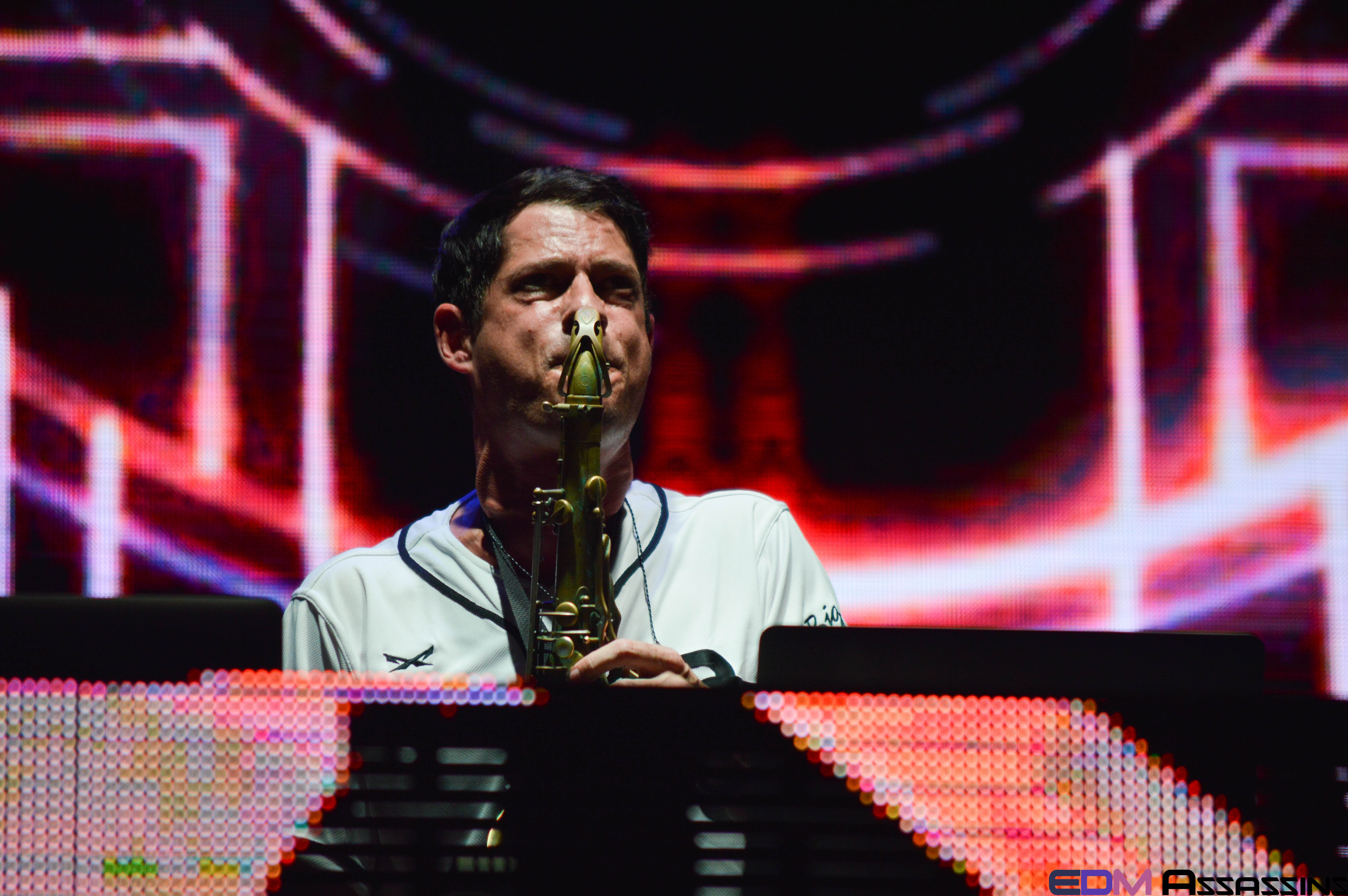 With night 2 of Big G, I sort of expected to hear some newer tracks as they continued the theme of playing everything in their catalog. We heard some of the biggest hits, "Touch The Sky", "Get Em' High", "Good Times Roll", and plenty more with the accompaniment of The Motet, Two Fresh, Big House and even a salute from Snails. I was thoroughly impressed that the set was completely different from night 1. If you missed the first night, you were out of luck if you wanted to hear any of those tracks.
The visuals continued to amaze me as everything seemed to be 3D at some points with the way the lights and lasers would reflect off the white clothing. I loved the idea of getting the entire stage into the visuals instead of just the LED screens. And then there were the rocks. The laser mapping on the rocks was hard to see at some points and sadly I could not get a good picture, but I guess that means you have to come to RowdyTown V next year to see for yourself.
Aside from the guest appearances on stage, we were also treated to live vocals from The Motet and the Big G singers. I was thoroughly impressed with renditions of songs and the live instrumentation and vocals completed the picturesque night. Big G ended their fourth year of RowdyTown with a rousing rendition of their remix of Zedd's track "Beautiful Now". It was a beautiful way to send off the crowd as they would leave with amazing memories and plans to attend for another year. Check out some more pictures in the gallery below!
Leave a Reply