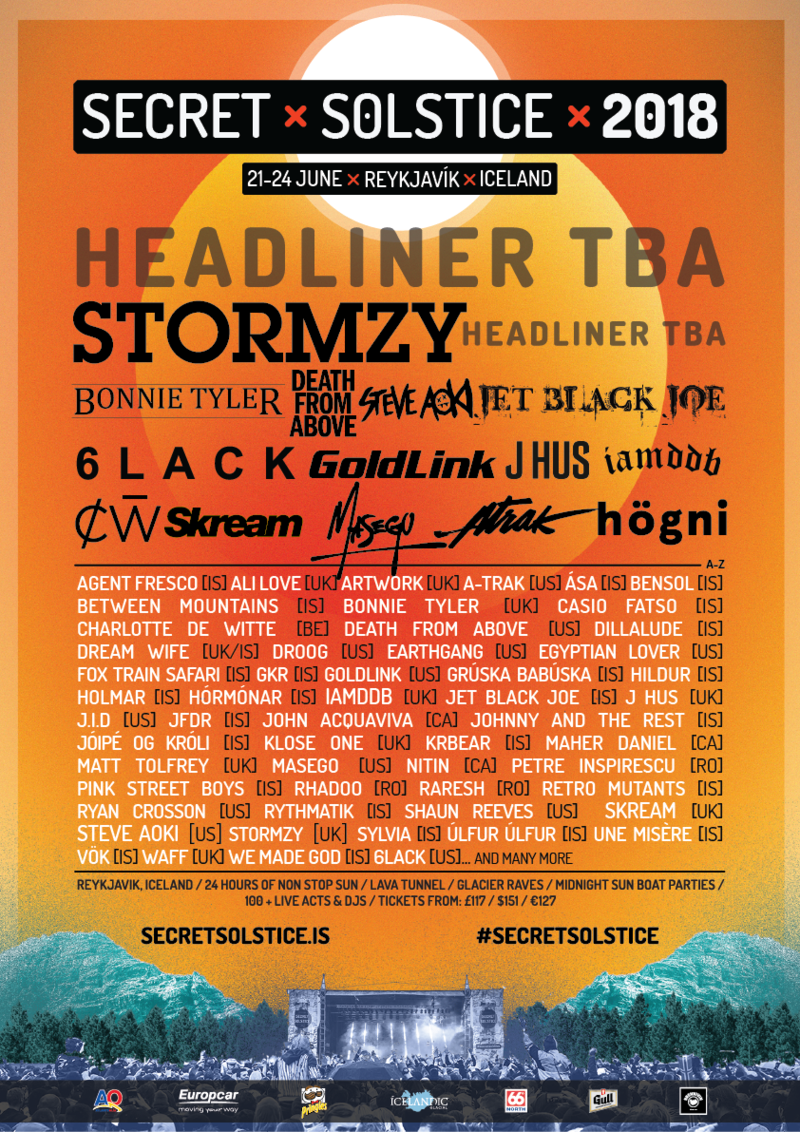 Earlier this week, Iceland's Secret Solstice announced their phase 1 with some big name artists gracing the 96 hours of never-ending sunlight during the summer solstice.
The festival will be taking place June 21st through the 24th in the Iceland capital city of Reykjavik.  The special pat of this four day festival is that because of the solstice, the festival never ends.
Below is the complete list of artists, with this originating country, on the Phase 1 lineup with more to come.

Stormzy [UK]
Steve Aoki [US]
Bonnie Tyler [UK]
Death From Above [US]
Jet Black Joe [IS]
6lack [US]
Goldlink [US]
J Hus [UK]
Charlotte de Witte [BE]
Skream [UK]
A-Trak [US]
Masego [US]
IAMDDB [UK]
Högni [IS]
Supporting Artists:
Agent Fresco [IS]
Ali Love [UK]
Artwork [UK]
Ása [IS]
Bensol [IS]
Between Mountains [IS]
Casio Fatso [IS]
Dillalude [IS]
Dream Wife [UK/IS]
Droog [US]
Earthgang [US]
Egyptian Lover [US]
Fox Train Safari [IS]
GKR [IS]
Grúska Babúska [IS]
Hildur [IS]
Holmar [IS]
Hórmónar [IS]
J.I.D [US]
JFDR [IS]
John Acquaviva [CA]
Johnny And The Rest [IS]
JóiPé og Króli [IS]
Klose One [UK]
KrBear [IS]
Maher Daniel [CA]
Matt Tolfrey [UK]
Nitin [CA]
Petre Inspirescu [RO]
Pink Street Boys [IS]
Rhadoo [RO]
Raresh [RO]
Retro Mutants [IS]
Ryan Crosson [US]
Rythmatik [IS]
Shaun Reeves [US]
Sylvia [IS]
Úlfur Úlfur [IS]
Une Misère [IS]
wAFF [UK]
We Made God [IS]
VÖK [IS]
Leave a Reply