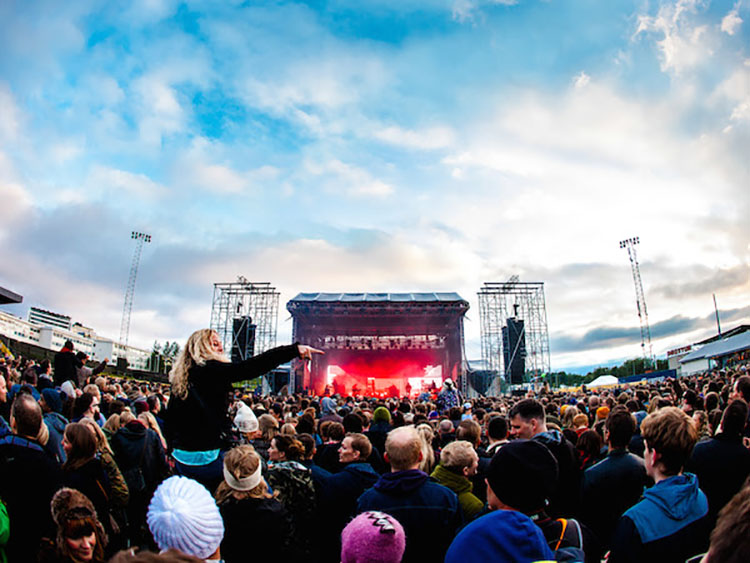 Better dig out all those extra pennies from around the house, you might also want to sell your wedding band, because this festival ticket will cost you and a friend a whopping $200,000. Secret Solstice already boasts a festival where the sun does not set, an exclusive party for 70 guests inside a glacier, and they have outdone themselves by offering two guests the ultimate festival package.
For $200,000 your festival experience can include all of the following, and MORE:
-First class flights for two to Iceland during Secret Solstice festival from anywhere on Earth
-Unbridled all-access passes to every area of the Secret Solstice festival site
-Introductions where possible to any Secret Solstice artists during the 2015 event
-Your own five-bedroom luxury villa in Reykjavík for five nights
-Private performance by one of this years headlining Secret Solstice artists at your holiday residence in Iceland
-Personal chef for every meal upon request
-Two personal assistants, and private security for the entire weekend on call 24/7
-Private executive saloon car and chauffeur on-call 24/7
-Exclusive access to the executive lounge, as well as in-water massages at the world famous Blue Lagoon, with helicopter transfers to and from Reykjavík
-A private tour to one of Iceland's infamous volcanoes, rappelling inside the magma chamber. Lunch will be prepared inside the magma chamber for you, with live music provided by an -Icelandic Secret Solstice act
-Your own escorted self-drive tour of Iceland's Golden Circle, showing you sights not listed on any map for a truly personal experience,
-Private whale and dolphin watching tour aboard a 100-foot yacht complete with food prepared by a personal chef, drinks, music, golf & skeet shooting from deck of yacht, and more
-Icelandic food experiences, and meals cooked on the festival site as requested
-Five hour Iceland nature helicopter tour
-Helicopter transfers to all private tours
-Fully stocked bar at your accommodation
-Exclusive bottle service at Secret Solstice festival, and at Reykjavík nightclubs upon request
-All drinks included for the entire duration of the stay
-And much more
While Secret Solstice is already one of the most unique festivals on earth, this ticket package will have two people enjoy what is surely THE most unique festival experience, perhaps ever. There are a lot of ways to spend $200,000 and this is certainly one of the most unique ways I can think of. Get your tickets here and if you have the funds, go for broke with the $200,000 festival experience for two.
Leave a Reply