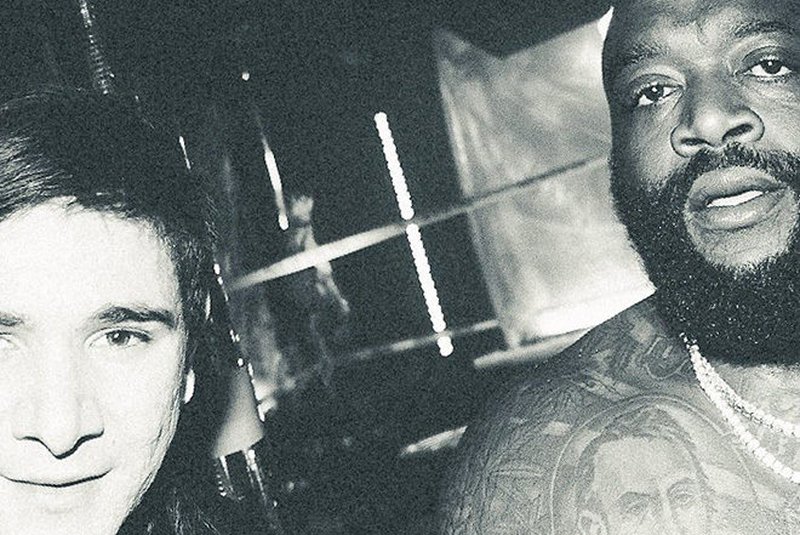 I love comics. I have been to every movie that has come out and don't plan on stopping that streak any time soon. And now I have another reason to go see the movie Suicide Squad. Suicide Squad is set to come out later this summer, so obviously the movie is already filmed. Putting the film together means that the creators will need a soundtrack to go along with it. One track has been allegedly dropped by Skrillex as an ID earlier this year.
There has been more news on this track. That news being that the track is allegedly a collaboration between Skrillex and rapper Rick Ross. In his verse on the supposed track, Rick Ross allegedly has several phrases related to the Suicide Squad team. This is the reason why fans believe the song is for the movie.
According to sources, there is a music video supposedly in the process of being made. On June 6th, Skrillex posted on twitter the tweet "Boss @rickyrozay" and posting a picture of himself and Rick Ross. Skrillex also posted 33 seconds of video on his Snapchat account where you can see he is shooting a music video. In the background of several snaps you can hear Rick Ross rapping and speaking. You can also hear "ROZAY" and "Maybach Music", which are two common phrases in Rick Ross snaps.
https://www.youtube.com/watch?v=xU7doiq2UiM
The video may also be hinting towards Jared Leto, the actor playing the Joker in Suicide Squad, joining Ross and Skrillex on the set of the shoot. His twitter over the weekend was very cryptic with a picture of his hair dyed green like his Joker costume, and similar shoes. Along with his tweet, the Snapchats shows Skrillex and Rick Ross shooting a car scene, something that has been characteristic of the Joker scenes of the Suicide Squad movie. The two other people in the snaps, two women, have runny makeup, like the Joker.  Hopefully this is a collaboration with Leto and the video helps promote the movie even more.
? ? pic.twitter.com/ETM8l267nm

— JARED LETO (@JaredLeto) June 3, 2016
BOSS @rickyrozay pic.twitter.com/W22jVrZkWy

— SKRILLEX (@Skrillex) June 6, 2016
Leave a Reply