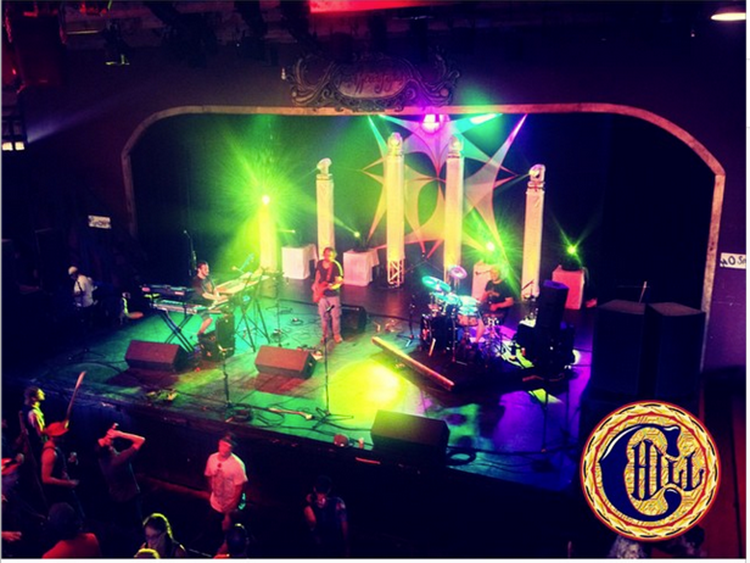 I had the chance to sit down with the guys from SOLARiS while hanging at Camp Minglewood. SOLARis is one of those bands that leave a lasting impression. Their live sets are unbelievably energetic, taking you on a roller coaster ride of emotions except you can't see the track in front of you. They are really down to earth guys that are truly about the music. SOLARiS is teeming with talent, one shot at seeing them live and you'll be hooked. All in all, there is a unique atmosphere that these guys create at their show that goes unmatched.
How did you guys come up with the name?
Dan: The name was one of my favorite books in high school called Solaris. It's a Russian sci-fi novel about an alien planet that was assumed to be a regular planet but it turns out to be a whole living organism, so they had to readjust the way they 'spoke' to it. In many ways, that's kind of the idea we go for. We don't have lyrics per say, we don't have a regular microphone or anything like that but we're trying to move people in some way, that isn't related to directly telling them how to dance.
What is your favorite place to play?
Dan: Definitely, Catskill Chill.
How was this years performance versus last year?
Dan: This year was definitely a better SOLARiS show. As a result, we had a really good crowd reaction. We had a lot of our friends here but definitely a lot of new faces. It seems like a really good way to start things out for the weekend.
What song has the crowd most responded to?
All: Push [START]!!
[bandcamp width=100% height=42 album=2204208170 size=small bgcol=ffffff linkcol=0687f5 track=3968844174]
Dan: People go crazy during Pushstart, we get into some of our darker almost heavy metal approach for that song. It definitely freaks people out.
Do you guys plan out sets?
Jared: Dan writes out a set as soon as we know about a show. Usually we practice it verbatim. We like to take our material and give you more than just a song. We'll recreate songs or put a nice cover twist into it. A lot of people think it;s jamming constantly but the truth of the matter is it's mostly composition.
Vinny: We go to an extra effort to connect with people. Unique situations do arise, things can be sporadic and we act off that.
So it does change?
Dan: Sometimes, yeah. What it comes down to for me, I grew up as 2 things; a live music fan and a nerd. When it comes to live music, I was always a nerd about it and I always kept setlist of bands that I would see. I would be blown away by the new stuff bands would do in their sets. I always wanted to get to a point where it was a game and we were playing with the fans expectations. I think we are getting to the point where people are starting to know our material, like our set yesterday was one of the more complicated ones we've put together. Now that people know our songs we can give people more than they expect. It's growing as it goes.
What genres are inspiring you at the moment?
Dan: What inspires us individually is very very different. What inspires us a whole, though, it tends to be when we go to festivals like this, the 3 of us go see an act and it usually has a heavy affect on is. Last year at the Big Up with so Jojo Mayer and Nerve play and for months after we were playing drum and bass. Trying different accents that we knew they had played. Truthfully, our influences changes as we see other bands.
Jared: A lot of inspiration comes from bottom tier bands, the up and comers as opposed to headliners. The "local acts," they are our friends, we are becoming family. We are all doing this together, we are seeing who's climbing quicker. Who's playing where, etc. I'm really influenced by everyone we play with.
Do you listen to a lot of EDM?
Dan: I love electronic music. I have been heavily addicted and influenced by electronic music for the better part of a decade. I really got everything I could ever get from reggae, funk and jazz. With electronic music there is so much power in the individuals hand to create that goes so far beyond holding a guitar or bass. Not only that but The rhythms you can create electronically is fascinating, and that's try to reproduce them with our music.
What is the craziest stuff that has happened to you at a show?
All: We were playing a late night show in Binghamton and all of sudden a bunch of well dressed middle aged people come into the show more drunk and more veracious then any of the fans already in there. We came to find out that it was the Mayor of Binghamton and his wedding party. He ended up coming on stage and playing harmonic.
Jared: That same day, in the morning, we were booked to play some benefit. The people running show didn't know we were an electronic band and booked as at 10am. We should be playing way later. So, we said screw it we're not bringing all our gear to set up. We brought a broken down drum set, a piano and an acoustic guitar and did our electronic songs with acoustic instruments. It was not recorded, fortunately.
What's next for SOLARiS?
Dan: Moving to Philadelphia. We are trying to get to the heart of where the type of music we are playing birthed out of. I think we really have a chance to flourish there. We also just released our new album This Is What You Get, it's 100% improvised. Has no current songs, no lyrics, all improvised jams.
With these guys going to the Mecca of Jamtronica (Philadelphia), they are going to the promised land. Look out for them in the future!
Leave a Reply