Spring Awakening Music Festival has finally released their final information regarding this year's event. Taking Place June 10th through the 12th, it is time for attendees to starting planning where they are going to go each day during the festival at the new location of Addams/Medill Park in Chicago, Illinois.
First off, SAMF has released a video on Youtube which gives fans a virtual tour as they use this new location.  You can check that out here:
The second big release today is the Artists, Locations, and ticket information of Official SAMF After Parties. All of that is listed right here.
Official SAMF 2016 After Parties:
THURSDAY:
FRIDAY:
SATURDAY:
SUNDAY:
MONDAY:
Also released today were the set times on each stage. By downloading the iPhone or Android apps, attendees can create their custom schedules. Using their Facebook logins, attendees can also create their custom schedule on the SAMP Website. Below you will find each stage broken down by artist and set time start, going from the start of the day and the end. At the bottom of the page you will find the official schedule cards released by SAMF.
FRIDAY:
DJ Stage
1:30 Attack
2:30 Hexes
3:30 Milk N Cooks
4:30 Tritonal
5:30 Borgore
6:30 DVBBS
7:30 Dillon Francis
8:45 Steve Aoki
Electronic Stage
1:20 Xonic
2:20 Dani Deahl
3:20 The Knocks
4:20 Troyboi
5:30 Gramatik
6:30 Flux Pavilion
7:30 Jamie xx
8:45 Deadmau5
Bass Kitchen
1:45 Lascaux
2:45 Tombz
3:45 Stratus
4:45 The Trap House
5:45 Bear Grillz
6:45 Alison Wonderland
7:45 Feed Me
8:45 Datsik
Body Language
1:45 Proppa
2:45 TUJ
3:45 Redux
4:45 Darius
5:45 Autograf
6:45 Claptone
7:45 the Magician
8:45 Klingande
Silent Disco
1:45 Raakmo
2:45 Party Girl
3:45 RCKT PWR
4:45 Fatboy
5:45 Delusive
6:45 Axilon
7:45 Smiirk
8:45 White Owl
SATURDAY:
DJ Stage
1:30 Howie Doin
2:30 Antics
3:30 Mielo
4:30 Cash Cash
5:30 Showtek
6:30 Nicky Romero
7:30 Carnage
8:45 Kaskade
Electronic Stage
1:30 Vyntage
2:30 Cofresi
3:30 Porn N Chicken
4:30 Hippie Sabotage
5:30 A-Trak
6:30 Gesaffelstein (DJ Set)
7:30 Flying Lotus
8:45 Zeds Dead
Trance Arena
1:45 Andrew Renegade
2:45 Mario Florek
3:45 Peter Kontor
4:45 Ben Nicky
5:45 John O'Callaghan
6:45 Aly & Fila
7:45 Cosmic Gate
8:45 ATB
Claude Vonstroke Presents: the Birdhouse
1:45 Groove Animal
2:45 Steve Gerard
3:45 Fortune
4:45 Catz N Dogz
5:45 Danny Daze
6:45 Simian Mobil Disco (DJ Set)
7:45 Nicole Moudaber
8:45 Claude Von Stroke
Silent Disco
1:45 DJ Fame
2:45 Hi Five
3:45 Flawl3ss
4:45 DJ Morozoff
5:45 Kazmeer
6:45 Crystal Knives
7:45 Danger Wayne
8:45 Dakota
SUNDAY:
DJ Stage
1:30 Goose
2:20 Chris V
3:15 CID
4:15 3LAU
5:15 Dash Berlin
6:15 Dada Life
7:15 Chainsmokers
8:45 Above & Beyond
Electronic Stage
1:30 JT&T
2:30 Light. Em. Up
3:30 Rezz
4:30 Jai Wolf
5:45 Madeon (Live)
7:00 Crystal Castles
8:15 RL Grime
DJMag.com's DJ Stage
1:45 DJ Nurotic + DJ Jem (KISSFM DJs)
2:45 AVI SIC
3:45 Marc Stout
4:45 Ghastly
5:45 Ephwurd
6:45 Chuckie
7:45 Morgan Page
8:45 Borgeous
Pete Tong's All Gone Stage
1:45 Sleepy Piltch
2:45 Wheathin
3:45 Ron Carroll
4:45 Golf Clap
5:45 Moon Boots
6:45 Pete Tong
7:45 Green Velvet
8:45 Maya Jane Coles
Silent Disco
1:45 Caliago
2:45 K. Gainnes
3:45 Solstis
4:45 Animale
5:45 Jaebea
6:45 Dogma
7:45 2face3d
8:45 Twitchin Skratch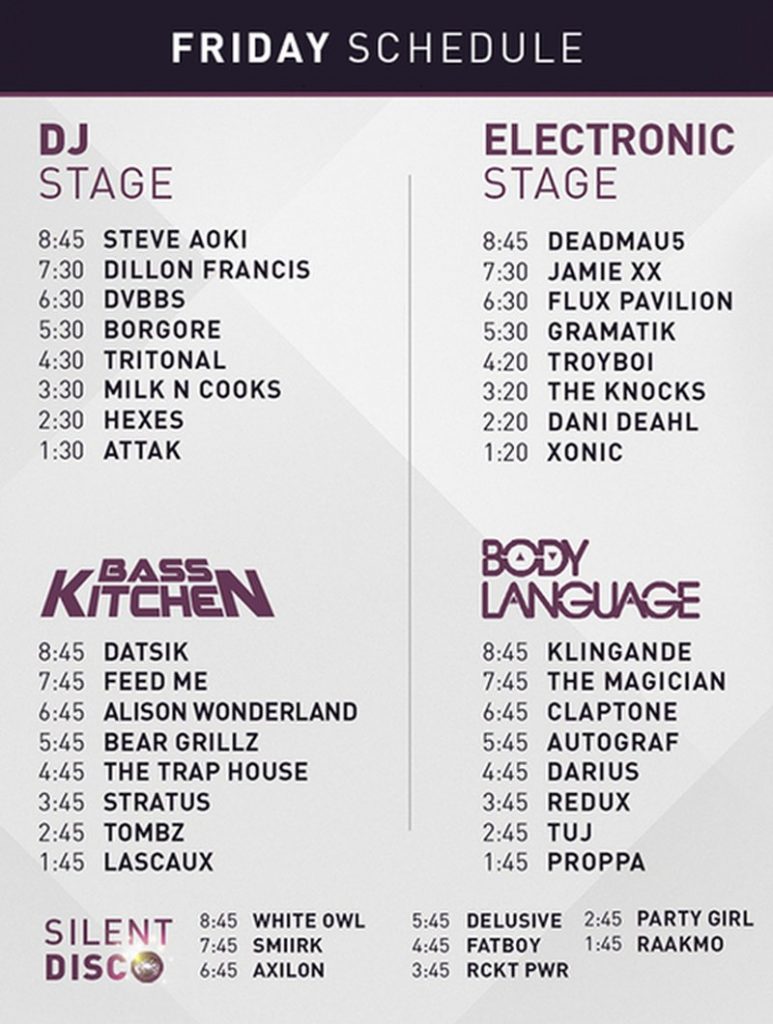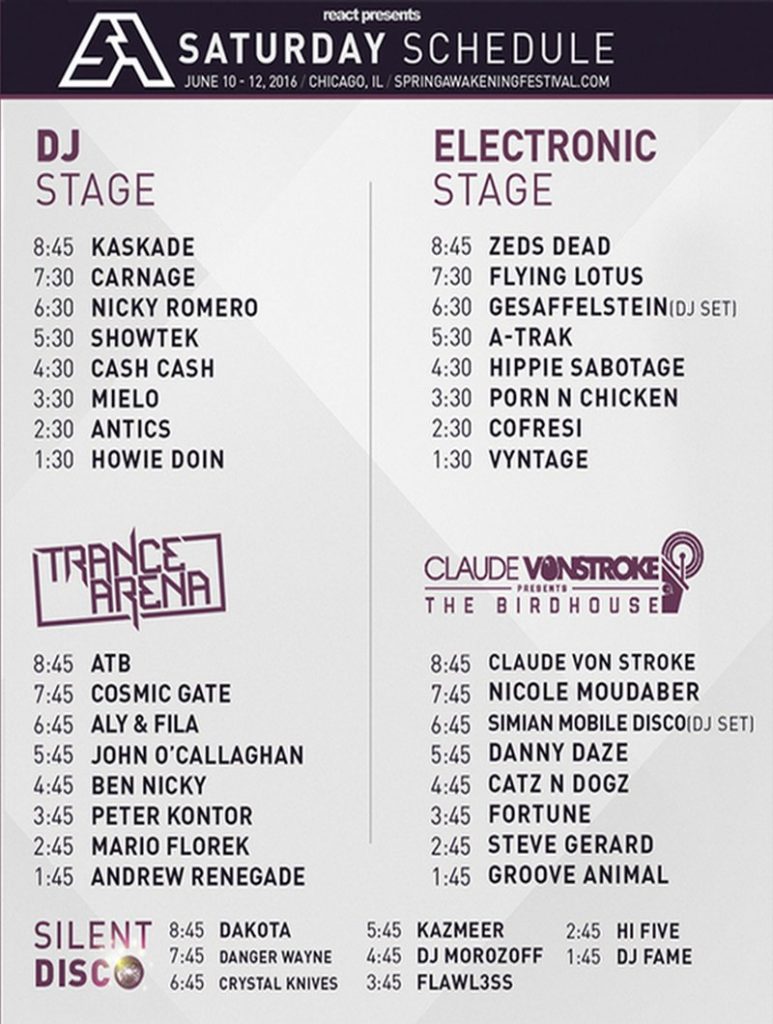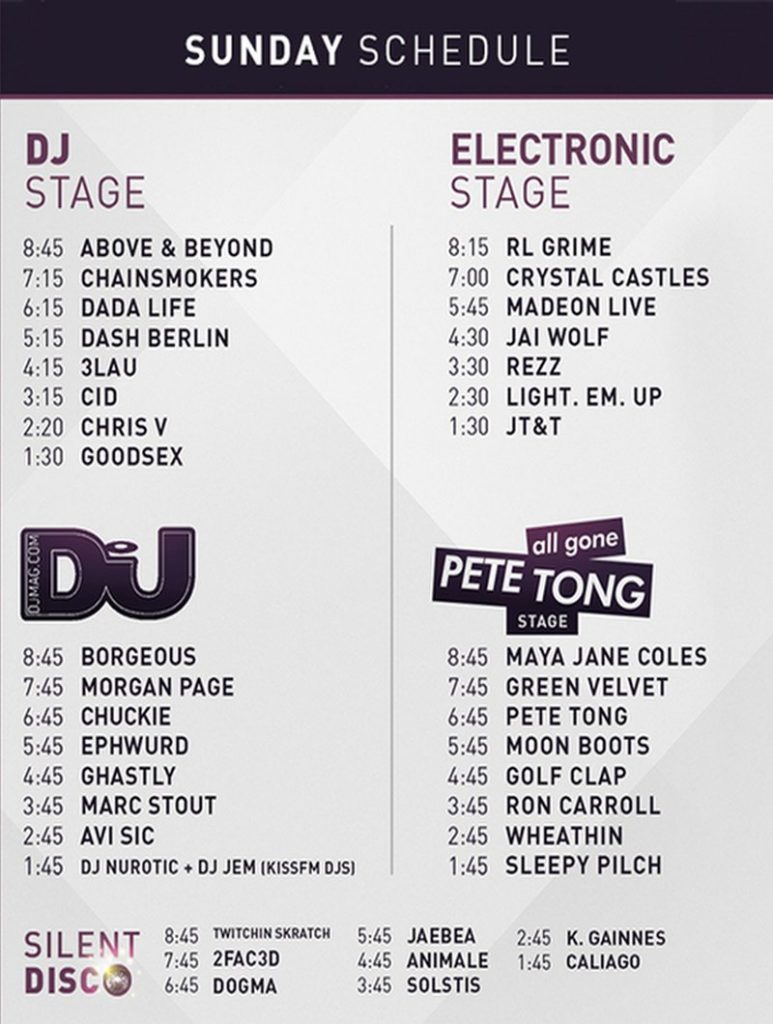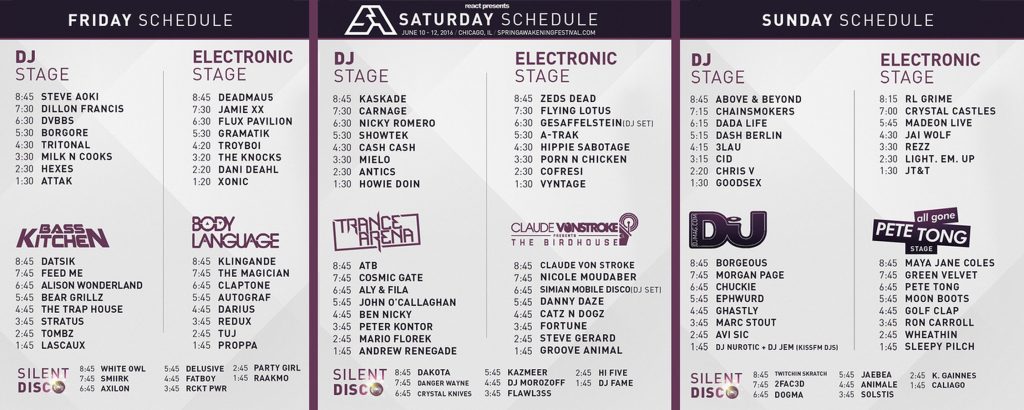 Leave a Reply