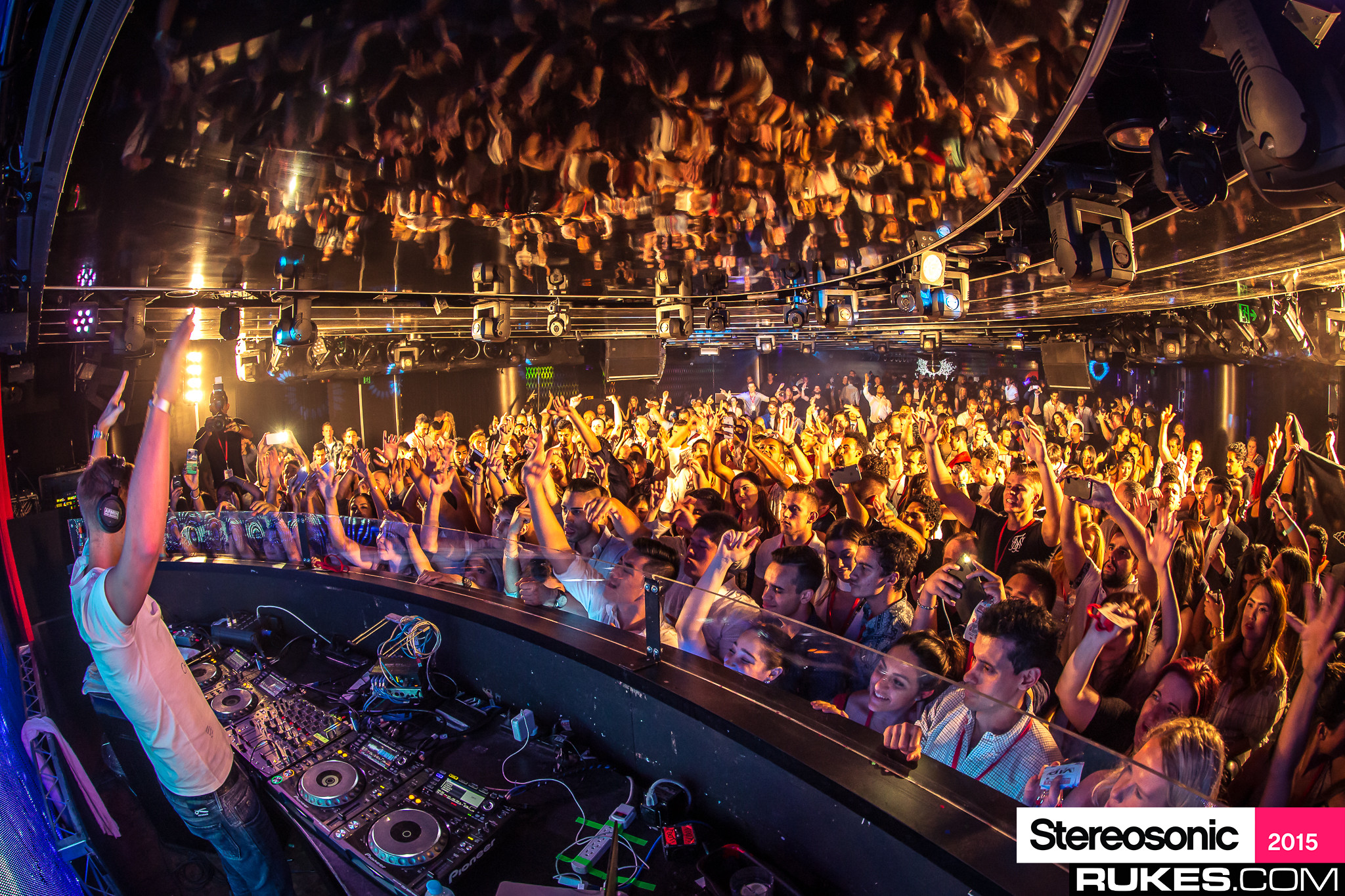 Photo Credit: Rukes
From the get go Stereosonic has had it's ups and downs; early days of slow ticket sales to the two day takeover of weekends for their 10th Birthday celebrations that lasted 3 years to 2015 reverting to a one day format with two states per weekend.
Given the publicity of the first weekend in Sydney with the death of a patron, this was again highlighted by the death of another in Adelaide from a batch of dubious pills being marketed. Stereosonic's message included on the big screens at each stage each day was an accurate response to the sad passings. Seek help without being judged. While this seemed a good idea, it's quite obvious education and talking does little for the criminal element to creep into the festival with dodgy stuff and cause grief. Police presence was strong but the lack of allowing Testing Kits is again Australia's predisposition to saying 'if it's illegal, don't do it' This clearly is not working and until the day comes when clearer heads prevail the continued deaths of patrons is likely to continue.
Now that I've gotten the serious stuff out of the way, my day at Stereo is give or take a few drinks, a completely sober happy day. Lot's of random selfies with strangers who seemingly are amazed anyone over the age of 35 even knows what this music is about. I became a minor celebrity and also a confessor to one guy who had refused to allow his mother to come. While this amused me greatly, the music on the whole did not disappoint.
After checking into our Good Embassy VIP suite, complete with palm frond umbrellas and day beds to lounge on I planned my attack on the stages. Melbourne Stereo is laid out in such a way that walking between stages is not a huge task and despite the crowd takes you mere minutes until you're where you need to be. My first foray to main stage was for the debut in Melbourne of Galantis (pic above- rukes.com) These guys must be on a steady diet of energy pills because they gave such a performance for an early set, it got the crowd vibing and my feet moving. I was seriously impressed to watch them not only work the magic on the decks but also have a set of drums at each side where they took to drumsticks to add the bass and percussion lines to the set live. Considering the heat of the day, neither showed any slowing down and the entire hour complete with the arrival of the lady cat on stage for I Remember U and Peanut Butter Jelly was wild and the announcement of them returning early in the new year for a tour was music to all of our ears.
Once they vacated and Oliver Heldens approached the decks, I was excited as seeing him at AMF in Amsterdam was one of the best sets ever. His cool but shy demeanour along with that hypnotic house beat and my short lived rest on the ground was over. Dancing is the only way to experience Heldens, it grabs you and doesn't let you go along with his signature 'shuffle' performance at the front of the stage he pumped out his hits plus some super mash-ups of 80's songs that the crowd loved. I do admit this crowd in Melbourne still haven't really grasped the Heldens hype and lack of EDM drops so half were dancing and half were not sure just what to make of him, I felt for him and I was annoyed with the crowd's reaction who seem to think if it doesn't bounce then it's not dance. My faith was restored with a young guy called Daniel who asked for the random selfie, declared how stupid Melbourne people were for not getting into this totally great house vibe. As he shuffled off with a smile dancing for the rest of the set I did realize how a divide was becoming obvious at festivals. There were the fans who knew how good this was and the hype half who just seemed lost. I wondered if this was the year EDM Big room truly died and was heartened by the thought.
After Oliver had my feet burning in the hot afternoon we sauntered back to the Sonic stage to again witness Tchami do his thing. To my surprise the crowd there was larger than for Heldens and a much more discerning crowd who totally got off on the house, deep and techno vibe he produces. Going about his set like clockwork with not one mic shout out, the set was intense with plenty of light and shade thrown in with a little D&B even. He won't be everyone's cup of tea but he should be.
By that stage my late, late, LATE friends had finally arrived so we caught the last half hour of Hannah Wants. While the crowd at the indoor smaller stage was sparse their obvious enjoyment at her house set was evident. She impressed me as it was the first time seeing her perform and one I will return to see again. From there we realized Marlo was due on the Atlantis Stage so duly we headed to trance and the larger inside area. Sadly even with the evaporated coolers surrounding the walls, it was like a sauna bath and with wall to wall trance fanatics it was hard to even stay there for a few minutes let alone a full set. This is probably the time to mention that the sound systems at all bar Main Stage were decidedly sketchy; trance stage indoors being by far the worst one I'd ever heard. It was scratch and made vocal songs impossible to understand the words and the bass crackled with each build up and drop. In fact the sound was so bad my expert in trance friend could not cope with it being so bad so we retreated outside but of course not before Marlo had thrown down some classics included Dash Berlin along with his new song. By this stage I'd lost 2lb in fluid and we retreated to the bar in VIP to re-energize.
It was a toss up at this stage which way to head, I was all for another DJ Snake set again having been blown away by his set in Amsterdam, but we decided to half half it and catch the first half hour of Axwell Ingrosso while my friend took himself off to catch Claptone slightly apprehensive another indoor stage sound system may ruin the experience. Within 15 minutes he was back shaking his head and it's sad that the systems were just not up to the usual festival standard needed.
While Axwell Ingrosso do measure as two thirds of Swedish House Mafia, apart from the obligatory Don't You Worry Child, there was no reminiscing back to those amazing SHM tunes. It was in my opinion a very commercial EDM set but if anyone complained I didn't notice. It was a set that just left us smiling right through On My Way, Something New and Sun is Shining. It's pretty much peaches and cream compared to lobster and caviar but it worked to get the mainly young crowd up and moving. I had snuck back to Sonic to see the last half of DJ Snake and luckily turned up at 'Turn Down For What' to witness the crowd doing their sit down for him and he continues to impress me with his DJ skills again turntabling his set and mixing it live without so much as a stutter. The guy has serious skills behind a deck and is what I class a 'real' DJ. Even if you were not a fan of trap you can't help but enjoy a Snake set. I'm still a dedicated fan.
Enter the State of Trance to end the night and the main stage swelled to a staggering number of which I noted even the police on duty came out to watch Armin master the decks with the throb of trance echoing into the mild Melbourne night. His intro was of course, Embrace and the muted trumpet echoed across again a fairly subdued crowd who seemed to surge with the build up to the song.
Armin again played a set not dissimilar to Amsterdam with a much harder edge to the tunes although I was slightly disappointed he did a few remixes of some songs that I preferred original off Intense and Mirage. He also decided to already change up Strong Ones off Embrace which I found strange considering the newness of the album. Mr. Probz again joined him on stage for Another You and Drifting which again had an Armin remix on it which did nothing to please the lovers of that song. Gareth Emery's U had tears welling in my eyes so was grateful he only played a verse and chorus into his final song before ending with an amazing fireworks display to the acoustic orchestral version of This is What It Feels Like into the trance version to end the night.
I'm leaving my special surprise for last and that was my first look at Major Lazr with Diplo commanding the decks. While I've not been a fan overly of their album I was impressed with their show. I admit them showing up in football jerseys of my beloved Richmond Tigers was a bonus, their infectious nature and energetic set complete with dancers just had the crowd screaming for more. By the time Diplo joined them at the front of the decks the crowd were totally into it and so was I and their ending with Lean On and the crowd belting it out for them was a great sight to see and hear. I'd definitely return to see them again having been completely won over.
All in all I'd say if I was an organizer of Stereosonic I'd be disappointed at the size of the crowd and the overall vibe of them which seemed to lack any real enthusiasm and it made me ask myself was Big Room really responsible for kids having the fun and not 'just' music as a whole? I get the feeling that it may just be that sad and true. I also feel that with the sound systems not being up to scratch also lessened the experience and why the Atlantis Stage for the trance fanatics is inside a less than salubrious acoustic building and not outside where it would shine, is also lost on me. I did not even attempt the stage in a smaller area for Joel Fletcher and Will Sparks as they were crammed like sardines ready to be smoked.
I don't want to say it but I will, if the partial sell off to SFX has caused this festival to wane to a point where I can't see a long future for it then it was seen this weekend. Stages were what I'd call basic in their set ups and lighting and special effects. Sound system was unacceptably bad apart from main stage and a lot of staff had no idea how to help people on where to go to find things, instead handing you a map they had in their hands saying 'here this might help'. While there were plenty of police, police dogs and 70 arrests of possession and dealing and two incidents of people going to hospital, Melbourne came out relatively unscathed. While the greater media are now saying it puts Stereosonic in jeopardy I doubt that catchcry has changed in the past 5 yrs. What puts Stereosonic at risk is the dwindling crowd and lack of excellence in staging and that leaves me wondering if I witnessed one of the last Stereo's there will be? No news will be good news I venture to say, so we will all have to wait and see.
Leave a Reply