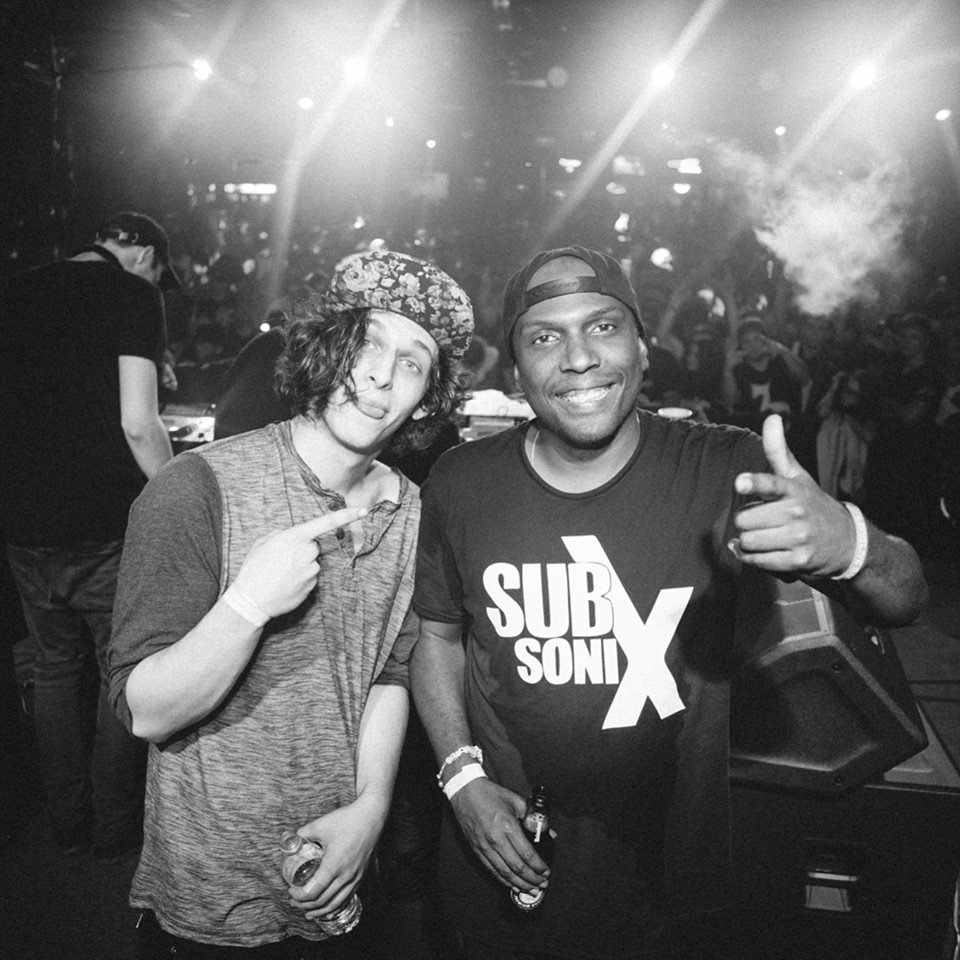 Photo by Deadphilly
It's safe to say that Subtronics had a huge boost to his career last year to the point where I'm not sure if I'd even call him an up and comer anymore! His signature sound manages to combine mechanical sounds with heavy hitting dubstep just like the older styles which I personally CRAVE. Both of those factors on top of his amazing flow of tunes set him very high on my list of artists. But another thing to note is, he doesn't always make dubstep but can still incorporate his sound into anything to make it sound like gold. A prime example is his song Negative Space which incorporates a gnarly melody into a trap influenced song and still blows my mind.
[soundcloud url="https://api.soundcloud.com/tracks/303200560″ params="auto_play=false&hide_related=false&show_comments=true&show_user=true&show_reposts=false&visual=true" width="100%" height="300″ iframe="true" /]
Free Download: https://theartistunion.com/tracks/09855b
Another genre he's been dipping his feet into is half-time drum and bass of all things! There've been a few clips he has shared on Facebook in his signature group Cyclops Army, which has me drooling at the thought of just a single song release. Apart from this, he has a huge release planned with all heavy tunes for his celebration of 20,000 followers on Soundcloud. He's very close as I write this so I anticipate that release to continue to keep that ball rolling even further in his career.
This is gunna sound like bad news but it's actually EXTREMELY good news, 20k ep is gunna be just the heavy stuff

— RIDDIM PALS TOUR (@Subtronics) May 27, 2017
I've seen him a total of three times now, twice in Chicago and then I made the journey out to Castaway to see him in his hometown of Philadelphia with Codd Dubz & Ranga as well as Oolacile and he tore the place up. I have never seen a crowd be so hyped over a DJ act, it was truly a sight to see and be apart of. If he is playing anywhere near you on his upcoming tour with Uber, please for the sake of your ears be in attendance. Below is a video of him debuting some new music at Castaway with Codd Dubz & Ranga.
Got so much new music to play this summer!
Where do you wanna see the #riddimpals tour with @UberDolphin?!? pic.twitter.com/0odSUG7edw

— RIDDIM PALS TOUR (@Subtronics) May 29, 2017
Huge ups to Subtronics, you truly are one of the artists of the future and I hope to see you prosper. Keep your eyes on him as well as you won't want to miss anything! Here's one of my favorite releases by him, Disrespected featuring a clip of Dennis from It's Always Sunny in Philadelphia.
[soundcloud url="https://api.soundcloud.com/tracks/294311033″ params="auto_play=false&hide_related=false&show_comments=true&show_user=true&show_reposts=false&visual=true" width="100%" height="450″ iframe="true" /]
Leave a Reply