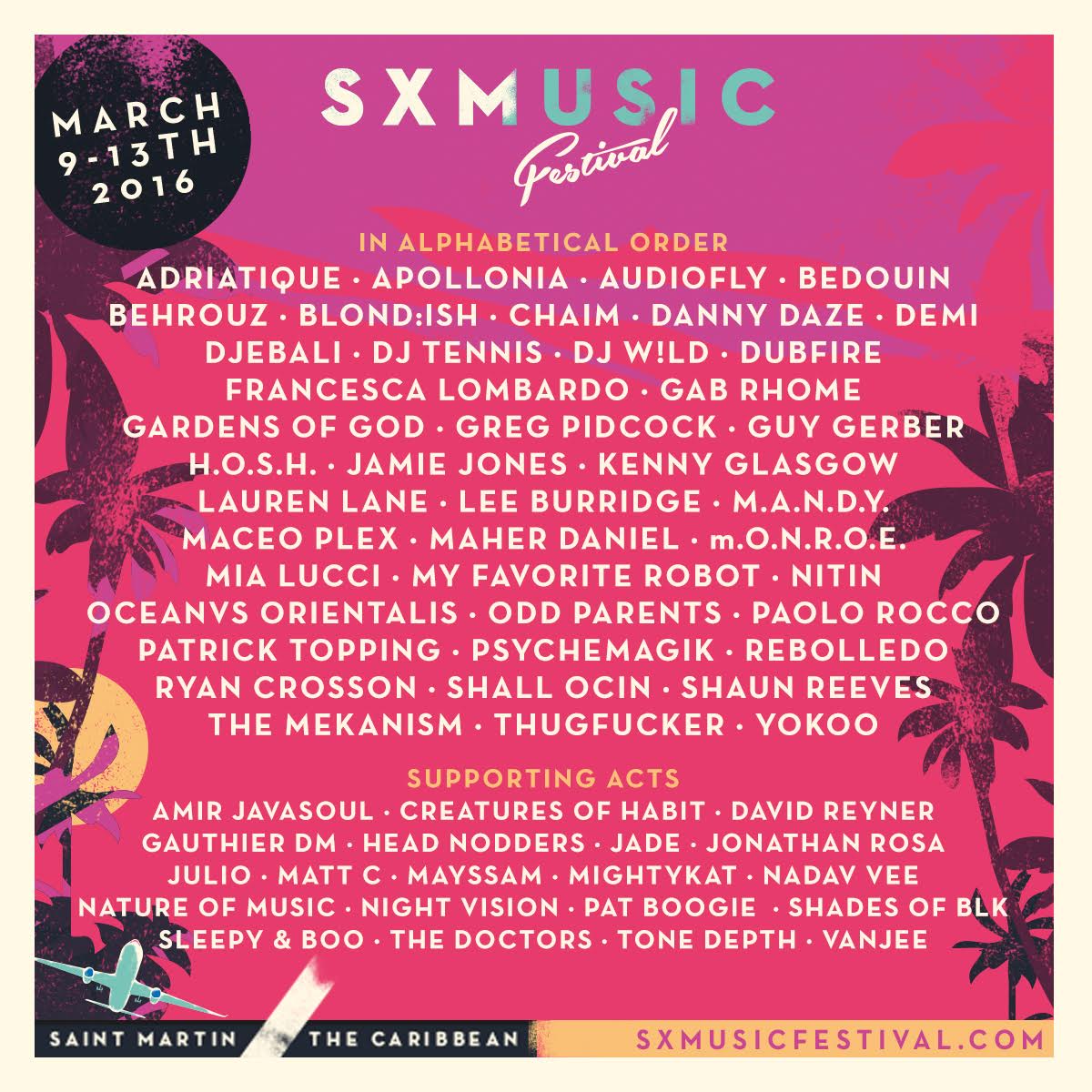 SXMusic Festival is fast approaching and with it comes the full lineup for the four-day extravaganza in the beginning of March. With the beginning of festival season fast approaching, SXMusic festival has booked some of the best talent around to display a variety of genres and music tastes. While you can find the lineup above, just know that Saint Martin is beautiful this time of year and the warm tropical breeze will certainly help to take the sting off the cold winter weather we are experiencing up north.
The Caribbean is certainly a travel destination in itself, but with this lineup, music and beaches are on the docket for your four-days of musical pleasure. Check out the lineup above, the teaser trailer below, and make sure to get your tickets asap, March will soon be upon us!
SXMusic Festival (Phase 3 lineup announced) | March 9th – 13th | Saint Martin | Caribbean from SXMusic Festival on Vimeo.
Adriatique
Apollonia
Audibly
Bedouin
Behrouz
Blond:Ish
Chaim
Danny Daze
Demi
Djebali
DJ Tennis
DJ W!ld
Dubfire
Francesca Lombardo
Gab Rhome
Gardens Of God
Greg Pidock
Guy Gerber
H.O.S.H
Jamie Jones
Kenny Glasgow
Lauren Lane
Lee Burridge
M.A.N.D.Y
Maceo Plex
Maher Daniel
m.O.N.R.O.E
Mia Lucci
My Favorite Robot
Nitin
Oceanvs Orientalis
Odd Parents
Paolo Rocco
Patrick Topping
Psychemagik
Rebolledo
Ryan Crosson
Shall Ocin
Shaun Reeves
The Mekanism
Thugfucker
Yokoo
Amir Javasoul
Creatures of Habit
David Reyner
Gauthier DM
Head Nodders
Jade
Jonathan Rosa
Julio
Matt C
Mayssam
Mightykat
Nadav Vee
Nature Of Music
Night Vision
Pat Boogie
Shades of BLK
Sleepy & Boo
The Doctors
Tone Depth
Vanjee

Leave a Reply