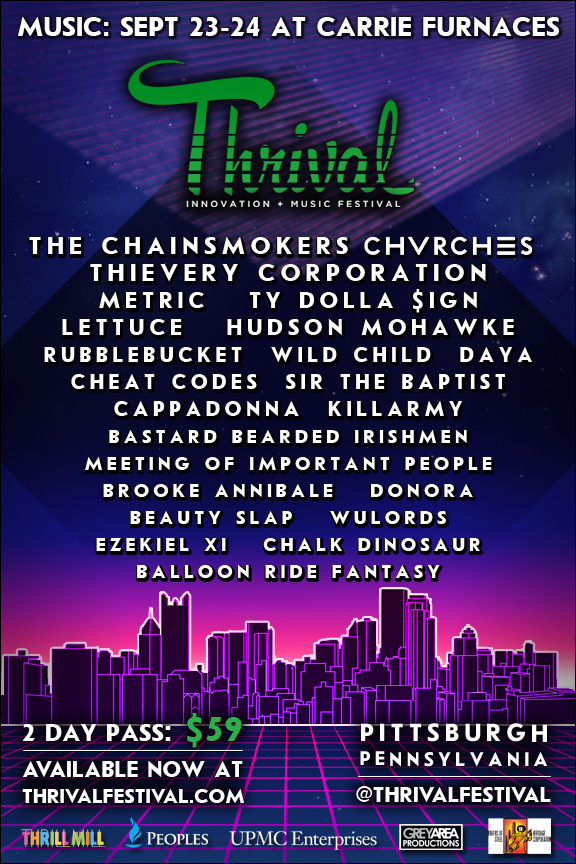 Thrival Innovation + Music Festival will be going into its fourth year of the festival. The festival will be taking place in the outdoor Carrie Furnaces venue in Pennsylvania. There will be a cross-section of leadership and unique social engagement with vital issues and ideas relating to sustainability, art, education, investment, healthcare, and cutting edge technology.
Thrival Innovation keynote discussions take place from September 20-22 and gravitates around three main themes — corresponding with each of the three days of programs — "Lost and Found," "AuthentiCity," and "The Ripple Effect." September 23rd and 24th will be the music portion of the festival.  The tickets can be purchased here.
Day 1 (9/20) will focus on "Lost and Found"
Lost and Found will look into different aspects of life and the past. Discussion will be focused on concepts of identity, place, and culture, within the intersection of technology and human behavior.

A keynote during this day will be Dr. Bennett Omalu, will lead attendees on an exploration of the impacts of Chronic Traumatic Encephalopathy, otherwise known as CTE. Some may Dr. Omalu as the focus of the movie Concussion, staring Will Smith.
Day 2 (9/21) will focus on "AuthentiCity"
The festival will be exploring the revitalization of culture and identity in a city related to technology, art, architecture and culinary revival. There will be a further look into growth for the city in the future.

Eugene Robinson, Pulitzer Prize-winner and nationally-syndicated columnist and Meghan McCain , America Now host and Fox News contributor will jointly discuss the social, political, and cultural divides in the U.S. during the keynote titled, "The American Identity."
Day 3 (9/22) will focus on "The Ripple Effect"
The third, and final day will be focusing on how "small" ideas or action will have impacts that can turn out to be significant. The spotlight will shine on musicians, artists and the creators who contribute to these environments. Ann Makosinki, inventor of the Hollow Flashlight, will be the keynote on a discussion regarding being different in regards to societal fraught.

Recently, the first wave of the line-up of performers and keynotes has been announced for the three-day event.
The first wave of speakers include:
Parag Bhandari / UG Strategies/Uphoric TV
Jamilka Borges / Spoon
Dr. Daniel Campo / Morgan State University
Babs Carryer / University of Pittsburgh Innovation Institute
Sandy Cindrich / Penn Brewery
Dr. Ria David / Cybergentics
Jackie Dempsy / Squonk
Disco Donnie Estopinal / Disco Donnie Presents
Dan Drake / Dancakes
Casey Droege / SIX x ATE
Jennifer Elliot / Forensic Science Applications Group
Sam Franklin / Carnegie Mellon University
Marita Garrett / Borough of Wilkinsburg Council
Ray Gastil / City of Pittsburgh Dept. of City Planning
Liza Grossman / Contemporary Youth Orchestra
Hank Gustafson / Dancakes
Sam Fotias / Paxahau Productions
Joe Hilty / The Vandal
Cindy Howes / WYEP
Cara Jones / Marinus Analytics
DS Kinsel / BOOM! Concepts
Ryan Lammie / Radiant Hall Studios
Jeanne Marie Laskas / Author of Concussion, New York Times best-seller
Richard Law / Arsenal F.C.
Matthew Lister / Gehl
Leah Lizarondo / The Brazen Kitchen
Nate Mars / producer & music technologist
Chris Messina / #Hashtag Inventor
Dr. Elizabeth Miller / University of Pittsbugh School of Medicine
Marta Mazzoni / Marta on the Move
Jan Necessary / Allegheny County
Steve O'Hearn / Squonk
Derrius Quarles / Million Dollar Scholar
Scott Smith / East End Brewing Company
Janera Solomon / Kelly Strayhorn Theater
Jake Voelker / Voodoo Brewing Company
Aaron Watson / Going Deep With Aaron Watson
Dr. Jim Withers / Street Medicine Institute/2015 CNN "Hero"
The first wave of artists include:
The Chainsmokers
Chvrches
Thievery
Corporation
Metric
Ty Dolla $ign
Lettuce
Hudson Mohawke
Rubblebucket
Wild Child
Daya
Cheat Codes
Sir the Baptist
Cappadonna
Killarmy
Meeting of Improtant People
Brooke Annibale
Donora
Beaty Slap
Wulords
Ezekiel XI
Chalk Dinosaur
Balloon Ride Fantasy
Leave a Reply