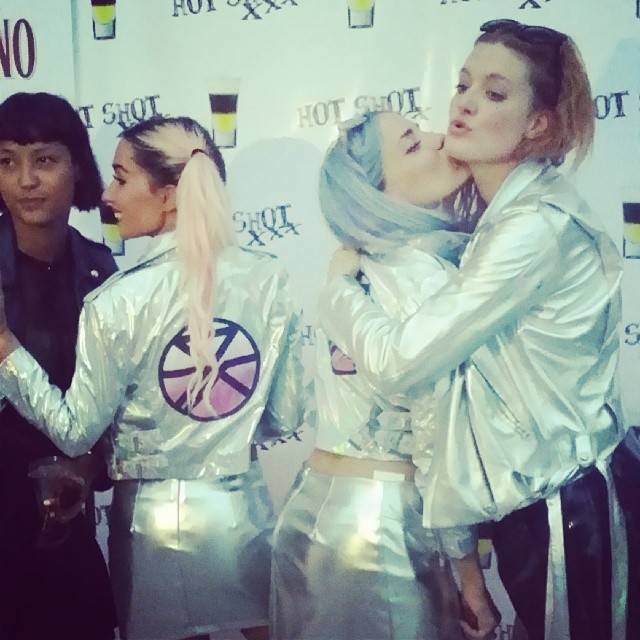 PHOTO: Icona Pop meets up and hugs it out with Rebecca & Fiona.
In its 16 years, Ultra Music Festival has become legendary for its ability in bringing together a lineup of nearly every single big name in the dance music scene in one place for one weekend. That's why it has prestige in the industry and fans flock to it in the thousands. However, it is very obvious that there is an imbalance of power. It seems that the testosterone dominates this festival over the estrogen. Surely this is due to availability of talent in the scene, but will this eventually level out?
Yasmine Youssaf of Krewella has even experienced the downside of being a woman in this industry firsthand. A fan passed by her in the airport and saw a Krewella sticker on her laptop. He then went up to her, thinking she was a regular person, and saying he liked that guy Krewella and that he made cool music. This raises a couple of questions. First of all, do people automatically think all DJ's are male, even with female vocals in their discography? And second of all, do people just not know what the DJ's they enjoy even look like… after staring at them mixing during a live set? Feedback like that is quite alarming, and of course the poor female DJ's face the brunt of the problem.
Anna Lunoe, a DJ of Australian fame, has high hopes that the number of female DJ's in EDM will increase over the next 10 years. She insists that since the genre is growing to mass appeal, more and more ladies are watching these live sets and are getting inspired to get on the other side of the decks themselves. This music scene is seen as ordinary for the Millennial generation who are growing up with it, compared to Generation X where EDM had less publicity.
Being a female DJ now does have its advantages, though. To ensure there is some girl power at these shows, Rebecca & Fiona, Krewella, and NERVO seem to be on almost every festival lineup. However, it would be nice if the community could reach the 50/50 split that all of its principles are founded on. Swedish House Mafia manager Amy Thompson invites women to give it their all. She says she is always looking for new talent to book, and if any girls out there really want it, now is the time to go and get it!
Is the current male-female DJ ratio unfair? Is it just the time period we are living in. Do you think by Ultra Music Festival 2015 we will see some female breakout stars a la Martin Garrix? Share your thoughts with us!
Leave a Reply