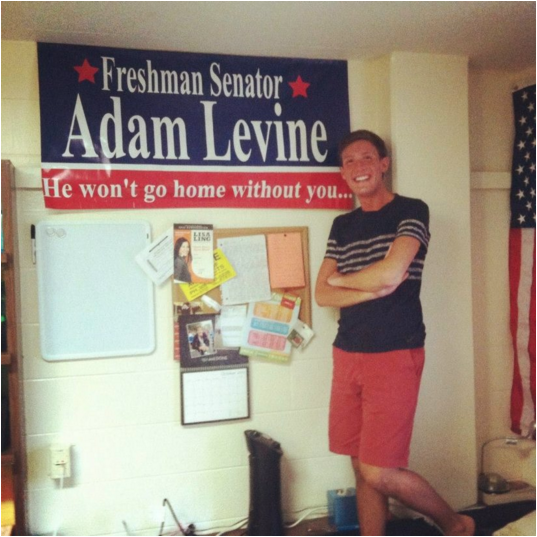 Adam C. Levine (pronounce lee-vine) of Reston Virginia was a senior from the University of Miami was pronounced dead at Jackson Memorial Hospital after Friday night of the three-day Ultra Music Festival of Miami. The funeral was held Monday night in Virginia. There was a memorial service held this morning, Tuesday morning.
This is the statement that the University of Miami provided on their facebook page.
March 19, 2016
Dear UM Students,
It is with deepest sadness and regret that I inform you of the loss of one of our students.  Adam C. Levine, a senior majoring in Political Science in the College of Arts & Sciences, passed away last night at Jackson Memorial Hospital.  The University has been in contact with Adam's family, and we wish to convey our heartfelt condolences to them and to his many friends. Please keep them in your thoughts in the following days.

Truly beloved by all, Adam's outgoing, caring personality and sense of humor was known to always make his friends smile. Adam was a member of the Alpha Epsilon Pi fraternity where he served as a beloved brother and respected officer and leader in the Greek community.  With a remarkably joyful disposition, he enjoyed helping his fellow students. He was an active leader in Student Government, where he had served as a two-time Senator and Public Relations Vice Chair.  Adam also served as the Program Coordinator for the Freshman Leadership Council.
He studied abroad in Australia last year, and recently, he had decided to apply to dental school.
I know the UM community will join me in supporting Adam's family and his many friends and honoring Adam's memory during this difficult time.  Information regarding a memorial service will be shared through social media when details are confirmed.

As always, counseling and support services are available to all members of the UM community. Please do not hesitate to reach out at any time to the following:
This letter was written by Dr. Patricia A. Whitely, the Vice President for Student Affairs. The death was caused by complications of a seizure, with alleged connections to drugs.
Growing up with a sister that is seizure-active, I would like to begin with stating that just because Adam suffered from a seizure these allocations are not necessarily true. That being said; both alcohol and drugs can induce seizures, but so can exposure to flashing light, lack of water, lack of nutrition, or over exposure to heat or the sun.  Being at Ultra, these are all common when it comes to the festival.  People focus too much of dancing to rest, eat, or drink.  Others are under the influence of substances and just don't care about anything else.
Unfortunately, I learned, Ultra is very strict and specific about bags and water packs that they allow into the festival, but once inside the festival grounds there are water fountains and free water stations. Most outdoor festivals offer water stations and food stations as well as areas of rest and shade. Please keep all these factors in mind when you attend music festivals.
As a fellow festival attendee, I ask that everyone accounts for this in whatever they do during festivals, and as always, please be safe.
If you so feel moved, In lieu of flowers, the family suggests memorial donations to the Camp Harlam Memorial Fund, c/o NVHC.
For those who feel that they may be effected by the incident and attend the University of Miami, please feel free to contact either of these organizations on campus:
Counseling Center:     305-284-5511
www.miami.edu/counseling-center
University Chaplains:
www.miami.edu/chaplains
Below is the facebook post that the University of Miami provided
https://www.facebook.com/UniversityofMiami/posts/10153593820369611
Leave a Reply