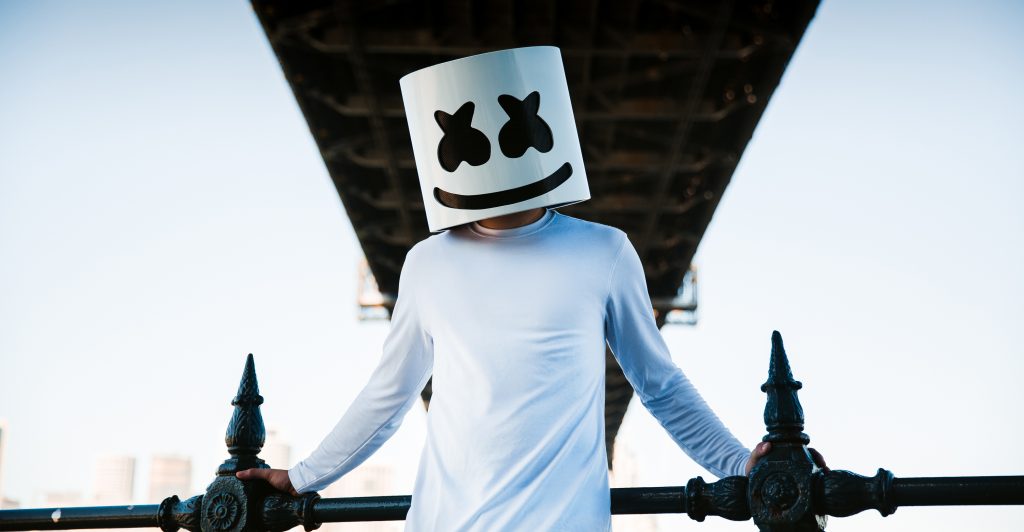 Here at By The Wavs, we understand that there are many points of contention within the electronic music industry, and so rather than just cover these issues, we want to create fair, intellectual debates that allow people to understand both sides of each story, and form their own opinion. Rather than mindlessly adopt opinions put out there by many other channels. So, to kick start this series we want to address Marshmello. Some people love him, some people hate him. Let's delve into why this is the case.
*BEFORE READING* – Know that Nick and Theo are not, in any way, arguing about this. They were having this discussion informally and thought it would be fun to open it to the public. This article was also not written to "bash" or "talk up" Marshmello, we just want to bring a debate that is commonly being had to the forefront.
Nick Grindrod – AGAINST
Put simply, I don't like Marshmello because he's contrived. Back in 2014 when he first started releasing music, the first question on everyone's mind was who is Marshmello? I remember thinking "I'd love to know who this guy is", without downloading a single song of his and listening to only a snippet of each, because I didn't think that it was that good (as a matter of personal taste). But why was the hype generated in the first place? Because the same few successful artists kept reposting every release that Marshmello put out. Jauz, Sikdope, Ookay and Dotcom among others. What links these artists? They're all managed by a man called Moe Shalizi, and this led to suggestion that it could be a collaborative project between his artists who were reposting Marshmello's music. Skrillex was suggested (as he always is). Eventually we all found out that it was Dotcom (proof).
So my question is why? Why create a new masked artist and a tonne of hype when Dotcom wasn't actually doing too badly? I have a theory, which is that Dotcom felt bad because his career wasn't anywhere near the level of his friends. So he went to his manager, and thus Marshmello was born. And the plan worked – Marshmello now headlines shows and festivals, has thousands of fans with #mellogang in their Twitter description because it's cool, and gets millions of hits on his songs.
And I don't like it. I don't like it because Dotcom took the "easy" way out, and obviously cares more about numbers than the actual music. I also don't like it because his music isn't actually that good in my opinion (with the possible exceptions of Alone, and maybe Ritual). It's standard Future Bass, there's nothing new or groundbreaking that would deserve the popularity. Jauz basically invented Bass House and helped bring Dubstep back to the mainstream. He deserves what he's got. Marshmello is big because he puts a mask on, has a Twitter bot that likes every tweet written about him to make people think that he saw their tweet, and occasionally beefs with Deadmau5 for no reason other than to leech off his well-earned status at the top of the game. I mean, look at the references in the Alone and Ritual music videos. Look at all of the people on twitter claiming that Marshmello is so much better than Deadmau5, because he liked their tweet.
TL/DR:
I think that Marshmello is big because he's marketed well instead of making good music, but should it not be the case where artists should get big because they make good music, and not through marketing? As far as I'm concerned that's unethical, and if he really did transition from Dotcom to Marshmello for the reasons that I have presented above, that makes it all contrived.
Theo Maulen – FOR
So, Nick asked me to speak my piece on the artist Marshmello.  To be honest, I feel like asking someone why they like a musician is like asking them why they breathe.  I am not going to try to convince anyone one way or another.  I am not going to say that one artist is better than another or say that you are wrong for not liking an artist that I like.  I am just going to speak my mind and maybe look at points Nick made from a different angle.
I will gladly say that I am a fan of Marshmello.  I have thoroughly enjoyed his music since "way back" in 2014 when I found his music on SoundCloud. I have a playlist with all of his remixes, his Joytime EP, and his live set from Ultra Miami 2016.  This is not for any reason but the fact sheer fact that I enjoy how he produces his music.
I do not associate an artist with what his fans say and do.  I also do not consider their social media or real life social interactions in how I depict them.  I simply look – or rather listen to – the music and if it is music I can enjoy, than that individual or that group is an artist that I can thoroughly enjoy.
As I stated earlier, I started to listening to Marshmello in 2014, right about when he started putting tracks onto SoundCloud.  Remixes of popular songs meant that he was going to attract people who follow big named artists.  I ended up being one of those people.  I look for remixes of popular songs in hopes to find a better version (I believe that a remix has the potential to be better or catchier than the original).  I often play music when with friends and Marshmello original tracks and remixes were tracks that while pregaming, driving around, studying or partying everyone could really get into.  Whether a newbie to EDM or "into the scene" for a while, there was something for each of my friends when we were in groups.  This ability to share dance music with people who didn't regularly listen to it – and have them love it – means the world to me.
I have been asked if I care about the whole Marshmello-Dotcom issue.  To be honest with you, it does not matter to me because I didn't care who was under the helmet.  I honestly think that some artists need this new name in order to reinvent a bit of what they do.  Which, I think, is something Nick was saying Dotcom wanted to do and did.  Sometimes artists will own their alter egos and other times they kept it quiet for some time.  This is not an opening to judge them and try to persuade others to see it your way.  If an artist wants to reinvent him-or her-self, I am not going to give them any grief for it.  I will say, however, that it should come to light.
Some examples of artists in different forms are listened below:
??? = Malaa
Skrillex + Diplo = Jack U
Skrillex + Boys Noize = Dog Blood
Afrojack = NLW
Martin Garrix = Area 21
Diplo + Jillionaire & Walshy Fire= Major Lazer
A-trak + Armand Van Helden = Duck Sauce
Armin van Buuren + Benno De Goeij = Gaia
There will always be fans that attack other artists.  I was appalled when I read about how Marshmello fans were reacting to Deadmau5 New Years Eve weekend.  I was not in support of these statements; not just because I am also a Deadmau5 fan but I do not believe anyone has the right to put down another fan for what artist, musician, producer or band they like.
TL/DR:
(1) Marshmello has become an almost entryway artist, taking popular songs and giving them "the marshmello twist" as I refer to it jokingly; a style that you can hear and know it is by Marshmello.
(2) I dislike how fans were trashing another artist because they didn't like that style of music.
(3) regardless of this debate, Marshmello will continue to have a following, there will still be people who dislike his music, and the world will keep spinning.
What do you think about Marshmello? Let us know if you have anything to add to this debate.
Leave a Reply