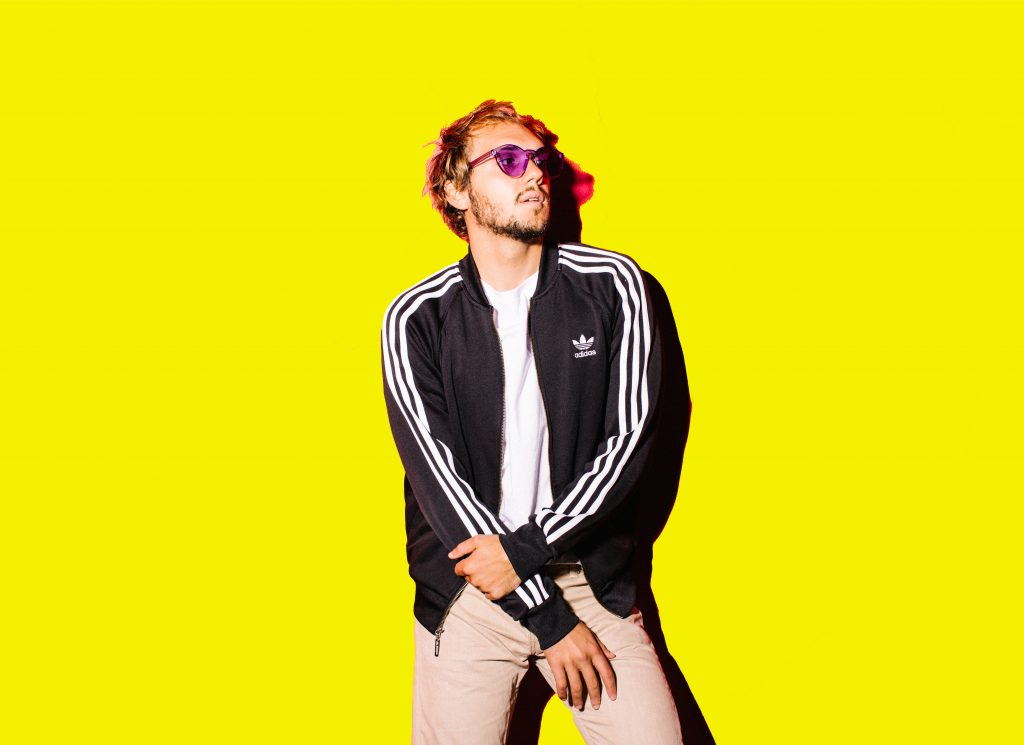 In light of NVDES upcoming release of Vol. 2 and the concert next Thursday, I wanted to get to know NVDES a bit better.  Here are his answers to 10 questions I asked him:
Q: Can you explain why you chose the name "NVDES"?
A: NVDES represents being NVDE with yourself and embracing who you are no matter what quirks or rough edges you have.
Q: A recurring theme in almost all of your album art is a cantaloupe, what is the significance of that fruit?
A: I am obsessed with the aesthetic of Cantaloupe. I adopted the cantaloupe to be the representation of the universe in which NVDES exists. With every release I slice the cantaloupe to reveal more and more about the sounds in the world of NVDES. I also love the fact that Melon is usually a fruit that is shared, like the NVDES music experience when I make it with other artists.
Q: Who are some of your musical inspirations, and how do they influence the music you make as NVDES?
A: I'm inspired heavily by almost everything I hear. My goal and inspiration when I started NVDES was to create a modern version of Velvet Underground with Ableton. I was heavily inspired by collective and collaborative groups like Broken Social Scene and Gorillaz.
Q: You've said that NVDES is "less of a band and more of an ongoing art project."  Can you explain that?
A: I see NVDES as a multi genre and multi media art piece. I treat every song as its own piece and through open collaboration with many artists both musical and visual I intend to expand the NVDES universe in a way that inspired those who experience it. I see the live experience as a way of connecting the sound and visual art elements of NVDES.
Q: If you could choose any artist to collaborate with, who would it be and why?
A: I would say Kendrick Lamar. His music is some of the most important of our time and I am constantly inspired by the intelligence of his approach, fusing pop culture with powerful messages.
Q: If you had to make a playlist with some of your favorite songs, what would you include?
A: In the morning: Blue Sky by Gyvus, and Vanille Fraise by L'Imperatrice
In the afternoon: Hybrid Moments by Misfits and If I Was A Folkstar by The Avalanches
At night: Anemone by Brian Jonestown Massacre and The Medina Remix of Matadora by Sofi Tucker
Q: What advice would you give to an up and coming music producer?
A: Don't follow any rules, don't follow any one.
Q: What piece of equipment do you consider essential to your creative process?
A: Ableton Live. It is by far the most inspiring computer program for music experimentation.
Q: As compared to La NVDITÉ, Vol. 1, Vol. 2 seems to be based with trip-hop roots, as compared to a more indie-house influence like in Vol. 1, would you agree?
A: I would absolutely agree. In fact I planned Vol. 2 to be very chill and trip hop based at first, but I had so many tracks I wanted to release and decided to just pick my favorites for Vol 2 rather than just keep it all chill. I see Vol 2 as a tribute to late 90's -early 2000's electro which was an era of music that has probably the biggest influence on me as NVDES.
Q: What plans do you have for NVDES after your tour is finished?
A: MORE MUSIC, MORE VISUALS, MORE NVDITÉ
Be sure to check out Vol. 2 when it drops this Friday, December 8th! Also, congratulations are due to NVDES for getting his song, "Turning Heads" in the latest Apple commercial.  For now, you can listen to "D.Y.T. (Do Your Thing) feat. REMMI" below.
Leave a Reply