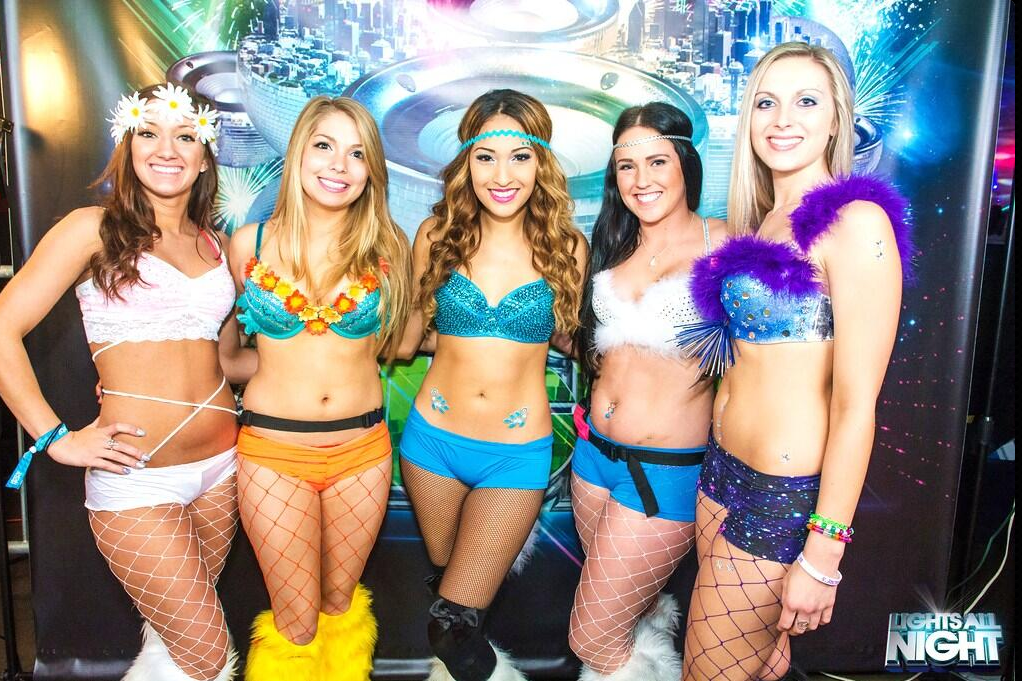 Editor's Note: One of the members of this site had an interesting conversation last night with one of our followers. It was about whether or not rave attire was more or less appropriate in different regards. It was real interesting to see our follower's side as well as reading the whole Twitter conversation that took part. The conversation ended up agreeing to disagreeing as both sides made fantastic points. Afterwards, we asked her if she would like to write an article regarding her opinion as a female on female rave attire, specifically rave bras. Feel free to comment with your opinion. Love to hear what you think whether you're male or female! We would like to thank Nicole (@sassandsmiles) for the conversation and the article! Go follow her!
A bra for most is underwear, an article of clothing not seen by many. But for attendees of EDM events, it's typical rave gear. Whether the show is at a concert venue or a giant festival, bras and booty shorts are the outfit of choice for numerous females. I'm all about wearing what you want, but sadly in the society we live in it can be dangerous to do so. There is a common notion that a woman "is asking for it" if she is wearing something revealing. While people in the rave scene may understand your motives for wearing a bra to a show, some men on the street at 3am when you are walking back to your car or hotel may not. Even in venues, I can't count how many times my butt has been slapped, pinched, or grazed. Until society teaches all men to respect women's bodies, I wouldn't be comfortable walking around in a bra. I personally think it attract negative attention. Take a gander at festivalsluts on Reddit and you'll see what I mean.
The fact that EDM is playing into the common practice of sexualizing anything and everything and promoting the Western beauty ideal saddens me. The rave scene started as a place where everyone could wear whatever they wanted and nobody would judge. Now I see dozens of t-shirts that say "Party with Sluts" and mean posts on the internet featuring bigger girls. I get the impression that unless you are skinny with big boobs, nobody wants to see you in that bra. And if you do have the body, the guys just want to see you in the bra because you're eye candy. Let's be real: the scene is somewhat judgmental. Unless you fit the cookie cutter mold, you aren't allowed to participate in this growing trend without negative feedback.
But this brings me to the questions of why do people wear bras? Expression, exhibitionism, and to stay cool are some typical replies. Expression I can understand: people spend a lot of time decorating bras with various rhinestones, sparkles, and feathers. But then I see people wearing straight up plain bras. This leads me to believe that people only do it because it's the "cool" and "popular" thing to do. This worries me because I frequently see underage girls wearing bras to shows. Little girls should be little girls. I worry wearing bras to shows makes women sexualized objects and as a result young girls are being sexualized. The next reason is exhibitionism. It is way too common of an outfit to be shocking to others in my opinion. Hot weather is another common reason. For festivals, sure. It can be 90 degrees and sunny. Plus, let's be honest, oftentimes drugs and alcohol are involved. Don't want to overheat. There are plenty of other outfits that one can wear to remain cool, but yes, a bra is a viable option. But this doesn't explain why there are bras at shows when it's 10 degrees outside in the winter. I've been in venues in a jacket and freezing and I see girls in bras. It just seems rather impractical and I can't help but question her motivation for choosing that outfit. Again, just trying to fit in? Or was that really, in her honest opinion, the best outfit choice?
At the end of the day, everyone is going to wear what they want. I just want people to be aware of how they are portrayed and what consequences, both positive and negative, can be a result. Wear a shirt, wear a bra, wear pasties, wear nothing, but don't forget the reason why you are there: the music.
Leave a Reply