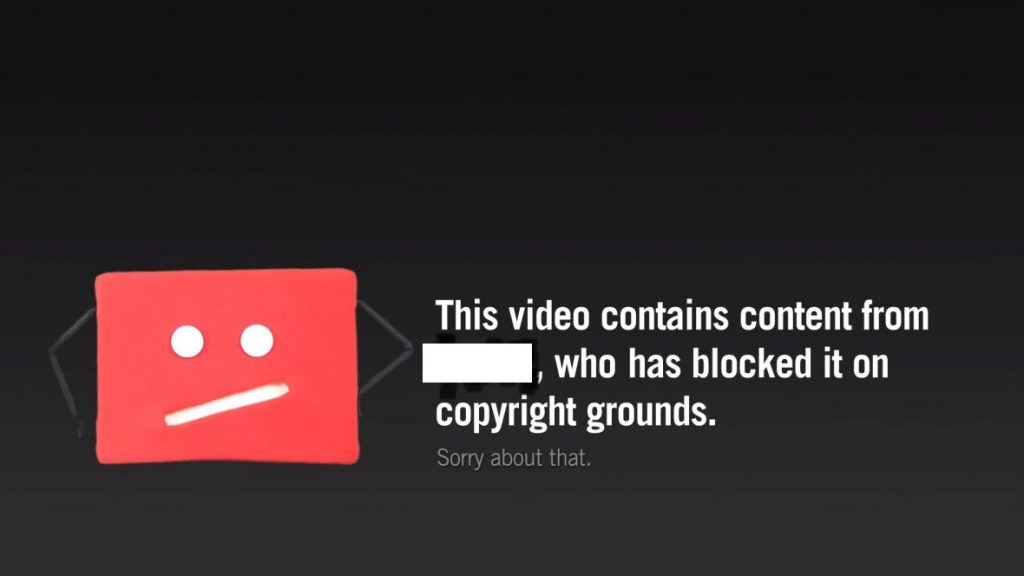 A new ad will be running from now until Thursday in the Washington D.C. based magazines: The Hill, Politico and Roll Call, to show that about 180 performers and songwriters are advocating for reforms on the Digital Millennium Copyright Act (DMCA) of 1998.  Big-name artists and groups like Kings of Leon, Sir Paul McCartney, Vince Gill, Carole King, Vince Staples, and Taylor Swift are amongst the names of artists.
The DMCA gives online services like Youtube safety from liability when users impede upon copyright infringement laws. Currently, Youtube's only necessary response is to act to remove the video in question after Youtube receives one from the rights holder. Because Youtube services are free, it is difficult to convince users to pay for subscription options like Apple Music and Spotify do.
OPINION: They could do the same as Soundcloud is doing, making some streams samples – but people would just go to other services to get their visual media fix.
Labels and content publishers say that this gives Youtube in advantage in the negotiations going on between Youtube and other players in the music industry who are attempting to renew agreements.
Rarely are artists seen getting involved in Copyright policy debates. However, according to Billboard, when a similar petition began circulation in early April, several artists signed. The concept is similar to their determination to oppose the attempt to lower royalties related to online radio, a key point in the Internet Radio Fairness Act.
The United States Copyright Office is conducting research on the DMCA as the House of Representatives Judiciary Committee reviews copyright law for such areas.
On the topic of the ad, it accuses that the DMCA, "has allowed major tech companies to grow and generate huge profits by creating ease of use for consumers to carry almost every recorded song in history in their pocket via a smartphone, while songwriters' and artists' earnings continue to diminish."
It is asking for "sensible reform that balances the interests of creators with the interests of the companies who exploit music for their financial enrichment." The ad suggests that the DMCA isn't protecting the right companies and is hurting those it was intended to protect.
Trent Reznor, involved in the launch of Apple Music, claimed on June 13 that YouTube was "built on the backs of free, stolen content."  The band Sixx:A.M. wrote an open letter requesting that Alphabet, Google's parent company, better compensates musicians.  The open letter is below.
Youtube, on the other hand, claims that the DMCA doesn't give the company an unfair advantage. It claims that because it is a system with a Content ID, labels and copyright holders have access to means of removing content that they feel impedes on their ability to generate revenue. Youtube also claims to be have paid over $3billion (US) to the music industry which is revenue that is partly from individuals who do not use the other services which you need to pay to have access to. Options like Vevo and Youtube Red are ways that Youtube has generated such revenue.
Though artists are speaking out against the current DMCA logistics, artists who are only predominant because of the Internet are speaking out in defense. The Internet Creators Guild is an organization, which advocates for those who are, for lack of a better term, "internet famous". They refuse to pressure online systems. There is possible support from Google, who owns Youtube, as copyright is often the blame for suppressing creativity – Something anyone who has tried their hand at making remixes or bootlegs has certainly experienced.
Youtube has released this statement on June 14th, after the Sixx A.M. open letter. (Source)
"The voices of the artists are being heard, and we're working through details with the labels and independent music organisations who directly manage the deals with us.

"Having said that, YouTube has paid out over $3 billion to the music industry, despite being a platform that caters to largely light music listeners who spend an average of one hour per month consuming music – far less than an average Spotify or Apple Music user.

"Any comparisons of revenue from these platforms are apples and oranges."
Here is a link to Politico's website which gives the full ad, for anyone with a Politico PRO account.  Unfortunately, I do not have one.
Open Letter from Sixx A.M. (Source):
The sound of musicians knocking on YouTube's door demanding change is growing ever louder.

Recently, as a result of action and statements made by artists as diverse as Sixx:A.M., Debbie Harry, Nelly Furtado, Jay Z, Garth Brooks, Katy Perry, Stephen Tyler and Billy Joel, YouTube's CBO Robert Kyncl met with independent artist representatives and asked them to help pause this protest in return for action.

No action has been taken, meetings have been postponed, emails remain unanswered.

The lack of action has hit a sour note with musicians, so we will be RENEWING OUR PROTESTS and taking the issue into our own hands.

So we are now appealing to you Mr. Page, as a saxophone player who ironically credits his love of music as the inspiration behind the success of the world's most valuable company, to step up. As the man who coined the slogans, 'Don't Be Evil' and 'Do The Right Thing,' we want you take your own advice before irreparable damage is done to the future of artists around the world.

Artists from every genre are finding it impossible to pursue their art in a world dominated by YouTube.

Without changes, young musicians will no longer be able to make music for a living and the next generation of fans will be robbed of great artists. Dreams of breaking into the music industry will effectively be unattainable.

In case you have not heard, here is a summary of complaints:

YouTube unfairly pays artists and labels an estimated 1/6 of what its competitors, Spotify and Apple pay
Recent data revealed that vinyl sales contribute more to the music industry than advert funded streaming services, a market which YouTube dominates
YouTube claims to have paid $3 billion to the music industry to date. Spotify contributed $1 billion alone in 2015 according to the IFPI and while Spotify pays $18 per user per year, YouTube pays less than $1
Even these funds are released only if the artist has a deal with YouTube, but unlike other services, the artist cannot choose whether they are on YouTube or not. Much of their material has already been illegally uploaded.
Artists are faced with a choice: Either license content to YouTube for a fraction of what should be paid and enjoy limited protection from YouTube's content ID systems or be forced to issue take down notices for every single infringement on the system. Many including 5 time Grammy Award winning composer Maria Sneider, argue that this amounts to racketeering (https://musictechpolicy.com/2016/05/15/guest-post-by-schneidermaria-open-letter-to-youtube-pushers-of-piracy/)
This disproportionately affects independent and new artists who have their copyrights illegally exploited for free and cannot make a living from the music they create
YouTube make a big show of offering to pay legal fees for users wrongly hit with 'take down' orders, while offering no protection to the vast majority of artists whose material is illegally uploaded (http://www.theverge.com/2015/11/19/9760370/youtube-copyright-legal-fees). They name and shame copyright holders who ask for their illegally uploaded material to be taken down. This actively encourages illegal uploads
The antiquated Safe Harbor provision of the Digital Millennium Copyright Act (DMCA) allows YouTube to operate in this way, protected from prosecution for illegal uploads while basing its business model on them
The total 2015 revenue of Google was $75 billion. The total annual revenue of the global music business, in comparison, is less than $15 billion. And yet music is the biggest driver of YouTube's business – 82% of users are on YouTube to access music (IFPI). Google makes money from selling its users' data to advertisers including those consuming music on YouTube

Mr. Page, in Fortune magazine you stated that you felt that your 'music training lead to the high speed legacy of Google'.

Plenty of musicians are hoping for a high speed resolution to this dispute and to this unfair system.

Please act before it is too late.

Sixx:A.M. – James Michael, Nikki Sixx, DJ Ashba and artists worldwide
Leave a Reply