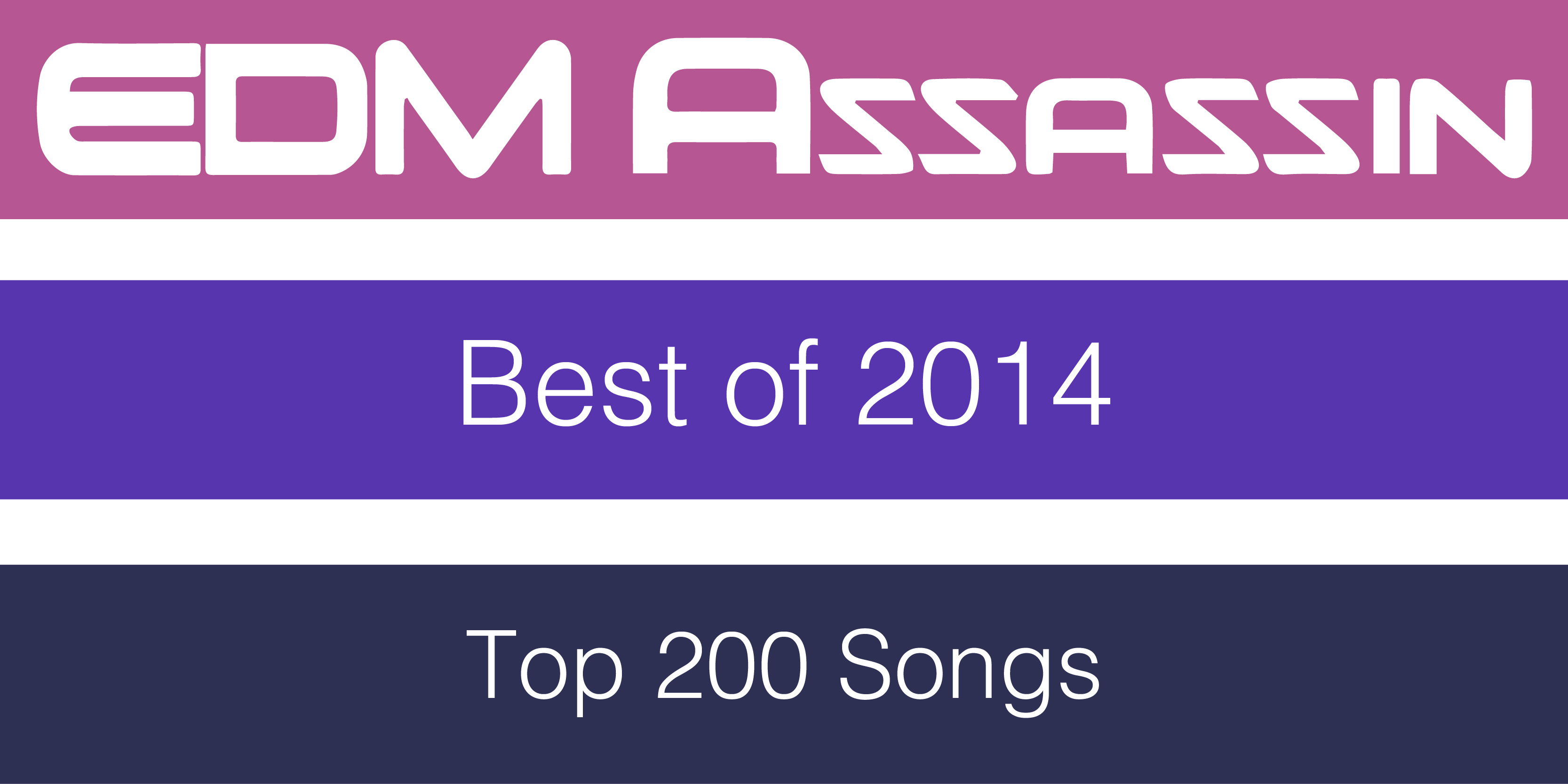 With the start of 2015 just days away, it is time to reflect on all of the great music of the past year. Dance music thrived in 2014, and EDM Assassin had a stellar year as we brought you all of the latest information on newly released tracks, budding artists and premier music festivals. EDM Assassin Best of 2014 is here to give you a quick recap of the songs and artists that shaped the year commercially and artistically, from the dance floor to your car speakers.
We saw the commercial rise of deep house in 2014. Artists including Duke Dumont, Gorgon City and Chris Malinchak brought the beloved sound to the mainstream with their hit singles and reached out to new audiences. For those reasons, they appear multiples times on this year-end list.
All eyes were also on rising stars Tchami and Oliver Heldens. Their big hits feature a different type of sound for house music that some are labeling as "future house". This sound has caused quite a buzz throughout the year, leading to several similar tracks by other artists to hit our ears.
Progressive house and big room house are also just as strong as ever. Our usual suspects can be found scattered throughout the list, including Alesso, R3hab and holding the title of DJ Mag's DJ of the Year for the second year in a row, Hardwell.
This year was not only about the sounds – it was about the artists. Martin Garrix was the breakout artist of 2013 with his platinum smash hit "Animals". Garrix kept the buzz going this year with high profile festival sets and more successful singles. His hard work this year has earned him a place on this list.
I won't say anything else as I don't want to give too much away. Check out our list below and see how your favorite artists fared, and find out who took home the #1 song of 2014. Did you discover something new? Every song on the countdown is posted in our Spotify playlist, and iTunes download links are also posted below, so feel free to give something new a listen!
(Disclaimer: This list is subjective and does not reflect the overall views of EDM Assassin.)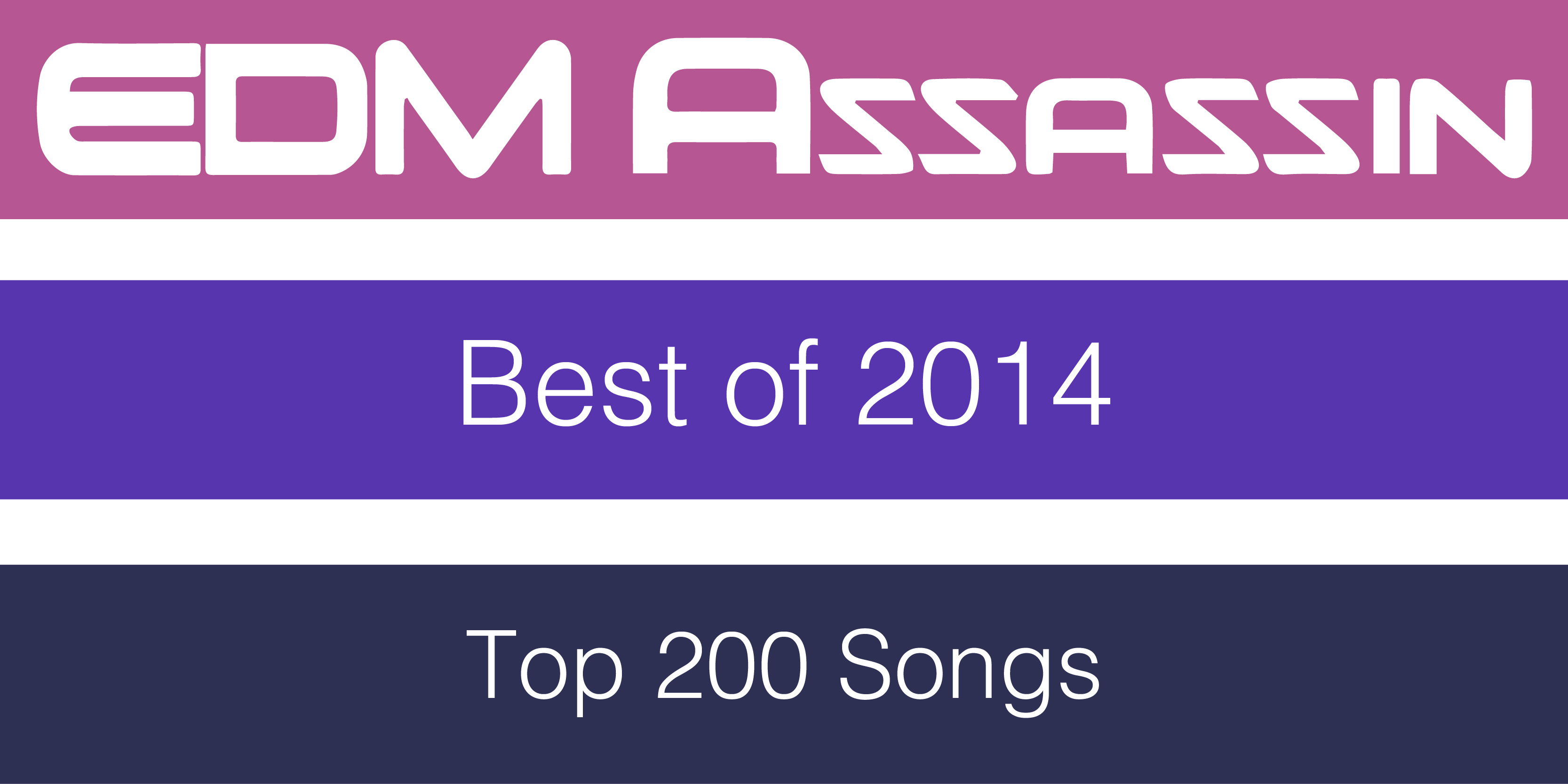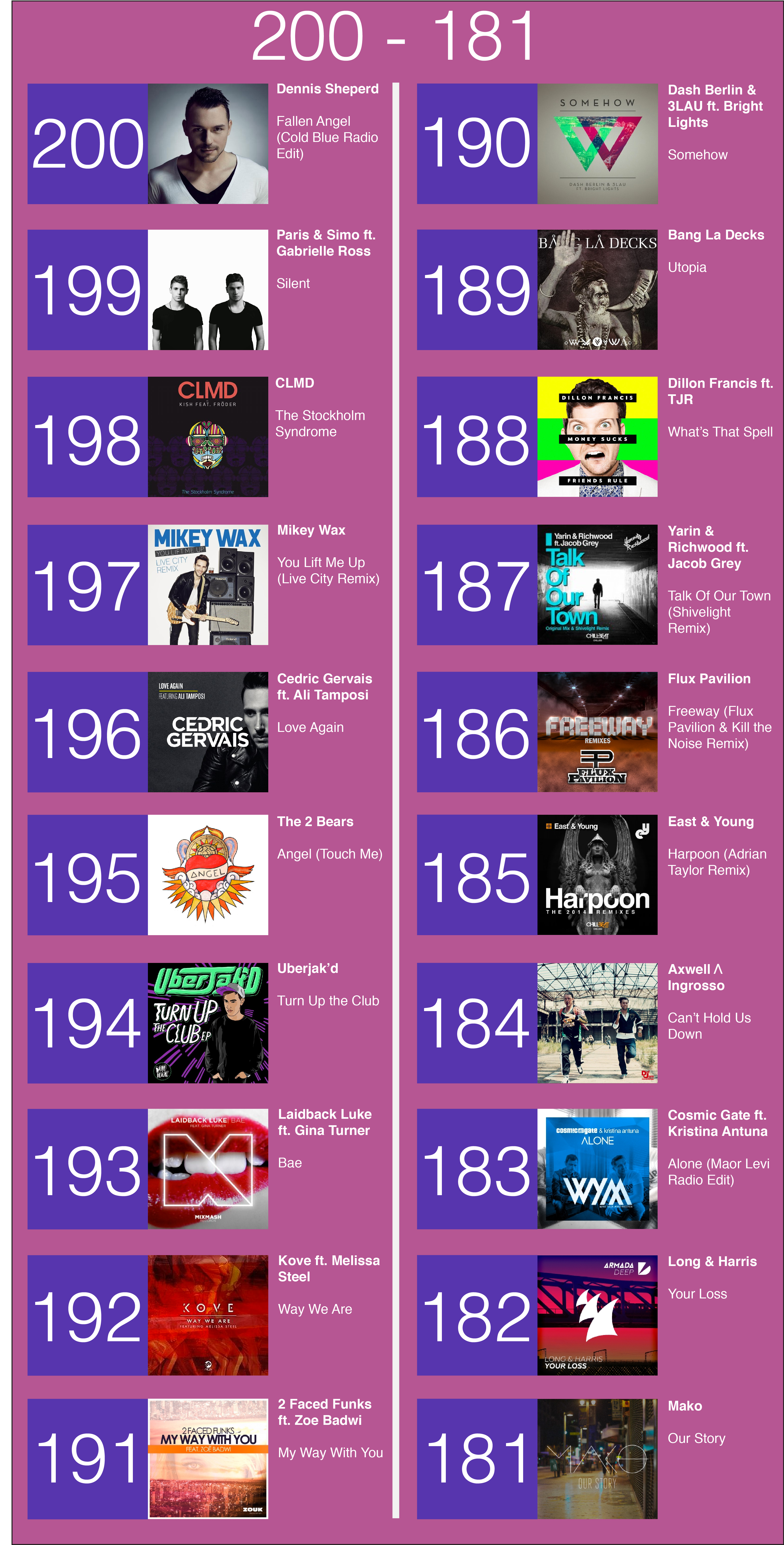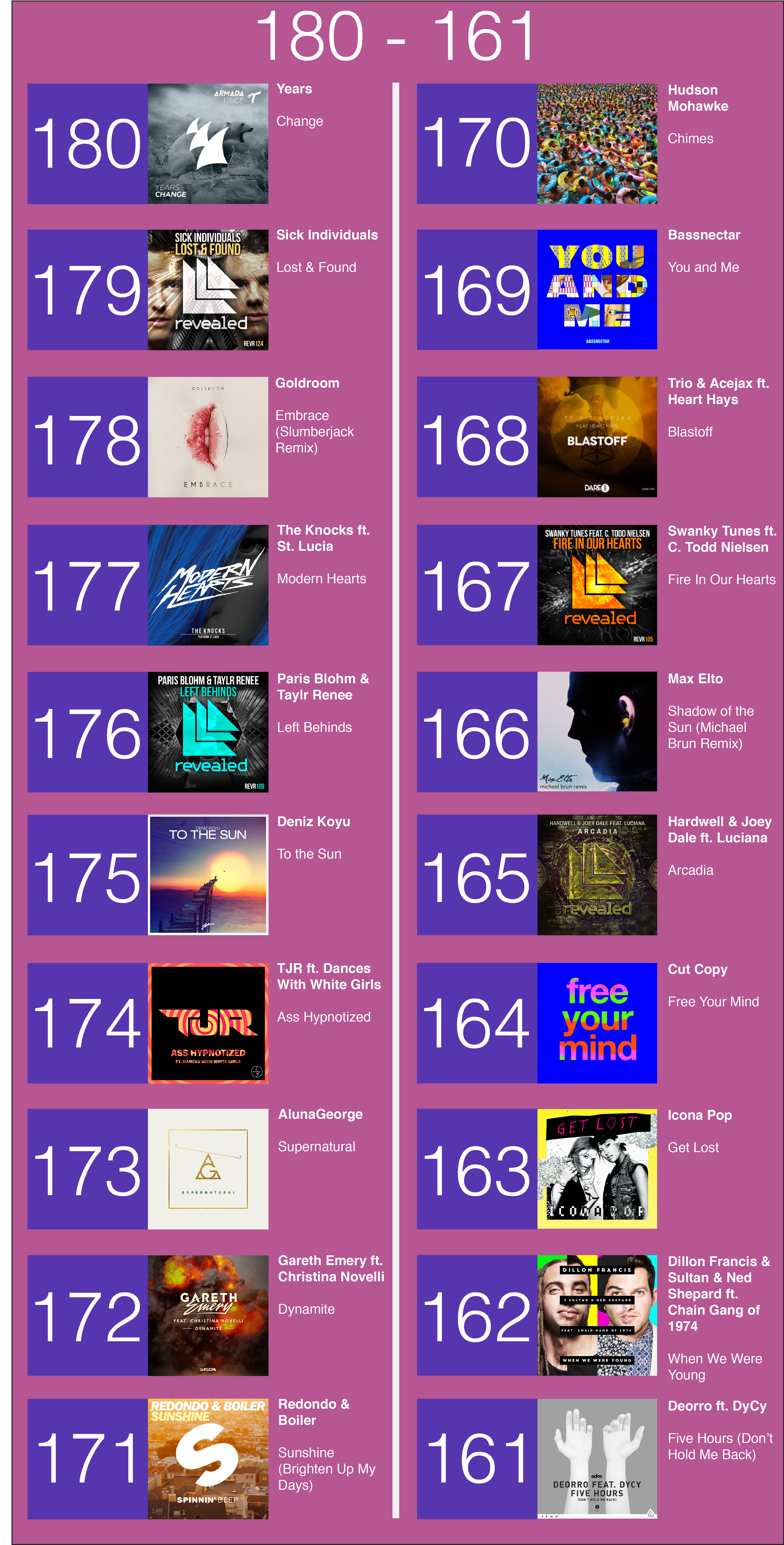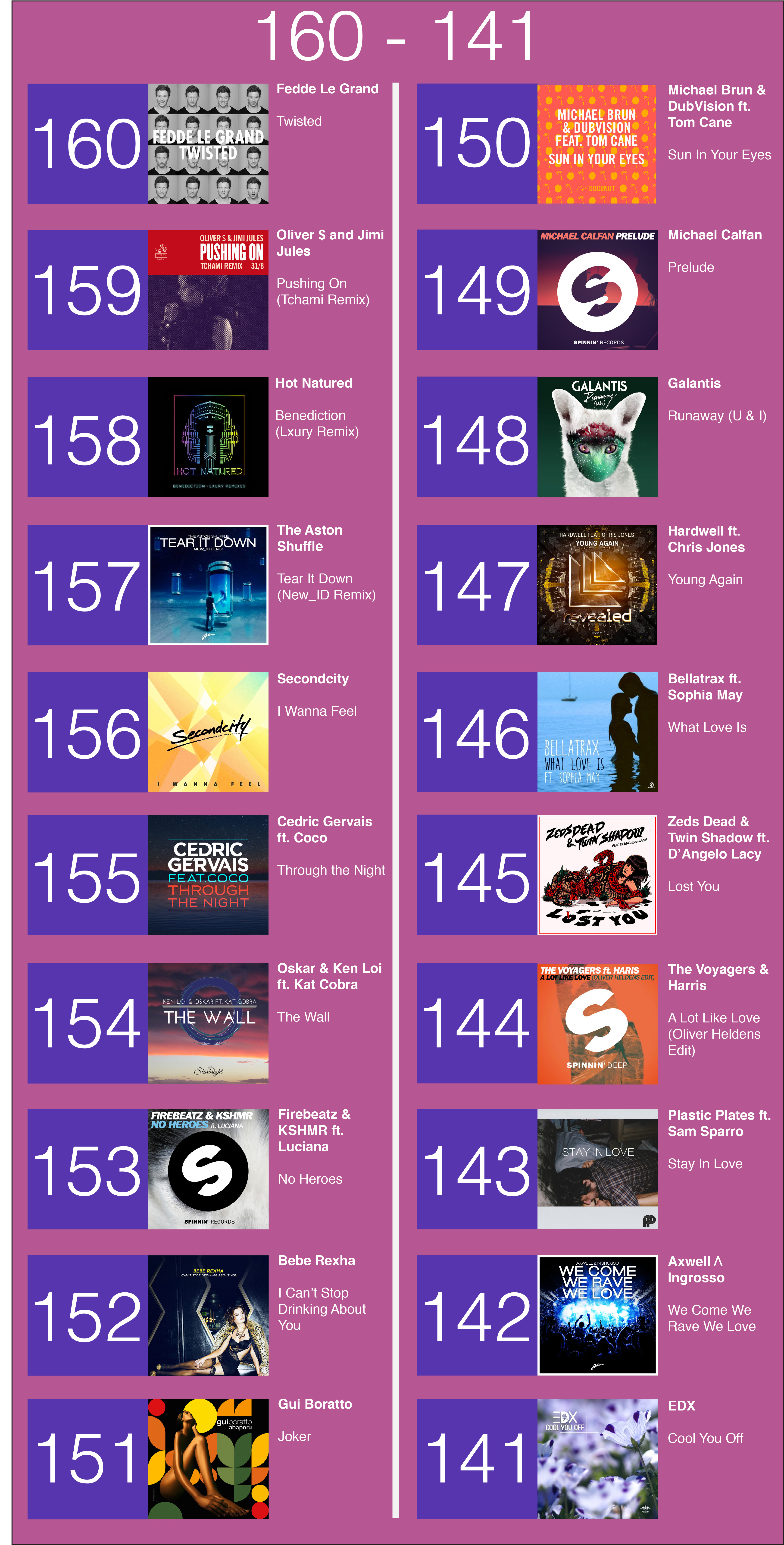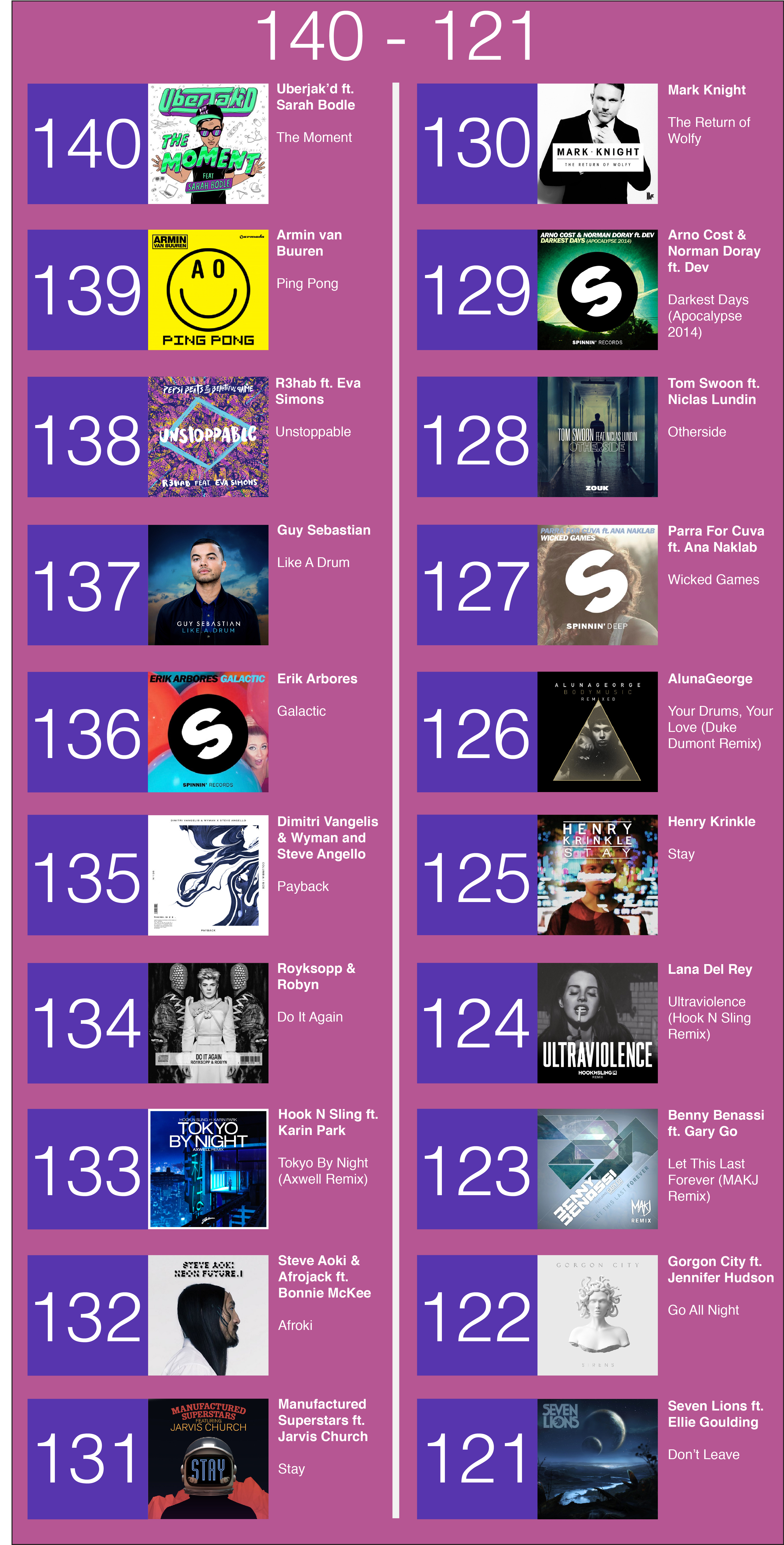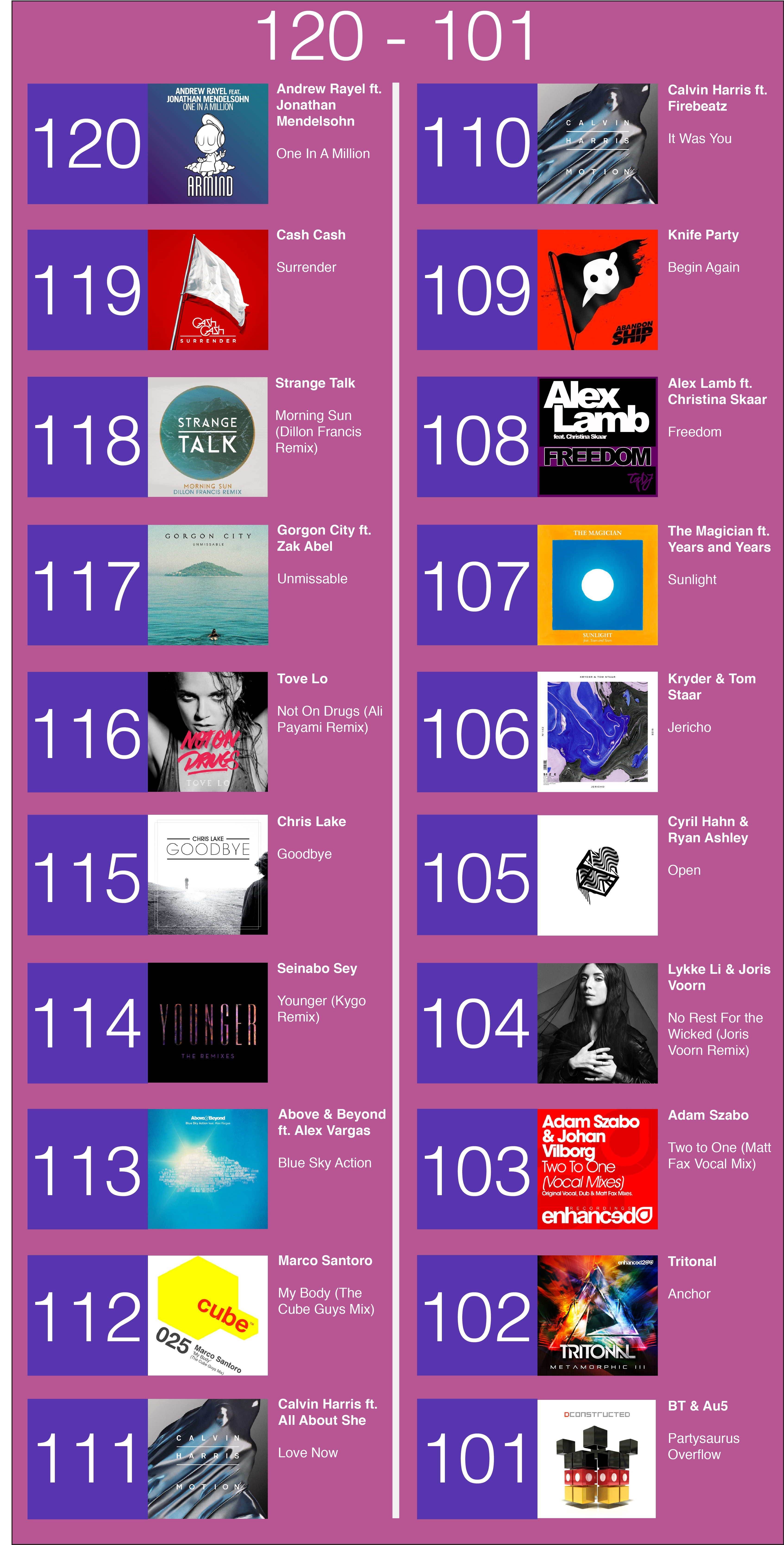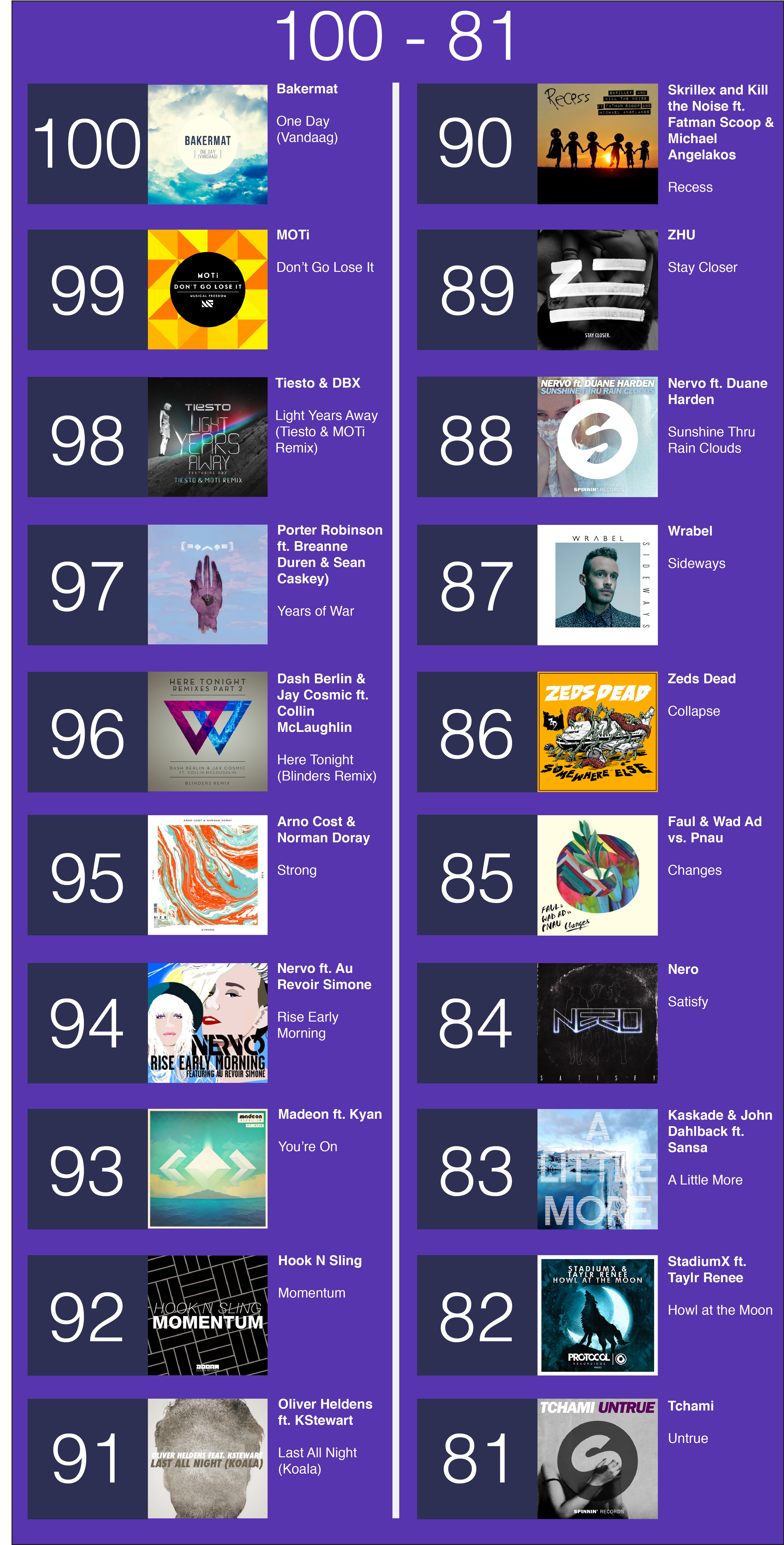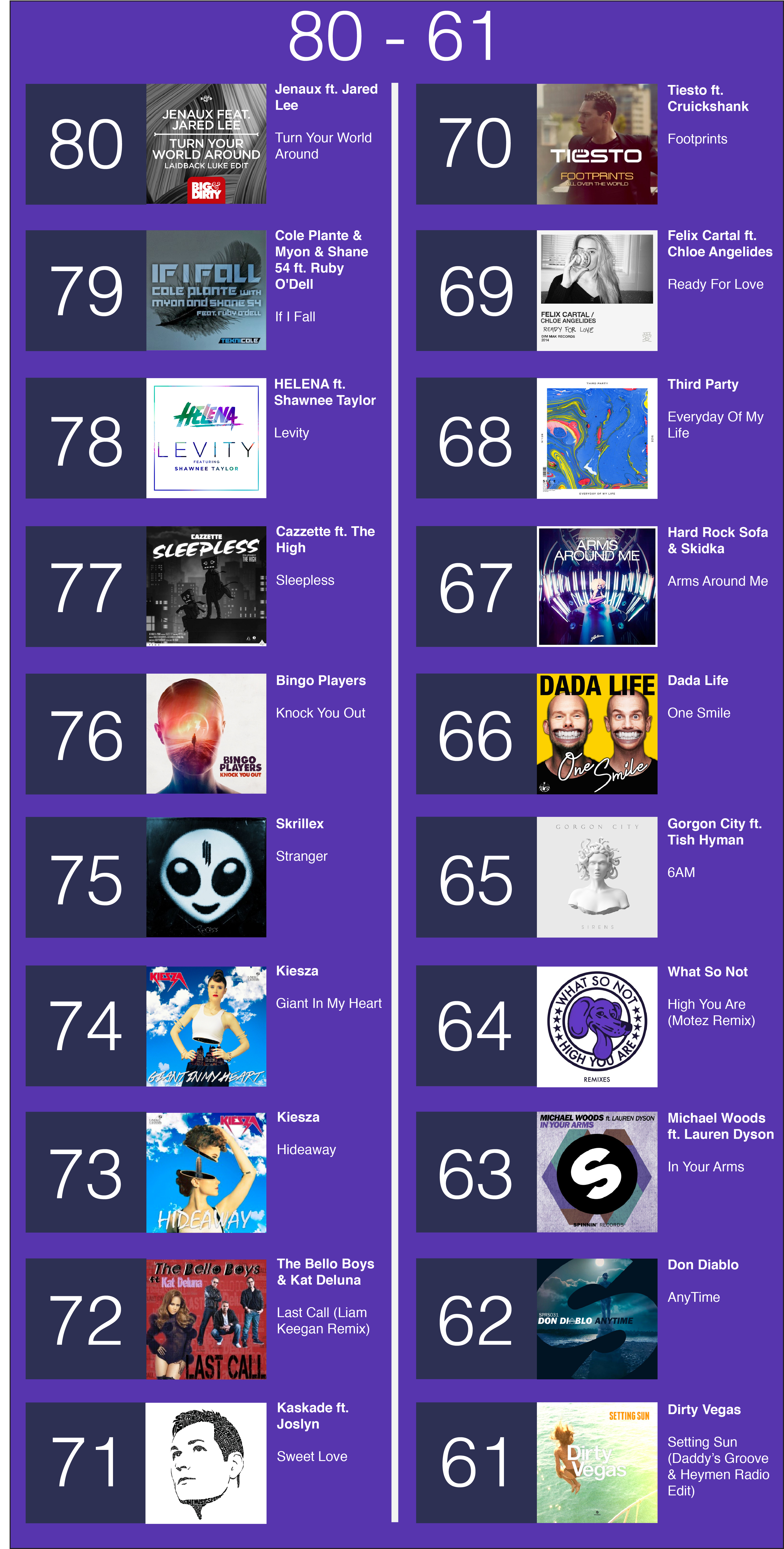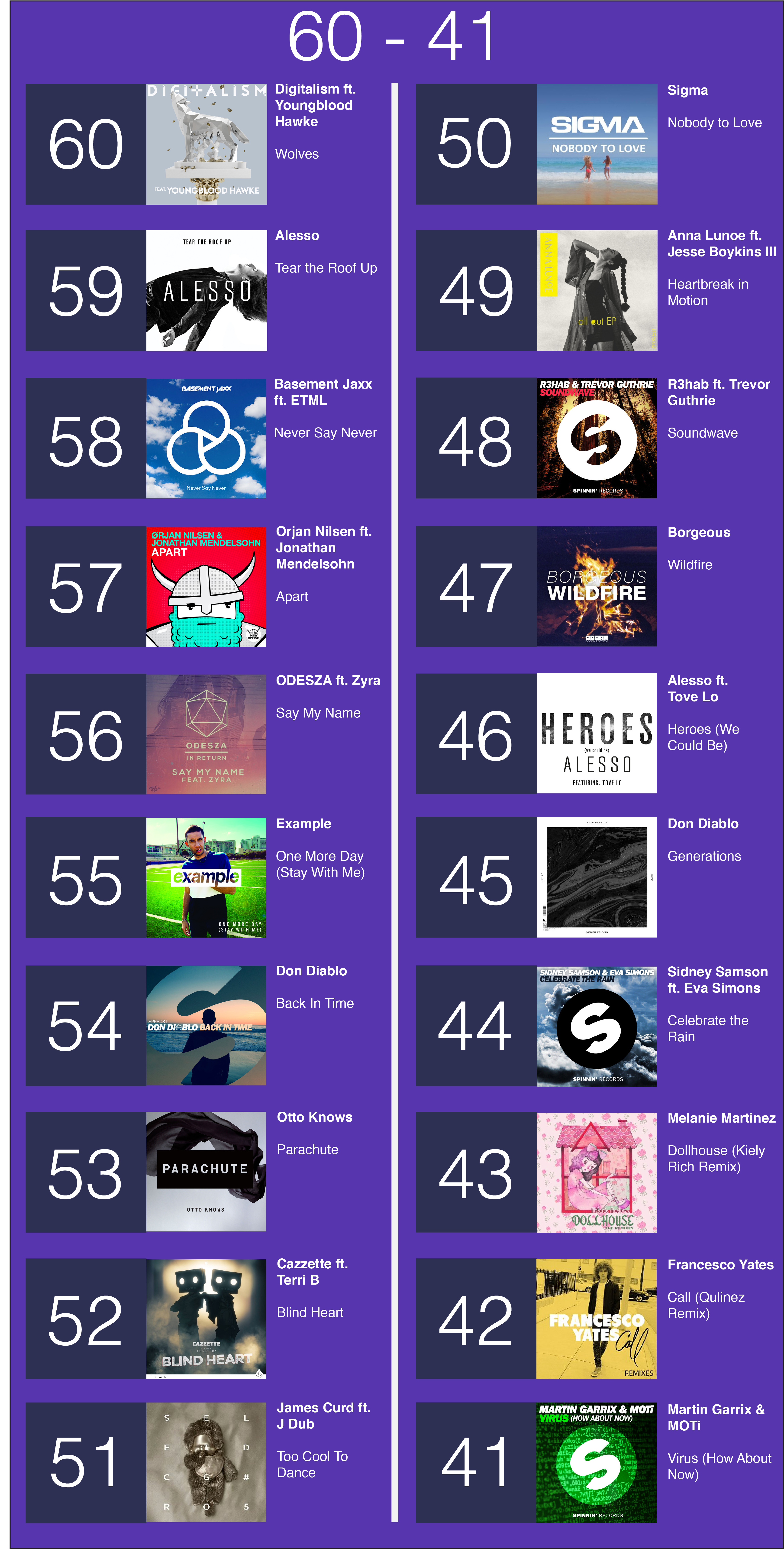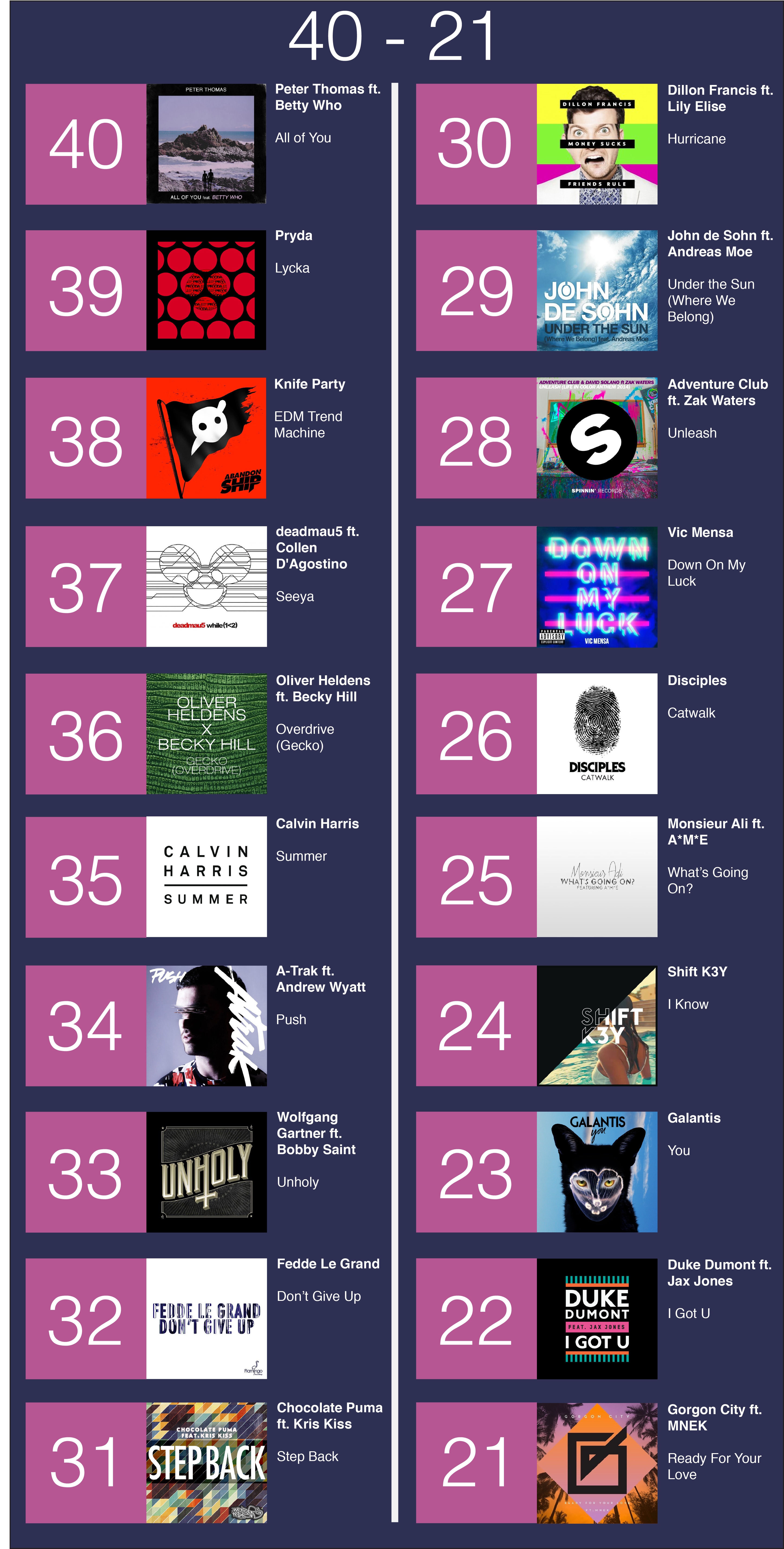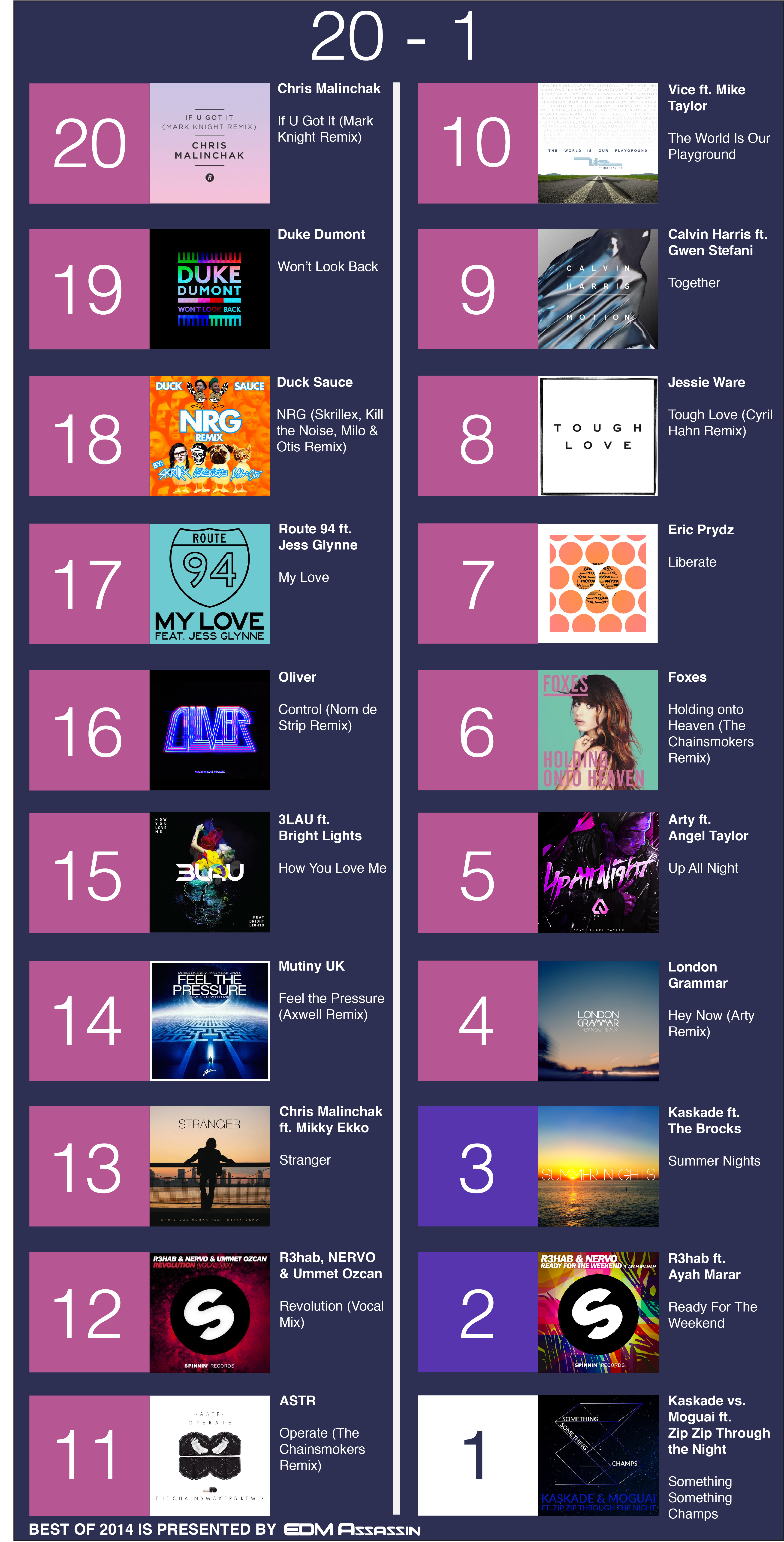 (Spoiler) The Top 200 closes out with a stacked Top 10 – featuring huge remixes released this year by Cyril Hahn and The Chainsmokers. We can't forget Arty, who had a huge year, taking consecutive spots in the Top 10 at #5 and #4. If that isn't impressive enough, then there is Kaskade, who takes the #3 and the coveted #1 spot on this year's list. Kaskade had a major year, making a splash by dabbling in deep house with his Redux small club tour and accompanying EP. "Summer Nights" is a surefire sign of his new direction in music, and the mashup he created of his 'Atmosphere' track "Something Something" with "Champs" by Moguai electrified Ultra Music Festival and his Atmosphere Tour dates. We also can't forget our runner-up for song of the year, and that is "Ready For the Weekend" by R3hab, NERVO and Ayah Marar. This is a simple yet perfect progressive house tune, and it was hands down this year's weekend anthem, a song for getting ready to go out and hit the clubs.
That's a wrap! Thanks to all of the artists that made this a great year for dance music, and of course thanks to all of our readers that make EDM Assassin a success in getting you the latest on electronic dance music. Happy holidays and wishing a great New Year for everyone!
Did you discover something new while reading this year's list? You can stream the songs below in our Spotify playlist, conveniently in countdown order.
If you want to support the artist and buy the songs, iTunes download links are provided below for each song. iTunes is a proud sponsor of EDM Assassin.
200
199
198
197
196
195
194
193
192
191
190
189
188
187
186
185
184
183
182
181
180
179
178
177
176
175
174
173
172
171
170
169
168
167
166
165
164
163
162
161
160
159
158
157
156
155
154
153
152
151
150
149
148
147
146
145
144
143
142
141
140
139
138
137
136
135
134
133
132
131
130
129
128
127
126
125
124
123
122
121
120
119
118
117
116
115
114
113
112
111
110
109
108
107
106
105
104
103
102
101
100
99
98
97
96
95
94
93
92
91
90
89
88
87
86
85
84
83
82
81
80
79
78
77
76
75
74
73
72
71
70
69
68
67
66
65
64
63
62
61
60
59
58
57
56
55
54
53
52
51
50
49
48
47
46
45
44
43
42
41
40
39
38
37
36
35
34
33
32
31
30
29
28
27
26
25
24
23
22
21
20
19
18
17
16
15
14
13
12
11
10
9
8
7
6
5
4
3
2
1
Leave a Reply