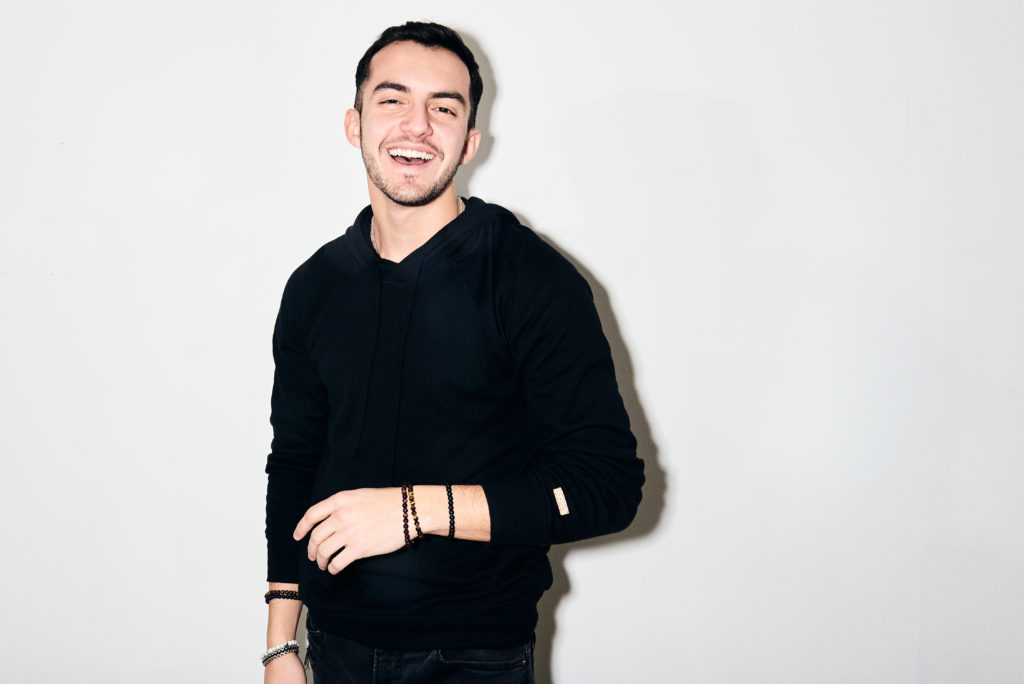 Our latest interview in the "Catch a New Wav" series is with upcoming DJ/Producer, Chris Varvaro.
Producer/DJ Chris Varvaro is a self-taught instrumentalist and music producer from New Jersey. At the age of five, Chris developed an interest in music and took up drumming. He quickly honed his skills and began performing with various Jazz ensembles in New Jersey. Throughout elementary school, Chris performed for large audiences at Dizzy's Coca Cola in Lincoln Center, and the Montclair Jazz Festival which was directed by five-time GRAMMY Award-winning bassist, composer and arranger, Christian McBride.
His fascination with the rhythms and cadences of the drums slowly faded when he was introduced to electronic dance music (EDM) during his earlier years. During a routine drive to a drum lesson, Chris' older brother played a mashup mix by Ultra Records recording artist Kap Slap. After the drum lesson, Chris rushed home to research the remixing technique he heard. He feverishly began creating music with a free trial version of Ableton Live 8. He eventually started to take his craft more seriously and studied how to develop melodies, layering, and chord progressions. He gained creative inspiration from top EDM producers like Seven Lions, Paris Blohm, The Swedish House Mafia, and Illenium.
This led to his first big opportunity when he became a resident DJ with Parazhit Radio, the world's largest EDM radio station. His time with Parazhit Radio provided a wealth of knowledge that he applied during recording sessions. In March 2018, he released the single, "Without Me". The track was featured on various FM radio stations throughout North America and Europe as well as receiving press coverage from a variety of publications, including ThisSongSlaps, EDM Sauce, and Tracks For Days.
More recently, Chris continued his musical voyage with the release of his remix for Fall Out Boy's "Sugar We're Going Down" with the duo Wayfarer and gained support from Disruptor Records Young Bombs, Two Friends, & STMPD Records Owen Norton.
In the Summer of 2018, the "#pursound" movement was unveiled by Chris in an effort to create beautiful breakdowns, synths, and progressions that will captivate EDM listeners worldwide. He most recently opened for EDM artists, Vicetone at one of Philadelphia's top nightclubs, NOTO
We sit down with him to learn more about his career.
Q: Who are some of your musical influences?
A: My influences are all over the map. I grew up listening to so much different music; and, then, I got into EDM. I would say right now my biggest influences are Avicii, Arty, Martin Garrix, Good Charlotte, and John Mayer.
Q: What's your favorite part about being a musician?
A: My favorite part about being a musician is being able to impact people with my art. I love being able to write a song pertaining to an event that happened recently in my life and then having someone hear it and relate to it. That is why I make music and I am so glad that I can make a difference in someone's life. It is a very powerful feeling.
Q: Who is somebody you always wanted to work with?
A: I have always wanted to work with Avicii (Rest In Peace) because he is one of the main producers who got me into EDM. Ever since I started learning about what a DAW was it was always a dream to make a Progressive House record with him. Another artist that I really want to work with is Gareth Emery. I love how versatile he is with his production and I think that we have some similarities in how we go about our work. It would be a dream to get in the studio with him one day.
Q: To date, what's your most memorable music moment?
A: My first song "Broken" receiving radio airplay was extremely special for me. That song means a lot to me and I wrote it when I was in a really dark place in my life, so seeing the success it achieved has pushed me to keep making music and discovering my niche.
Q: What does the immediate future hold for you in your artistic career?
A: Right now, I am working on a number of collaborations with a lot of very talented singers and writers so there will be a solid amount of new singles coming out this year! I am also working on a very experimental record with a secret composer that we are both very excited about. Nothing like it has been made before and we are definitely still in the trial phase right now; but, the project is looking really good so far.
Enjoy a recent release from him and follow him on Instagram.
Leave a Reply