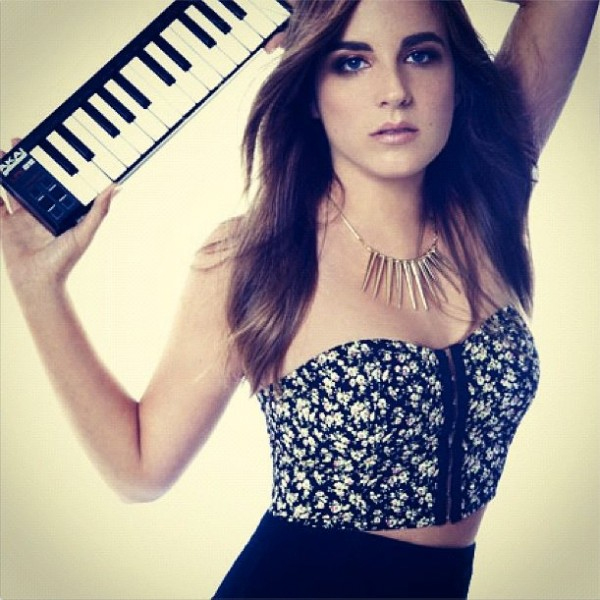 Happy holidays to all as we are back with our newest installment of "Catch a New Wav" with talented vocalist and recording artist, Monika Santucci.
Monika is an upcoming EDM vocalist who has hit the scene like a "tornado." In fact, Monika's soulful vocals are featured on Trivecta's hit, "Tornado."
We caught up with Monika to learn a bit more about her.
Q: Who are some of your musical influences?
A: Growing up, I was classically trained playing piano and violin, so my favorite composer was Mozart. Later, I would play in jazz band as a bassist. By the time I was 11 or 12, I started getting really into indie rock and I played in bands as a bassist/back-up vocalist or guitarist. I was influenced by bands like Counterfit, Gatsby's American Dream, and Third Eye Blind to name a few. When I first started getting into electronic music, I would listen to a lot of Dillon Francis and Ellie Goulding. Now, I'm really influenced by artists like Terror Jr. and Felix Snow.
Q: What's your favorite part about being a musician?
A: I love being a musician. I get to hang out and write songs with some of my best friends. Playing live gives me an energy like nothing else. I love connecting with people from all over the world that I wouldn't otherwise through my songs and lyrics. There are too many awesome aspects of it to pick a favorite!
Q: Who is somebody you always wanted to work with?
A: I've always wanted to work with Dillon Francis or Diplo. Or Felix Snow!
Q: To date, what's your most memorable music moment?
A: There are way too many good ones; but, the most recent was singing in front of a sold out Exchange in LA with Junkie Kid and Jinco. We did a song called "No Return" together and that was the first time we had met in person. We had an absolute blast!
Q: What does the immediate future hold for you in your artistic career?
A: This next year I have a ton of releases I'm really excited about! Some of my biggest collaborations are coming out as well as some solo material. I am hoping to book a lot more shows as well!
Enjoy one of Monika's latest hits below and follow her Instagram and Facebook.
Leave a Reply