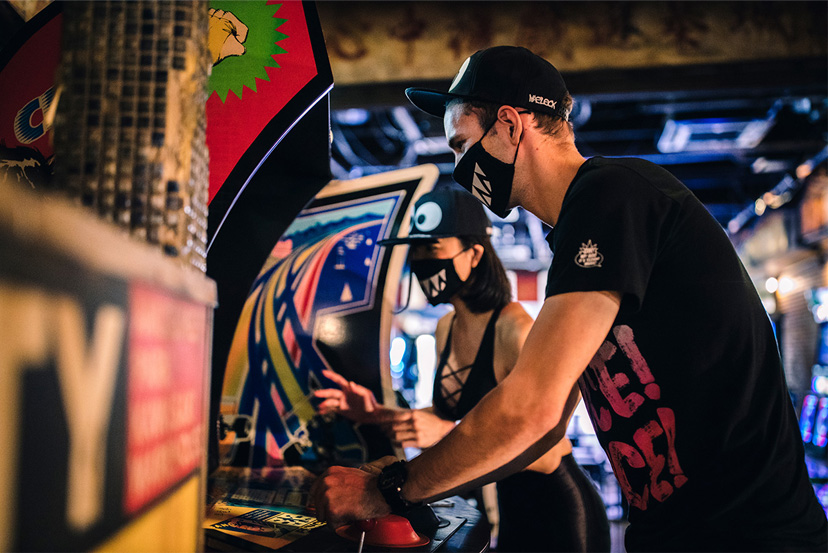 In this installment of "Catch a New Wav," we interview talented French DJ/Producer, Naeleck.
Hailing from France but touring the world, Naeleck is taking great pride in feeding the underground and the masses with heavy mixes of EDM, Bass and Hardstyle. His music has topped club charts in France and Japan, spent months inside the Beatport Top 100 and has received millions of Spotify streams.
Steadily climbing his way to the top, he was ranked #53 On Reddit's Top 100 World DJs of 2018 and #125 on DJ Mag Top 100 DJs, joining the rank of the top 10 French DJs.
His single, "Violence," was the official anthem of Spring Break Taiwan 2016, with the music video got millions of views, landing him thousands of new fans around Asia and dozens of gigs worldwide – from the launch party of Ultra Australia to the biggest clubs on earth.
Head of Den Haku Records, he created a whole universe around his masked character and his GIF stickers – once only popular around Asia are now used by A-list hollywood stars and young French teenagers alike topping Facebook and Instagram GIFs charts with over a billion views on Giphy alone.
We learn a bit more about him.
Q: Who are some of your musical influences?
A: I have a lot, but the main ones from when I initially started were Underworld and The Bloody Beetroots.
Q: What's your favorite part about being a musician?
A: I love being able to live through my hobby instead of working 8 to 5 and doing something that I don't really care about to make someone else rich. Also, the music community is awesome, as I've met some of my best friends thanks to the industry.
Q: Who is somebody you always wanted to work with?
A: I would say The Bloody Beetroots or Feed Me.
Q: To date, what's your most memorable music moment?
A: I have so many great memories and not really one above all the others, but the best moments are gigs. I love when I have a strong connection with the crowd no matter the number of people. Surprisingly, the biggest ones are not always the best even if they are the most impressive.
Q: What does the immediate future hold for you in your artistic career?
A: Well I was supposed to tour a lot first semester of 2020 but no one does now. It's not the best time for the industry. Covid-19 completely killed all the earnings for many of my friends. Luckily, there is still streaming so I've been focusing a lot on new music, somehow a bit more cinematic and less club oriented. First one should be released soon if my singer can access a recording studio.  I'm also working on side projects around my character with a comic and a video game.
Follow NAELECK here and check a recent release below.
Leave a Reply