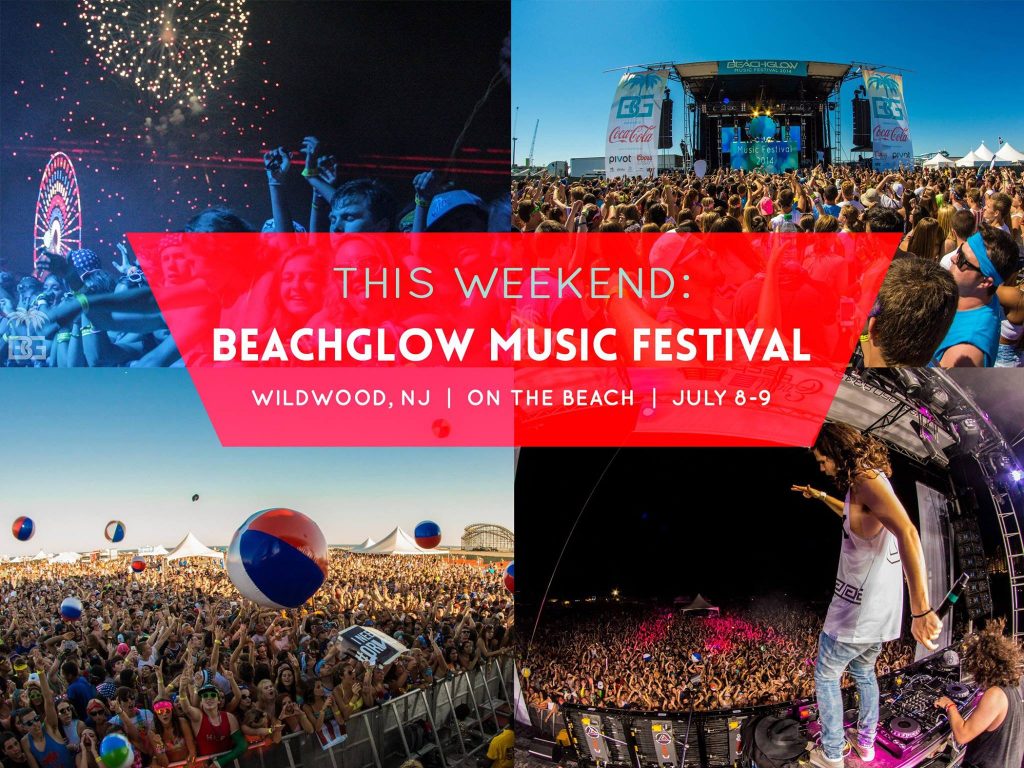 Today is a fun day that I've been looking forward to for some time! Beachglow 2016! This is a festival that I've wanted to attend for two years since I heard about it. 2014 was amazing. They intend to do better than 2014 and unfortunately 2015. To get it right out of the way now, 2015 was unfortunately cancelled due to weather. In a great move, Haven Nightclub was able to host almost all the artists where there were some incredible performances. That said, they didn't want to cancel, but were forced to for the safety of others. Beachglow is a festival ran by 21 year old, Dane Kunkel as well as the rest of the Kunkel clan along with many volunteers. What makes Beachglow amazing in my opinion is that this is for charity. They're donating their proceeds to Little Kids Rock which bring music programs and instruments to underserved public schools.
We have covered Beachglow time after time. This year excites me very much so. I will say, I am biased by the fact that they moved the festival back to Wildwood, New Jersey (being from the Atlantic City area), but I completely understand why. This year's festival is two days that brings about many big and small artists. They have more than just electronic dance music artists which was a nice change of pace from Beachglow and I think the right move. Now, it is hard to say that as an electronic dance music blog,  but for the overall idea to raise money for Little Kids Rock as well as awareness of the festival, this is the best approach. They even got Nico & Vinz who donated their fee to Beachglow which is amazing.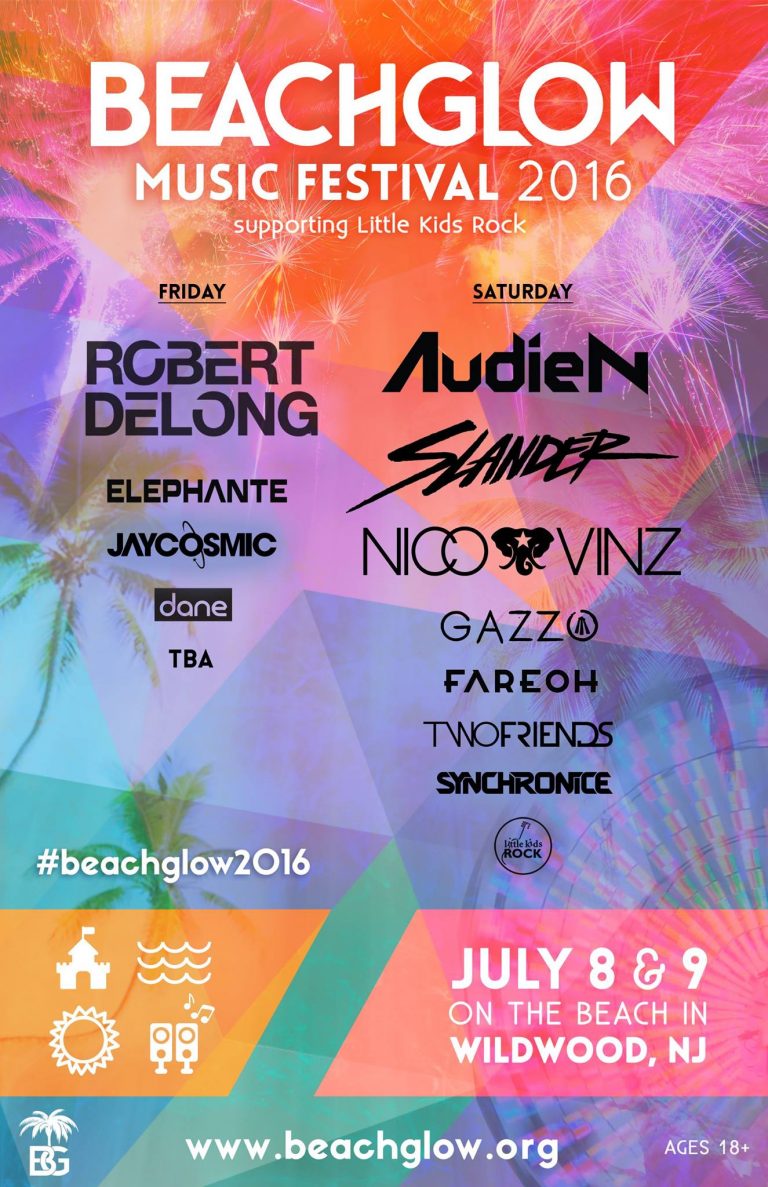 Tomorrow is a shorter day out of the two. Friday is a 7pm to 11pm where we have Elephante, Robert Delong, Dane, and CAWZ (the winner of their DJ competition) perform. Saturday will be longer with 3pm to 11 pm with artists such as our friends, Synchronice, Two Friends, Fareoh, Gazzo, Nico & Vinz, Slander, and Audien. So many good artists taking place on the beaches of Wildwood, New Jersey. We're going to have such a good time watching everyone perform. There are a lot of artists who I have yet to see and those who I want to see perform again.
What makes Beachglow special is what it all means. What really struck me hard is that Beachglow asked all their brand ambassadors "What does Beachglow mean to you?" and the responses were breathtaking. Everyone talks about music and how it is meant to make change in lives. Beachglow is taking the initiative and seeing these responses really hit home because that's what music is all about – good vibes in every form of the term.
I expect to have an amazing time. I expect to hang out with Philly EDM Family and even Oklahoma EDM Family who is driving all the way for this festival. Due to last year, I have checked the weather reports. As of 2am Friday morning, Friday will be a high of 89 degrees with a low of 74 degrees with 20% precipitation. Saturday will be a high of 88 degrees with a low of 71 degrees with 50% precipitation and expectations of PM thunderstorms. I HOPE THAT IT MISSES BEACHGLOW. They don't deserve 2 years in a row of this nonsense. There will be an afterparty both nights at Juan Pablo's if you can keep up. I expect nothing but good times and good vibes. There will be plenty to do outside of music that include (but not limited to)
delicious food vendors
fireworks both nights!

Smirnoff Ice Electric, Yuengling, Coors Light

pro sand sculptor Matt Deibert (plus demos!)

bodypainting

official BeachGlow apparel

charity tent

sandcastle competition

ice cream

volleyball

cool merch vendors

Little Kids Rock jam tent & musical petting zoo

interactive sponsor activations (T-Mobile & Radiate)

cornhole

product sampling

MC from AMP Radio

See you all there later today!
Leave a Reply