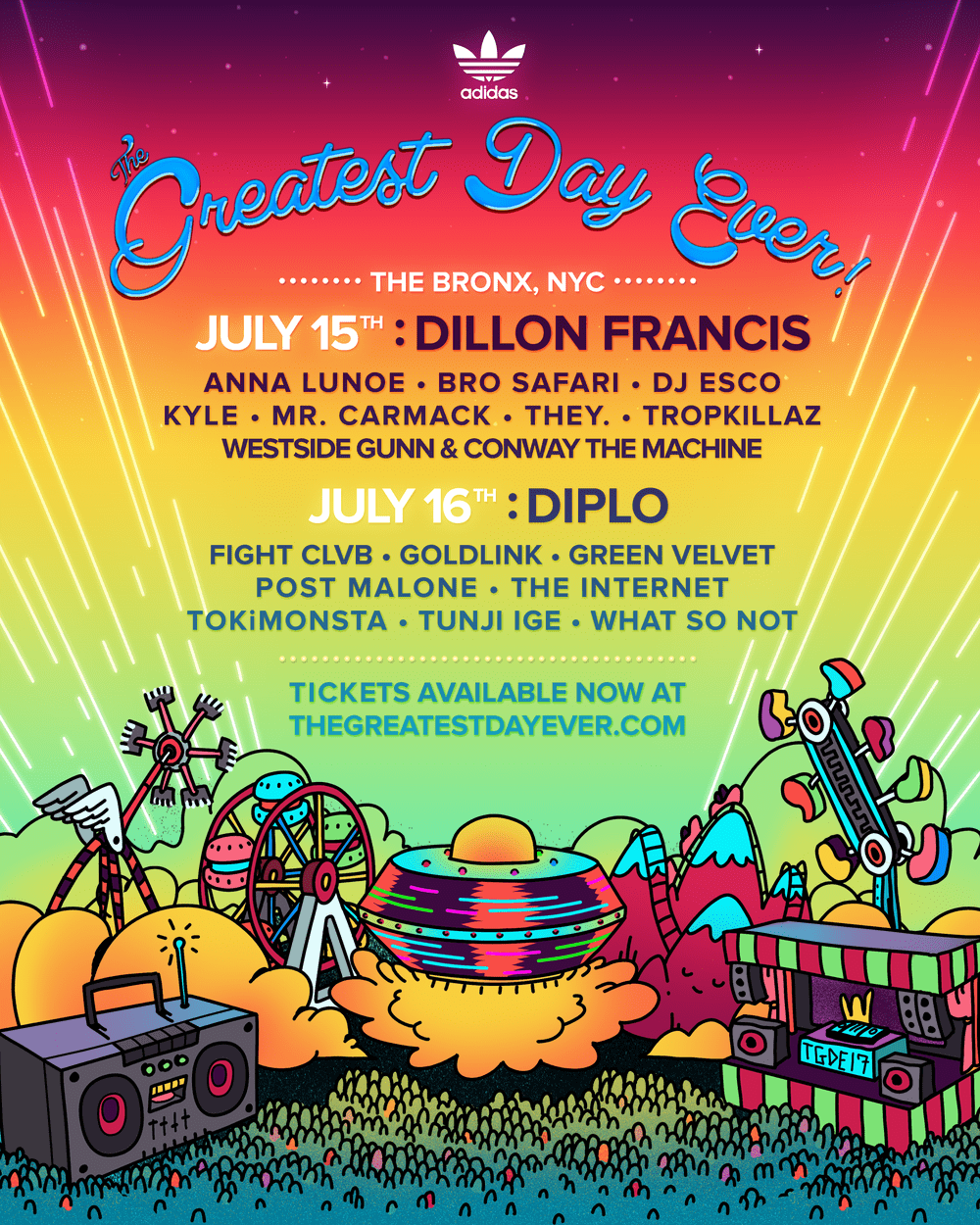 In exactly one week, the folks at Brunch Bounce are coming to Brooklyn to present their annual Greatest Day Ever! Festival for July 15th and 16th.  The festival is going to have a nice mix of hip-hop and dance; ranging from little known artists to chart-topping artists; from mellow beats to bass-shaking drops. This mix is exactly what I look for on the weekend, and I know pliantly of other artists will do.
The artists that are featured this upcoming weekend are going to be awesome.  Both headliners, Dillon Francis (Saturday) and Diplo (Sunday), I have seen perform before during Mad Decent Block Parties and they are POWER HOUSES to hype up the crowd. Other artists, like TOKiMONSTA and Bro Safari I have seen perform at festivals and I love how into the music they get, without getting too cocky.  Then performers like Goldlink (Sunday), THEY. (Saturday), Kyle (Saturday), and What So Not (Sunday) are artists that I have listened to but never gotten a chance to see before.
During the festival, we hope to updating Facebook, Twitter, and Instagram, so make sure to follow.
Some logistics and info to remember:
Will be taking place at the New York Expo Center: 1108 Oakpoint Avenue, The Bronx, NY 10474
18+ years of age to enter with proper ID
No Re-entry
Rain or Shine
Free rides all weekend
Plenty of food options
Tickets are expected to sell out, so make sure to cop them while you can.
And of course, as more information is released, we will be posting.  Until then, check out our weekly playlist that came out on Friday previewing the artists for Saturday.  Friday, July 14th, will feature a playlist of artists from Sunday.  Make sure to check out the Playlists for the Weekend.
Also, check out the Greatest Day Ever Spotify Playlist promoting the festival.
Leave a Reply