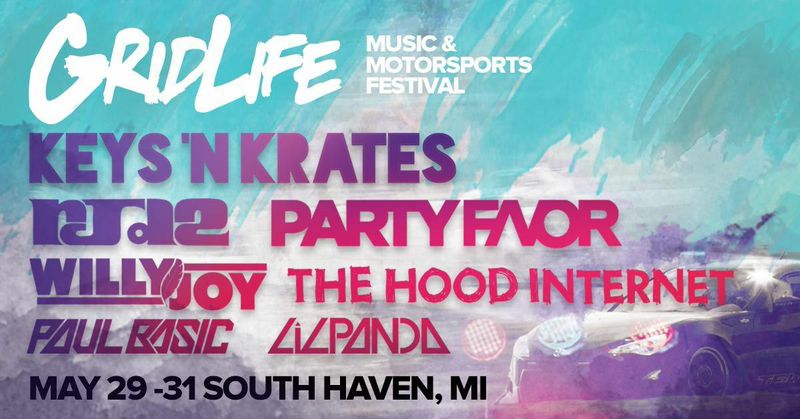 Your traditional music festival is great, there is plenty to do (if you mean standing in front of a stage). Some festivals take this and go further, bringing interactive art into the equation where attendees can explore the art and watch artists create pieces live. #Gridlife takes this to a whole other planet when they combine, camping, cars, and electronic music into one action-packed weekend.
Attendees will find with the purchase of a ticket (at a very reasonable price) that the weekend kicks off with drifting and time attack trials around the speedway as they arrive during the day. As the sun sets, the music picks up and the legendary Paul Basic will open up the music, followed by The Hood Internet and RJD2.
Day two will see over 100 show cars around the raceway for festival goers to gaze upon, while local talent will be spinning the decks in the heart of the racing pits. Food trucks galore will be stationed throughout to fill everyone's hunger needs, and once again, drifting and time attack trials will keep festival goers attention while they hear some more incredible music. Saturday night will find the unique sounds of Lil Panda, the veteran of Gridlife, Willy Joy, EDM heavy-hitter Party Favor, and a special live set by Keys N' Krates.
The festival will be held at Gingerman Raceway in South Haven, Michigan for the second year in a row. This year from May 29th-31st. Tickets are available now for $55 and include camping for the entire weekend. More info can be found at www.Grid.life Get your tickets now for a festival experience unlike any other. Below you'll find a small sample from each artist at Gridlife as well as the announcement video! Enjoy!
Special note, EDM Assassin will be holding a special contest to win a pair of tickets to Gridlife!!!! Stay tuned for more information!
Keys N' Krates
[soundcloud url="https://api.soundcloud.com/playlists/52053453″ params="auto_play=false&hide_related=false&show_comments=true&show_user=true&show_reposts=false&visual=true" width="100%" height="250″ iframe="true" /]
RJD2
[soundcloud url="https://api.soundcloud.com/playlists/234365″ params="auto_play=false&hide_related=false&show_comments=true&show_user=true&show_reposts=false&visual=true" width="100%" height="250″ iframe="true" /]
Party Favor
[soundcloud url="https://api.soundcloud.com/tracks/198336611″ params="auto_play=false&hide_related=false&show_comments=true&show_user=true&show_reposts=false&visual=true" width="100%" height="250″ iframe="true" /]
Willy Joy
[soundcloud url="https://api.soundcloud.com/tracks/197627912″ params="auto_play=false&hide_related=false&show_comments=true&show_user=true&show_reposts=false&visual=true" width="100%" height="250″ iframe="true" /]
The Hood Internet
[soundcloud url="https://api.soundcloud.com/tracks/161849067″ params="auto_play=false&hide_related=false&show_comments=true&show_user=true&show_reposts=false&visual=true" width="100%" height="250″ iframe="true" /]
Paul Basic
[soundcloud url="https://api.soundcloud.com/tracks/191612150″ params="auto_play=false&hide_related=false&show_comments=true&show_user=true&show_reposts=false&visual=true" width="100%" height="250″ iframe="true" /]
Lil Panda
[soundcloud url="https://api.soundcloud.com/tracks/151917160″ params="auto_play=false&hide_related=false&show_comments=true&show_user=true&show_reposts=false&visual=true" width="100%" height="250″ iframe="true" /]

Keys N' Krates
RJD2
Party Favor
Willy Joy
The Hood Internet
Paul Basic
Lil Panda

Leave a Reply