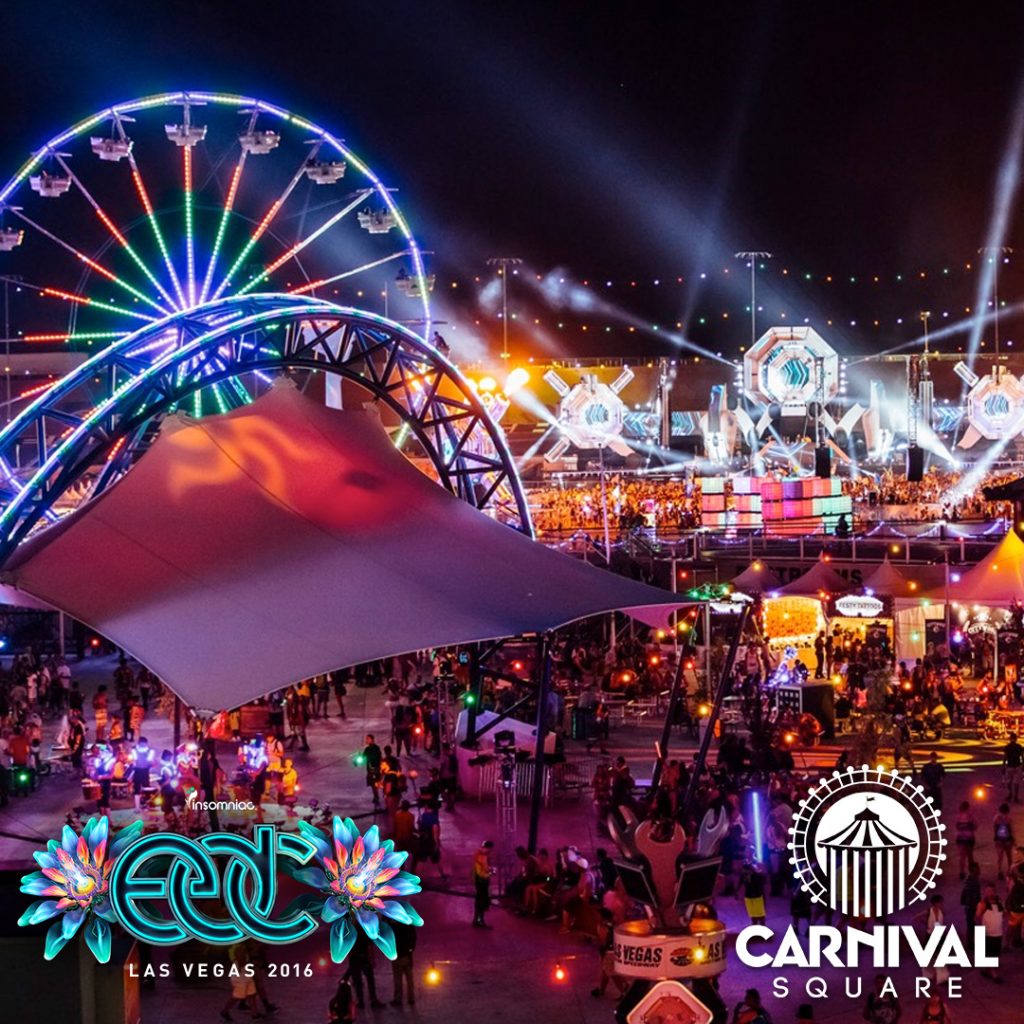 With Electric Daisy Carnival Las Vegas (also being called EDC20) coming in about 2 weeks, June 17th through June 19th, Insomniac has released new information regarding the Carnival Square attraction that is being added for the first time this year. Below is a list of the options being offered by Insomniac this year. A lot of options will be localized with charging stations, merchandise, photo booths, food, lost and found, etc.   There will also be five never-before-seen features for EDC events.
The Carnival Square is being organized in the hopes that attendees will come together, closer and be a stronger community during the three-day festival.
1) Free High-Speed Wi-Fi and Phone Charging – Everyone knows that there is TERRIBLE phone usage at EDC every year. Both EDC's that I have gone to in New York its impossible to use my phone. It's cool they are going to have a spot to charge your phones and to upload all those Snapchats you took. Welcome to the 21st century everyone.
2) Chill Zone – It gets hot at the Raceway. The Chill Zone will be perfect. With air conditioning, comfortable seats, and the "EDC Dream Wall", this is definitely a great place to relax and regroup with your friends.
3) Carnival Games – It will really be like you're at a carnival with these 11 games. This is amazing. The prizes will go from "standard prizes" to "deluxe prizes" which will include EDC merchandise.
4) Center Ring Stage – All the costumed Insomniac employees that walk around the festival are going to be centralized in one location. Attendees will even be able to join the performers on stage during scheduled consume contests.
5) Register to Vote – THIS ONE IS AWESOME. HeadCount will have a booth so that everyone can register to vote in the Presidential Election this coming fall!
6) Consciousness Group – There will be a "support sanctuary" for those who seek meetings to support their sobriety. Learn about the support that you can receive through the electric dance community.
7) Giant Live Stream Video – There will be four LED screens showing some of the best performances going on while you hang out in this new area.
8) Way Finding Kiosk – There will be an awesome Kiosk to help attendees find out what is going on during the weekend, what direction to go, and when and where each performer is playing. This area will include festival maps and social media feeds to update on the weekend.
9) General Store – The General store will have many things that are often easily lost like candy, gum, accessories, medical supplies and over-the-counter medicine. This offer of over the counter medicine helps with the new drug policy that is currently being disputed in court.
10) Lost and Found – There will be a centralized Lost and Found. So, if you lose anyone or anything OR you find anything that isn't yours. Make sure to come here to turn it in. This seems to be the newest one – as there will be several Lost and Founds around the raceway.
11) Festival Information Booth – The info booth will help provide directions and answer questions regarding the Speedway.
If you haven't purchased tickets but still want to go, a limited number of VIP and shuttle passes are available here
https://www.facebook.com/insomniacevents/posts/10154506528113888
Leave a Reply